Scorpio Compatibility with Virgo
Who is the perfect match for Scorpio? In the horoscope, how compatible you and your partner are is indicated by comparing your Zodiac signs. They also show how your fathers get along with you two and with each other.
Scorpio Compatibility
with Virgo
The perturber meets the scrutineer.
If Virgo and Scorpio form a couple, it has to be described as an example of opposites attract. Virgo would normally not get involved with Scorpio, finding the latter unsettling and mysterious, whereas Scorpio would find Virgo far too obvious and narrow-minded.
Virgo is down to earth and Scorpio is forever sort of a stranger, maybe even seemingly weird. But sometimes opposites do indeed attract. There can be excitement and sort of a challenge for both. They might also find that they balance each other, something that both benefit from. Then the relation can be lasting, even passionate.
Virgo sort of protects Scorpio, who sort of intrigues Virgo. That can nourish a relation for years. It could even make them settle down enough to form a home and a family. Still, it's not that stable, and there are many quarrels. Frustration is frequent, too.
If they break up, they simply had enough and move on. They prefer not to meet again, but mutual duties may force them to. In that case, Virgo is the one taking most of the responsibility.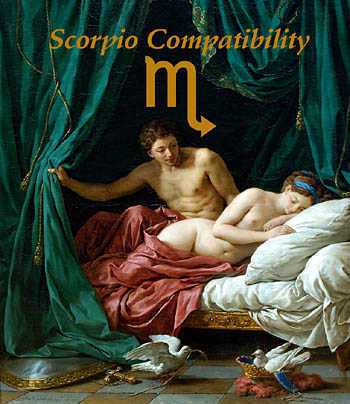 Love Match Astrology for the Zodiac Signs
How Your Fathers Compare
This depends more on the Zodiac signs of the two persons in the relationship than the signs of their fathers, which are not considered here:
Their fathers are involved in their relation. The Virgo father tries to make sure things stay in control, while the Scorpio father can't help but stir things up. So they don't appreciate each other that much.
Scorpio Compatibility

Sign by Sign
Sun Sign Compatibility and Gender
When looking at how compatible Zodiac signs are in relationships, it makes no difference what gender they are. Their Zodiac sign traits and how they match are the same, whether they are male or female.
Zodiac Sign Calculator
If you're unsure of your Zodiac sign, or if you want to know on what degree (between 0° and 30°) of the sign the sun was at your birth, please visit the Zodiac sign calculator. It's very easy to use, and then you'll know for sure. Click the header to get there.
Zodiac Sign Compatibility
To learn about the principles of classical astrology behind Zodiac sign compatibility, what is revealed and what is not revealed about their love match, click the header.
Compatibility of the Zodiac Signs