Scorpio Compatibility with Libra
Who is the perfect match for Scorpio? In the horoscope, how compatible you and your partner are is indicated by comparing your Zodiac signs. They also show how your fathers get along with you two and with each other.
Scorpio Compatibility
with Libra
The perturber meets the conscience.
Libra and Scorpio are not very likely to form a pair, since Libra strives for balance and Scorpio wants to stir things up. That's as far apart as it ever gets.
Also, they have different priorities in a relation. The former wants order and trust, the latter is mainly in it for emotional experiences, even drama. If they do form a couple, it will seem fragile, and sure enough it is most likely to end soon.
But they might find some attraction in the challenge, where Libra tries to get Scorpio to behave and Scorpio tries to shake Libra out of balance. It's almost like a sport. They could grow to enjoy it. If so, their relationship might last longer and become more intense than anyone would have guessed. There is excitement in the provocative way they treat one another.
If they break up, and most likely they do, it's mutual whoever takes the step. Libra has been agitated too many times and Scorpio has gotten tired of trying to stir things up. They won't bother to keep in touch.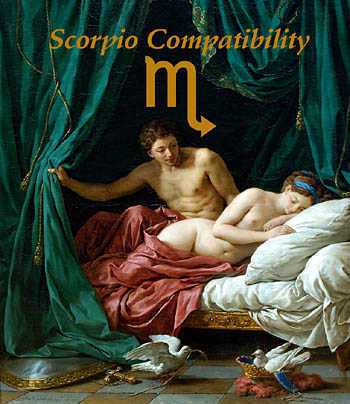 Love Match Astrology for the Zodiac Signs
How Your Fathers Compare
This depends more on the Zodiac signs of the two persons in the relationship than the signs of their fathers, which are not considered here:
Their fathers interfere in their separate ways. The Libra father is full of advice, arguing very persistently for them. The Scorpio father doubts the relation and uses provocation to make them discover their differences, as if they didn't already know.
Scorpio Compatibility

Sign by Sign
Sun Sign Compatibility and Gender
When looking at how compatible Zodiac signs are in relationships, it makes no difference what gender they are. Their Zodiac sign traits and how they match are the same, whether they are male or female.
Zodiac Sign Calculator
If you're unsure of your Zodiac sign, or if you want to know on what degree (between 0° and 30°) of the sign the sun was at your birth, please visit the Zodiac sign calculator. It's very easy to use, and then you'll know for sure. Click the header to get there.
Zodiac Sign Compatibility
To learn about the principles of classical astrology behind Zodiac sign compatibility, what is revealed and what is not revealed about their love match, click the header.
Compatibility of the Zodiac Signs