Sexuality Traits of the Zodiac Sign Taurus
To Taurus, sex is hard work. It takes time and should do so. Taurus can still be kind of lazy in bed, wanting the partner to do most of the work. But when getting started, Taurus has a perseverance that doesn't falter until a proper end for the act is reached and both are deeply satisfied.
Sex is something quite physical to Taurus, and uphill. A struggle of sorts. Taurus is slow to get turned on, sometimes very slow. But then the excitement lasts for long. So, a quickie is not something Taurus longs for. A "longie" would be more like it, with a lot of sweat and strain.
It might be because of all the tedious work involved that Taurus is difficult to seduce and prefers a steady partner, as well as consistent sexual habits. That goes for what is done in bed, too. And yes, except for some secluded outdoors place, the bed is it. There, sometimes Taurus gets lazy and just lies down, expecting to be well taken care of.
Taurus takes sex seriously. Well, Taurus takes most things seriously. The act might not be joyous for the partner, but probably satisfying, indeed. Like a massive workout. And there's something kind of animalistic about Taurus sex, which many partners might find quite liberating, in spite of the solemn mood of it.
But Taurus is likely to have few partners and keeping them for long. That's because Taurus takes quite a while before committing to anybody. They first have to get very familiar with each other and there has to be a deeply rooted affection. Otherwise Taurus just doesn't think it's worth it.
Still, seduction of Taurus is necessary. Otherwise nothing might happen, because Taurus is not much for taking initiatives.
Taurus is faithful because of being difficult to tempt. Of course, Taurus has the same urges as the rest of mankind, but although the appetite can be great it is slow between meals. Taurus digests for a long time.
So, don't expect a sex life with high frequency – but one of prolonged and intense acts, with long periods of abstinence between them. They're worth waiting for.
Sexuality and your Zodiac Sign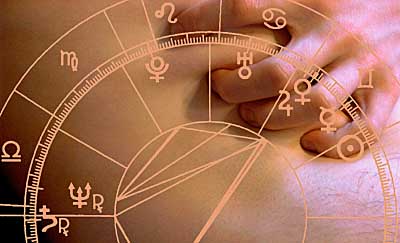 The most basic component of your horoscope is your star sign, which is the Zodiac sign the sun occupied at the time of your birth. The above text about your sexuality is based on that.
The sun is not really the driving force of a person's sexuality. You have to check your complete horoscope chart to get the full picture of your sexuality according to astrology. Still, your star sign gives some clues to your sexual habits and preferences.
Zodiac Sign

Sex Horoscopes

Here are links to all the twelve Zodiac signs and what astrology reveals about their sexuality traits.
Virgo
Sexuality
English name:
The Maiden (or Virgin)
Sun sign dates:
August 23 – September 22
Scorpio
Sexuality
English name:
The Scorpion
Sun sign dates:
October 23 – November 21
Sagittarius
Sexuality
English name:
The Archer
Sun sign dates:
November 22 – December 21
Capricorn
Sexuality
English name:
The Goat (or Sea-Goat)
Sun sign dates:
December 22 – January 20
Aquarius
Sexuality
English name:
The Water-Bearer
Sun sign dates:
January 20 – February 19
For those of you who prefer to read, here's the video transcription (click here to watch video)
---
Hi, here we are at ZodiacSignAstrology.org and we're talking about sensuality and sexuality. Today, we're gonna talk about Taurus. Are you interested in a Taurus. Maybe you are a Taurus and you wanna understand the sexual/sensual nature of the Tauri sign. For Taurus, sex is hard work.
Now, it takes time and it should take time, that's the way the Taurus feel. They're very cautious, they move slowly, they take their time with their prey. They sort of smell them out, check them out, see what they're all about and start with a little bit of a holding the hands, maybe putting their arm around. They're ruled by Venus and their Earth, so they're down to Earth and they're practical and they wanna just sort of feel out the territory first and that's how they do it.
They see, what is your reaction when they touch your hand or when I get a little too close or you put your arm around me? That gives them the confidence that they can move on in a sexual-sensual nature. So, you might think that they're a little bit lazy in bed, they're not the ones that are, ya know, like their Aries counterpart. They're not jumping all over the place, getting the job done really fast and quick.
You're excitable. They're more, like I said, down to earth. So, they're more slow with their partner and it's very slow for them to get started as well too. You can't just jump in with a Taurus because they wanna reach, they wanna make sure that not only are they satisfied but, their partner is deeply satisfied as well too. This takes, as I said, patience and time. The way that you do this is a lot of cuddling, nice walk in the park, maybe a massage, little bit of a physical, emotional, intimate contact before they jump in the sack, so to speak.
Sex is something quite physical to Taurus and it's very uphill for them. It may seem like a struggle of sorts for a Taurus and it might be hard to get them to be turned on, might feel like it's slow to turn them on, but as I said, really embrace that physical, sensual feeling that they really need to have to feel safe, to feel vulnerable in order to have a sexual relationship. It's all about touching for them. It's all about hugging and kissing and caressing during sex, it is very important to them.
So, if you're looking for a sexual-sensual partner that's in it for the long haul once you get under the covers, Taurus is the one for you. If you're with a Taurus, you wanna be patient and take your time, do a lot of touchy feeling, holding hands, cuddling up close while you're watching a movie, even if you have a nice dinner before 'cause ya know, Taurus's love their food or a nice nature walk 'cause they're down to earth, they love nature and if you're a Taurus, if you like to take your time, honor that and value that and do exactly what I had just said for yourself or at least have a conversation with your partner that this is something that you desire as well too.
Take things slow, to be very cautious and be practical about it because your sensuality and your sexuality comes in place after you have defined the relationship as being something that you want long term.
So, if you're a Taurus or you wanna be with a Taurus, these are the guidelines that we want you to follow or we suggest anyways if you wanna have a happy, satisfying sensual and sexual love life.