With the Other Zodiac Signs
Here's how Scorpio's sex life might be with the other Zodiac signs. For an introduction to Scorpio sex life according to classical Zodiac sign astrology, go here: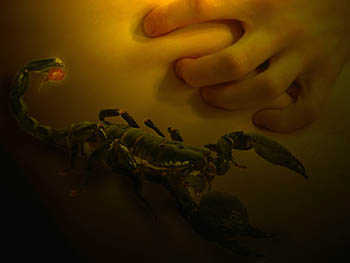 ARIES Partner
The perturber in bed with the contender. Aries is easily aroused, which Scorpio finds amusing. But things can get out of control. Still, a good match – since Aries doesn't care much about Scorpio not seeming to get equally turned on.
TAURUS Partner
The perturber in bed with the settler. Taurus is far from pleased as long as Scorpio doesn't seem to be, and all that stuff going on under the surface is annoying, maybe even frustrating, to Taurus. But Scorpio can get Taurus to places the latter didn't even know existed, and then Taurus is able – by perseverance – to make Scorpio just as satisfied.
GEMINI Partner
The perturber in bed with the entertainer. They are both sort of tricksters, so there's a lot of play and deceit going on. But they have fun, although most of it is not that memorable. And they trigger each other to more and more experiments.
CANCER Partner
The perturber in bed with the benefactor. Cancer is the one probably not fooled by Scorpio's seeming indifference, seeing through the cool. That can make Scorpio uneasy, but also intrigued. Their roles might change. Even if they don't, the two may get swept away, forgetting everything else in the world.
LEO Partner
The perturber in bed with the cavalier. Leo loves to make love and be loved. If Scorpio feels the same or not is no problem. Scorpio couldn't agree more. It seems that Leo is the one getting the most out of it, but Scorpio is playing the tune and enjoys tremendously manipulating someone who so readily gets carried away by it.
VIRGO Partner
The perturber in bed with the scrutineer. They have difficulties finding a functioning sex life, because Virgo wants to be in control and Scorpio is all about making the other lose control completely. So, there's great frustration, but that's also exciting in a way. If they dare it, they can have experiences they didn't foresee.
LIBRA Partner
The perturber in bed with the conscience. Libra is not to accept Scorpio getting any less of it, so Scorpio's cool is a challenge. Libra can also control the emotions, so there's sort of a siege going on. Scorpio holding back, Libra attacking. If Scorpio is game, interesting experiences will emerge. Otherwise they go separate ways and make sure to forget all about it.
SCORPIO Partner
Two perturbers in bed. This is a difficult match. Each wants the other to go bananas, but try to keep themselves cool. What can happen? Although they are alike, in bed they feel so different that they doubt anything exciting can emerge. They don't find each other's buttons. They might give it up, thinking the other is, well, frigid. On the other hand, together they could explore sexuality that others shun completely.
SAGITTARIUS Partner
The perturber in bed with the independent. It's doubtful that they have patience for each other. Maybe a quickie, just out of mutual curiosity. But Sagittarius has little patience for somebody who seems so hard to get turned on, and Scorpio can sense that there's really no way to manipulate somebody already on the way elsewhere.
CAPRICORN Partner
The perturber in bed with the achiever. This can be a lasting match, with a lot of ambitious sex. It may seem to be all about Capricorn's satisfaction, but Capricorn has resources and persistence. Scorpio is going to get overwhelmed, given time. Sometimes they stay in bed all through the night and the following day. And they try just about everything.
AQUARIUS Partner
The perturber in bed with the philosopher. Experimenting is something they're both equally keen on, so there will be a lot of it. Sex between the two is likely to be as fascinating as it is unconventional. But Aquarius will insist on finding what buttons to push on Scorpio, and will find them sooner or later. That will shake Scorpio's world.
PISCES Partner
The perturber in bed with the seeker. Scorpio finds a submitting partner and can't resist trying things that Pisces would really prefer not to. It's dazzling to both, but it also gets complicated. Scorpio might get carried away into insensitivity, and Pisces might have mixed feelings of anguish as well as ecstasy. Although they are overwhelmed, they may regret it afterwards.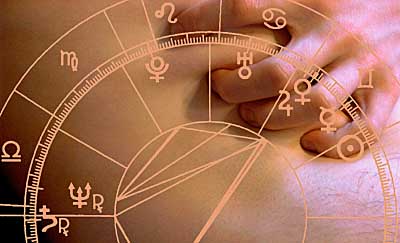 The most basic component of your horoscope is your star sign, which is the Zodiac sign the sun occupied at the time of your birth. The above text about your sexuality is based on that.
The sun is not really the driving force of a person's sexuality. You have to check your complete horoscope chart to get the full picture of your sexuality according to astrology. Still, your star sign gives some clues to your sexual habits and preferences.
Click the header to learn more about how sexuality is traced in the horoscope.
Zodiac Sign

Sex Horoscopes

Here are links to all the twelve Zodiac signs and what astrology reveals about their sexuality traits.
Virgo
Sexuality
English name:
The Maiden (or Virgin)
Sun sign dates:
August 23 – September 22
Scorpio
Sexuality
English name:
The Scorpion
Sun sign dates:
October 23 – November 21
Sagittarius
Sexuality
English name:
The Archer
Sun sign dates:
November 22 – December 21
Capricorn
Sexuality
English name:
The Goat (or Sea-Goat)
Sun sign dates:
December 22 – January 20
Aquarius
Sexuality
English name:
The Water-Bearer
Sun sign dates:
January 20 – February 19