Sagittarius Compatibility with Libra
Who is the perfect match for Sagittarius? In the horoscope, how compatible you and your partner are is indicated by comparing your Zodiac signs. They also show how your fathers get along with you two and with each other.
Sagittarius Compatibility
with Libra
The independent meets the conscience.
Libra and Sagittarius are most likely just to meet briefly in passing, since Sagittarius is not much for grave commitment and Libra is not much of a follower at all. So, they prefer to avoid forming a couple.
Even if they do, they keep on being rather reserved and doubtful, both expecting the other to be gone any minute. It's an unwilling relation, but there are things about the other that attract them.
Mainly, Libra respects that Sagittarius obviously has non-negotiable principles and Sagittarius admires Libra's strong sense of integrity. If the mutual admiration grows, so will their love. That love can become deep as the ocean, much to their own surprise. But their friends may have seen it coming – not that they could convince the couple of it, though. Libra and Sagittarius only trust their own judgment.
If they break up, it's most likely to be over one or other principle that they don't share. Then they are likely to agree on not staying in touch at all. They have other things to do and other places to go.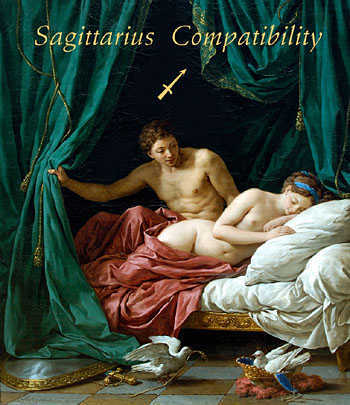 Love Match Astrology for the Zodiac Signs
How Your Fathers Compare
This depends more on the Zodiac signs of the two persons in the relationship than the signs of their fathers, which are not considered here:
Their fathers treat them very differently. The Libra father gets involved, stating firmly how they should live their lives, whereas the Sagittarius father doesn't for a moment think that he can influence them and is fine with that.
Sagittarius Compatibility

Sign by Sign
Sun Sign Compatibility and Gender
When looking at how compatible Zodiac signs are in relationships, it makes no difference what gender they are. Their Zodiac sign traits and how they match are the same, whether they are male or female.
Zodiac Sign Calculator
If you're unsure of your Zodiac sign, or if you want to know on what degree (between 0° and 30°) of the sign the sun was at your birth, please visit the Zodiac sign calculator. It's very easy to use, and then you'll know for sure. Click the header to get there.
Zodiac Sign Compatibility
To learn about the principles of classical astrology behind Zodiac sign compatibility, what is revealed and what is not revealed about their love match, click the header.
Compatibility of the Zodiac Signs