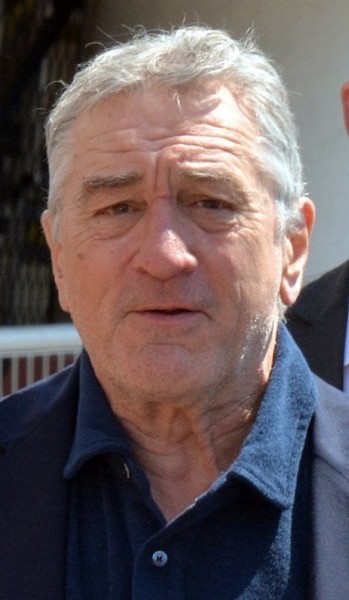 Birth Chart: Robert De Niro (Leo)
Robert Anthony De Niro (/d??n?ro?/; born August 17, 1943) is an American actor, producer and director who has both Italian and American citizenship. He was cast as the young Vito Corleone in the 1974 film The Godfather Part II, for which he won the Academy Award for Best Supporting Actor. His longtime collaboration with director Martin Scorsese earned him the Academy Award for Best Actor for his portrayal of Jake La Motta in the 1980 film Raging Bull. He received the AFI Life Achievement Award in 2003, the Golden Globe Cecil B. DeMille Award in 2010, and the Presidential Medal of Freedom from President Barack Obama in 2016.
Astrological Natal Chart
Robert De Niro
Born at Brooklyn (Kings County), USA
Tuesday, August 17, 1943
03:00 (time zone = GMT -4 hours)
73w56, 40n38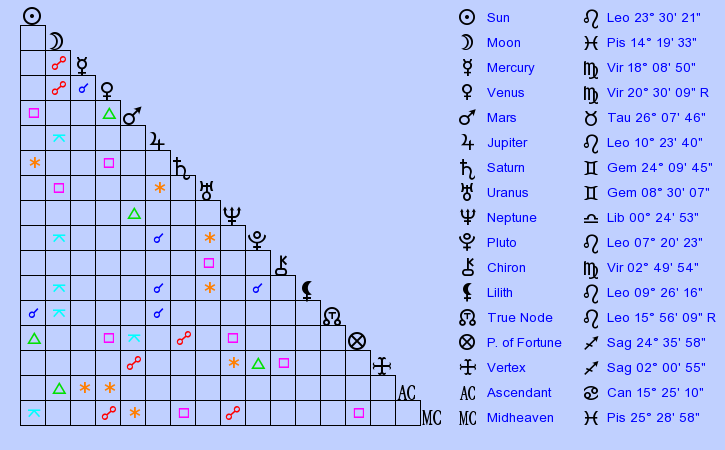 THE RISING SIGN OR ASCENDANT
At the exact minute of your birth, the astrological sign that is rising on the eastern horizon is designated the Ascendant or Rising Sign. The Ascendant is how you dawn on the world, how you present yourself to others. If someone were to guess your astrological sun sign, they would guess it based on what you show the world, which is your rising sign. It's the characteristics and personality traits that you put forth for all to see. It's the stained glass window that you project outward for the rest of your chart to flow through.
YOUR ASCENDANT IS:
CANCER rising
Those with Cancer rising are typically lower on energy than the average person, sensitive, caring, empathetic, timid, reactive, flexible, nurturing, romantic, clingy, shy, moody, emotional, protective, and can be a bit of a hoarder. Premonitions are also likely to be experienced. Cancers usually prefer to do things indirectly and you may avoid confrontations, choosing to direct your energies everywhere but to what is in front of you. The situations that you have encountered in your past tend to weigh heavily on you and you have a tendency to worry that somehow something that you have overlooked will come up to get you. Therefore, you will move ahead in a sideways fashion, evading possible threats. You are always ready to withdraw into yourself if you believe you may get hurt. Your emotions are easily triggered and you feel slighted by minor occurrences that were likely done without any ill-intent. Home is particularly important to you and though you can enjoy going off to see distant lands, you must be sure that you have a secure home base. There is a large streak of sentimentality in you and you find safety and comfort from the things you own as they remind you of the fond memories of your past or the people you love. Your emotional security is tied to your home and the things you possess, which is the main reason why you dislike throwing anything away—for you, it is like throwing away a precious memory. If you have decided to let someone in, you can become rather clingy, refusing to detach from them. All that you encounter in your life is reacted to on an emotional level, rather than a mental one. You are moody and changeable, similar to the sea. An important lesson for you may be to develop a way to comprehend boundary limitations. Cancer is ruled by the Moon and therefore it's placement in your chart will be significant.
PLANETARY ASPECTS
If the planets symbolize the forces and energies that happen in different situations, then the aspects between the planets symbolize how these energies work together and integrate with each other. There are challenging and easy aspects between the planets and it is up to the individual to choose how they are going to utilize the aspect energies for a positive outcome. The aspects between planets are said to speak to each other. Depending on which planets are aspecting each other and the rest of the natal chart, will determine which planet is dominate and which is not in the aspect between them. But ultimately it is up to the individual to decide how they are going to use the aspects of planets in their chart with their free will, in a meaningful and productive way.
Mercury blending with Venus
(power = 8.64 and this aspect is harmonious = 2.16)
You enjoy beautiful things of high-quality as your senses are particularly attuned to shape and texture. Your sensitivity towards spatial dimensions and skill in creating beauty lends to an artistic talent that can be expressed in many forms. You may find yourself working in fields of design, decorating, writing, music, or various craftworks. This placement also bestows attractive vocal abilities that you can use to diffuse difficult circumstances. Both your way of thinking and your way of speaking lead to harmonious outcomes. Diplomatic solutions in tense situations come naturally to you. You may also find yourself doing well as a salesperson of arts or of aesthetically pleasing items. You instinctively know what colours would work well together and what sorts of musical chords are most pleasing together. In the case that you are not artistically gifted, you will have a fondness for the arts and creative ventures in general. Your charming personality, subtle humour, and polite mannerisms make it easy for others to get along with you and people generally enjoy your company. You make an excellent mediator when someone has been slighted or can be a calming presence during challenging debates. When your emotions are triggered, you will analyse them before acting and it is likely that you "think" your emotions or "feel" your thoughts as you are unable to separate your mind from your feelings.
Sun discordant to Mars
(power = 7.38 and this aspect is discordant = -9.22)
You are more interested in your needs and well-being than you are with that of other people's. You readily compete with others and are considered a fighter in spirit. Developing some diplomacy would do you well; learn to work as a team. You can be confrontational and aggressive, starting arguments over the littlest of matters. Easily giving into your urges, you have difficulty with self-restraint. Many times you believe that in order to get what you desire you need to win a battle of sorts. You are always looking out for your own best interest and pushing yourself to the top of the line which can create hostility in others. You insist that you are correct even when you are not, do not foster forgiveness towards others, and have trouble apologising. Energetic and driven, be mindful not to release this in destructive ways by squandering it via meaningless endeavours or being at the whim of your sensual desires. You can be rash, careless, and lacking in patience; try to think things through before rushing full force into things. You dislike being held back in any way and will not abide by others trying to control you in any fashion which causes trouble with authority figures, affecting your advancement in your career. You are highly accident-prone and temperamental, volatile even. Pay attention to how much energy you are exerting as you typically go go go until you drop; find a way to release your energy steadily. Extreme internal tensions and an inability to handle them can cause you to erupt when things do not go as you wanted, especially at those you feel most comfortable with. You can be spontaneous though careless, leading you into trouble, especially financially.
The only thing limiting you from achieving great heights is yourself. Find a way to direct that amazing energy of yours in a beneficial way and success is yours! Though of course the path to glory will insist that you develop discipline, patience, diligence, perseverance, and a strong will. It may be necessary for you to come to terms with your spiritual needs versus what you think you need, as this is causing inner conflict for you. Let go of the lower, earthly ways of thinking and be open to wisdom and spiritual growth. You may find that these tensions cease to exist, allowing you to go forward in a more positive manner. You are brave and confident, now all you need is a bit of self-discipline to pull it all together.
Moon discordant to Mercury
(power = 7.18 and this aspect is discordant = -7.18)
You may express yourself in an eloquent and clever manner, but you tend to keep to shallow waters, never venturing into the deeper emotions that some may be fond of. You are also not likely to stick with anything for very long, have trouble remembering things, and do not have a stable pattern of thought. You are indecisive, anxious, and prone to overthinking. Your high-strung nature can rub people the wrong way at times. You enjoy talking about people when they are not around and can spin a story to better suit your needs at the moment. You are interested in where others have been, how they feel, what they think, and why. You listen to them and people naturally divulge their private thoughts to you when they may not be so open with someone else. Previous experiences are particularly fascinating to you. Historical events in both your life and the lives of others are important to you and you readily share and listen to these tales. Archaeological or genealogical topics draw you in, as well as anything pertaining to myths. You feel almost as though you are reliving these experiences yourself.
You must find equilibrium between your mental state and your emotional state as you tend to swing wildly from one to the other. Your thinking is sharp but unfortunately so is your tongue, and this creates hurt where there did not need to be any. Try to think before you speak and form your words in a more diplomatic fashion. Use both your logical thinking with your sensitive emotions. Your nervousness and inner tension can create frustration for you internally that you often take out on others. You crave genuine care and understanding.
Jupiter blending with Pluto
(power = 6.95 and this aspect is harmonious = 3.47)
You feel that all creatures on this earth are somehow connected to one another. Self-improvement and the betterment of the world in general, are important to you. You feel easily inspired in ways to bring about advancement and improvement of both yourself and humanity as a whole; you want to change the world. It is likely that you possess a good deal of motivation to accomplish some sort of permanence. Learning and keeping yourself well-formed is imperative to you and you are always searching for truth. You often share this passion for knowledge with others and may become an instructor. Striving to alter the environment for the better, you prefer holding high status as this will help you achieve this goal. Try to pay more attention to other people's ideas and beliefs, rather than closing your mind to them right from the start. You are not always correct, nor should you try to be.
Sun harmonizing with Saturn
(power = 6.34 and this aspect is harmonious = 3.17)
You have a good head on your shoulders and keep your feet firmly planted on the ground, taking life seriously and applying self-control, patience, and hard effort to achieve your goals. You are aware that anything worth having may require some sacrifice and time. Effective, detail-oriented, and organised, your word is your bond as you have a realistic view on what can and cannot be achieved. Your ability to focus allows you to work diligently until you have completed your task and when you do something, you make sure to do it right. Highly capable, you succeed at whatever you decide to fully take on. You are dutiful and never skirt your responsibilities. However, many times you take certain actions only because you feel as though you are obligated to. You have a timid or quiet sort of demeanour, though this does not make others feel uneasy when in your presence. Being the centre of attention is not something you seek, as you are not interested in displaying yourself for others. At either home or your work environment, you prefer to have things be neat and orderly. There is a likelihood that you may prosper by those more advanced in their age. People in respectable positions tend to want to see you succeed as they are intuitively aware of your dedication to all that you undertake. Leadership comes naturally to you and you understand just what needs to be done to further your goals. Mentally you are realistic, thoughtful, and demanding. You do not take well to others telling you how to do something as you prefer to think through it yourself thoroughly, analyse it, and come to your own conclusions as to what needs doing and how.
Mars harmonizing with Neptune
(power = 5.71 and this aspect is harmonious = 4.29)
You are very imaginative and visual, with a great ability to think outside of the box when an issue needs solving. However when you do look for resolutions, you tend to take the route that will avoid confrontations, instead opting for ways that will keep harmony. You are a humanitarian and enjoy aiding those who may not have been blessed with many opportunities; helping others in this way is deeply spiritually fulfilling for you. There is a talent here for dramatization, especially in the arts. In order to balance your mental and emotional states, it would help you to engage in this artistic talent and direct your energy productively. This outlet can also help you to keep your feet on the ground, rather than allowing your mind to run off into a land of fantasy. Turning fantasy into something tangible can happen for you due to your sensible nature; you couple idealism with practicality. Spiritual mysticism appeals to you and you may find yourself dabbling in the subject when opportunity presents itself. Others are drawn to your magnetic essence, particularly people who require aid of some sort. You can assert yourself when needed, though you do this in a tolerant, accepting, and caring way. Good past life karma bestows safety from secret adversaries who are intending to harm you. Innately you understand that if you continue working patiently and diligently, you will acquire what you are after. Sympathetic and sensitive to others suffering, you truly care for any living creature, human or otherwise, though you must be mindful not to allow others to take advantage of you by way of conjuring up a sad tale just to play on your sentiments. Being around water will soothe your mind and spirit, and therefore you should strive to be near water as often as possible.
Uranus harmonizing with Pluto
(power = 4.84 and this aspect is harmonious = 4.84)
There is a possibility with this placement to benefit humanity by using your imagination and ingenuity. Frequent fluctuations and transformations are likely to be part of your life and aid you in improving yourself and the lives of others. Intuitively you are aware that these fluctuations are good for you and are therefore welcoming of them. You find yourself striving to better the world, and you are able to do this peacefully and lawfully, without causing strife or disharmony.
Moon discordant to Venus
(power = 4.82 and this aspect is discordant = -3.62)
The routines you have adopted can frustrate other people. You may be rude, ill-mannered, or personally unhygienic and these traits often aggravate others. There is a tendency towards laziness and a dislike of hard work. You believe that this sort of labour is meant for someone else, and you will watch others work while you relax, with a clear conscience. You are able to tell what people desire and sweet-talk them into doing what you want; being truthful is no concern of yours. You feel like there are two different people at war within you and this wreaks havoc for you personally. Sometimes you will become so accommodating with those you love that you become someone else and wind up feeling miserable in the end. You are unsure what exactly it is that you want out of a romantic partnership, someone to take care of you or someone to be on an equal level with. When you feel emotionally unsatisfied, you can over-indulge in rich foods. You are prone to over-eating sweets and richer cuisine in general, as you can be rather insecure. You may question your self-worth or attractiveness, despite people expressing otherwise. Try to develop a backbone and fight for the things that matter to you, or for yourself when necessary. You crave genuine care and affection for emotional security, and if you believe that this may be removed from your life, you start to fall apart. Your warmth stands on its own, though you must curb your possessive habits. Love transcends many lifetimes and we never fully say goodbye. Instead, we are brought back together in the next life.
Keep an eye on your finances as they can run away from you more rapidly than you can acquire them. You have a habit of indulging yourself too much as well as expecting your surroundings to be luxurious. Rather than do the work necessary to fix something, you will often sweep problems under the rug. You may feel as though you are not good enough just as yourself and you are constantly monitoring how popular you are. It is important for you to learn how to be brave and express your concerns when you have them. Sometimes you care so much about what people will think of you that you steer clear of any confrontation. However, your road to happiness involves building integrity and fighting for the things you believe in, as this will allow you to be truly who you are deep down.
Jupiter harmonizing with Uranus
(power = 4.11 and this aspect is harmonious = 6.16)
Chances to succeed tend to appear in your life unexpectedly and can be of an uncommon variety. You have many interesting ambitions and are rather unusual yourself. People often perceive you as advanced in your thinking. Others enjoy your pleasant demeanour as you tend to keep positive and have a hearty sense of humour. Mentally you are innovative and unique, portraying an open-minded, accepting, kind, charitable character. You may be interested in mystical studies or scientific endeavours. Always willing to lend a helping hand when needed, you are friendly, outgoing, welcoming, caring, and tender. You are not greedy with what belongs to you, rather you share readily when need be. Learning and experiencing new things is important to you, therefore you surround yourself with eccentric individuals that will often teach you what you would have never encountered otherwise. Curiosity keeps you asking about the ins and outs of everything you come across, producing many fresh concepts for you to dissect. It is unlikely that you will stay in one place for very long as you prefer to be discovering new places instead of settling into them. You despise doing the same monotonous duties day in and day out and you require variety in your life; being obligated to perform these sorts of tasks can have a negative impact on you. It is pertinent that you are free of restrictions as commitments tend to scare you; you are uncertain if you will be able to abide by them and do not wish to let others down, so you usually steer clear. You may inherit finances in unusual and spontaneous ways. There is a positive past life karma that signifies you will be blessed spiritually and watched over.
Venus harmonizing with Mars
(power = 2.37 and this aspect is harmonious = 2.37)
Very affectionate, you enjoy engaging in romance and are a sensitive, appreciative pursuer. Others are drawn to you even if you are not stereotypically good-looking, though you often are. Your personality is vibrant and you are easy to be with, gaining you much popularity. You keep your emotions fairly steady and low-key, which can be very attractive to the opposite sex. There is a part of you that likes to play match-maker and you could easily put others together in a fantastic way, creating harmonious pairings that last.
You are driven by an amorous nature with a fondness for all things beautiful, yearning to channel your passion into creativity of any form. This placement denotes a charismatic magnetism that others respond to. Being alone for too long does not do you well and you prefer to be socially active, happily engaging with other people. You have a strong craving to express yourself affectionately and for this warmth to be reciprocated. Your vitality is apparent to others and people find you alluring. Romantic relationships are likely to flourish as you are aware of what you desire in a mate and are able to convey these feelings clearly. You do not hide your intentions, but rather take a direct, honest approach in these matters. However, you will avoid conflict if you can do so as you dislike disharmony. You invest much effort to understanding your feelings.
Venus discordant to Saturn
(power = 2.34 and this aspect is discordant = -2.93)
You are likely to be emotionally underdeveloped. Opening up to others is not easy for you due to your being unable to move past previous hurts, always fearful that the same will happen once more. You keep both your money and your feelings to yourself. Innately, you know that nothing comes for free and you would rather not pay the price unless it is truly worth having. Rather than expressing your emotions to another, you will tend to purchase tokens of affection, as it seems to be easier for you to handle them rejecting your present than for them to reject you emotionally. You deeply desire to be loved but you are unable to be intimately close to another. Inside, you are insecure and do not believe you are worthy of being loved. It is only when you transform this way of thinking that your life will turn around for the better. You deserve as much love as anyone does, though this needs to come to you on your own. Try to let go of what happened in the past and move forward with your life.
Your demeanour is usually stern and sombre and others may think you generally do not care about much. These observations are untrue as it is more so that you are being careful about who you reveal yourself to. You desire warmth and affection though it is very challenging for you. In order for you to receive affection, you will need to show it first. You cannot purchase other people's feelings. Letting loose and having a good time without reservation is hard for you. Working diligently towards a practical result is something you can more readily comprehend, but emotions? They confuse you. It is uncommon that you engage in fun just for the sake of fun. Work tends to be fun for you which is baffling to others. Oddly enough, there is the occasional moment where you will distract yourself with something and leave the work to build up. You must find equilibrium between the serious side of life and enjoying yourself.
You may seek out romantic partners that do not treat you the way they should. If you find a way to appreciate the person you are, others will also. Safety and stability are valuable to you though you are unsure how to acquire them. You often worry about losing monetary assets or the people you care for. These feelings may become a self-fulfilling prophecy. Allow yourself to open up to others and forget past hurt. Look your problems right in the eye and deal with them; it is the one path to conquering them.
When faced with much difficulty you can become very pessimistic and down on your luck. Acting responsibly is important though life has put these challenges in place for you to grow in strength and wisdom. You are more likely than others to comprehend that there is more to life than being happy. However, this does not require that you must live in misery. Your loneliness stems from your unwillingness to accept that people do truly care for you. Again, it is likely your own insecurities colouring reality for you. If you want to draw love towards you, then you must first act in a caring fashion.
You are guarded about sharing your interests with others because you are fearful that they will reject you. In your relationships you may be mildly envious or try to possess your partner, as you tend to be so afraid of losing what is yours that you cling to it. However, this tendency only works to distance your partner from you as they feel trapped, creating the exact thing that you were worried about. No amount of force can keep someone that does not wish to be kept. Feelings of love should be allowed to be expressed freely, without control being placed on them. Try to keep in mind that the challenges you are facing in life are only there to aid in your growth.
Moon discordant to Uranus
(power = 2.18 and this aspect is discordant = -2.18)
Your emotions vary wildly and it is anyone's guess as to when or why they will alter. Very self-sufficient, you abhor being restricted for any reason. You are drawn to everything that is unique, strange, or shocking, though you tend to jump from one thing to the next without allowing yourself to master any of it. You are unable to restrain yourself yet it is often the best thing for you. You seek out thrills, variety, exciting adventures, and feel like a zombie if forced to do the same thing day in and day out. Fresh concepts and ideas are like air to you and you are enthused to involve yourself in them. Sometimes you can rush in too quickly, and perhaps carelessly, particularly in regards to your romantic partnerships. You rebel when you perceive your freedom will be curtailed somehow. It is difficult for you to stand by your word as you never know if your emotions about the matter will change tomorrow, 5 years from now, or not at all. Everything is done spontaneously. There is a tendency towards acting selfishly and putting yourself first above all. The situation at home can be volatile and the bonds you form with females are as well. Try to think about your feelings before expressing them without warning. People are often confused about where they stand with you because one moment you are cold and the next sociable. Sometimes you will consciously keep yourself at a distance as you are worried that getting close to people may somehow limit your independence. Your spirit needs to be allowed room to roam as it may. For personal growth, you must find a way to subdue the emotional chaos that lives within and surfaces at random. If your feelings are negatively triggered, you can react irrationally or recklessly. This careless activity causes you to be prone to accidental injury. You feel tense when you are inactive as your nervousness needs an outlet. At times you will do something odd just for the shock-value. Your need to be unrestrained can make it challenging to settle down in one location or with a partner. As you are prone to angry bursts, it would be best if you developed a way to hone your patience.
SIGN POSITIONS OF PLANETS
The Planets in astrology symbolize 'what' is being addressed. They behave as actors in a production. What is happening on stage? The signs in astrology are the way that the actors behave on stage. They ask the question 'how?' How is the planet motivated? How are they living their life, in their highest good or in their shadow? The signs describe in detail how the actor might react, behave or conduct themselves.
Sun in Leo
Leos are typically regal, brave, loving, influential, giving, fun-loving, positive, motivated, faithful, and jovial (learn about compatibility with Leo here). Unfortunately, they can also be egotistical, narrow-minded, controlling, sluggish, demanding, and unaccepting of others. They prefer being engaged in activities that allow them to use their excellent organisational skills, artistic innovation, and managerial abilities. Leos can sometimes put on a tough façade, when deep down they are rather sensitive and vulnerable. If their significant other hurts them in a vulnerable state, they may suddenly shun the partner and behave in an ill fashion towards them.
Leos are often found with all eyes on them. They enjoy sharing tales and add a bit of pizzazz to their show; having fun is important to them. Though they would prefer to be kind-hearted, if they feel it is necessary to be heavy-handed, they will do so without hesitating. If they ever do behave in a mean manner, they will feel that it is only because they have the other person's best interest at heart.
Do not anger a Leo, as he will suddenly act as though he is the royal ruler of the land and you are his subject. They will need to show you their strength and bravado, but once the storm has passed, the lion will happily forget that there was ever an infraction.
When Leos are in optimal condition, they are caring, fun-loving, positive, and bring great joy to others. They can be very giving, though financial resources may be difficult for them to hang on to without them realising where the money has gone to.
Leos are usually healthy and can bounce back easily from physical setbacks. Be mindful towards fevers, as they can be prone to particularly high temperatures when sick. Usually optimistic, when sadness does hit them, it can hit hard. Luckily, they are quickly able to revert back to their cheerful selves. However, if they are suffering from a lost love, they can suffer deeply as heartbreak is the most difficult thing for a Leo to conquer. Heartbreak may lead to physical ailments of the heart.
A Leo must have a high regard for the person they marry, as otherwise the relationship with falter rather quickly. What matters most is that Leos know they are valued.
Moon in Pisces
You convey your feelings in a considerate and supportive way. You are caring, compassionate, sympathetic, tender, creative, and unobtrusive, with a fascinating way of perceiving how others are feeling or may respond to circumstances. You have a large amount of empathy, feeling the pain others are experiencing. Those who are suffering instinctively seek you out as they are aware on some level that you will not judge them for their woes. Often times, people are unable to imagine that you are suffering just as greatly as they are themselves; regardless of your personal feelings you will always do your best to aid those in need. Deep down you believe that the suffering you have experienced happened for a reason, even if the sole motive was to teach you a lesson. Your kind-heart may be misused by others which forces you to retreat from the world to replenish your inner balance. Your spirit craves music and there is a pull towards it. Music becomes a major part of your life or expression, as you discover that only through music are you able to find a home for the often indefinable emotional chaos present within you. You have an idealistic view of love; be mindful that the romantic in you falls in love with the person you are seeing rather an idea you have constructed in your mind. Your daydreams and emotions can be quite real to you and you can become completely engrossed in them, perhaps too much. Your moods may fluctuate wildly, leaving those close to you baffled, unknowing what to do. Challenging projects do not deter you and you are likely to enjoy working for people who are not as affluent as yourself. You absorb the energy around you whether you want to or not and this drains you; you do best when you can work on your own, away from the stressful energies of others. There is likely to be some sort of creative or artistic talent, though you may need to discipline your mind before your fantasies run away with you.
Mercury in Virgo
Detail-oriented with a quick, sharp mind, you are able to execute tasks in a painstakingly careful and thorough fashion. You are effective, investigative, sensible, and reasoned; you keep your feet on the ground. Your practical, rational nature gives way towards a possible career in mechanical or technical work, where you need to possess a set of specific abilities. Abstract reasoning is not particularly interesting to you if it cannot be applied in a handy, concrete manner. Though you are detail oriented and enjoy investigating everything that comes your way, there is a likelihood of being blind to subtleties; you need things to be expressed to you directly rather than having to assume or guess at hints. You excel in endeavours that require an exact, accurate thought process, precise technique, or effective, structured administration. There is a tendency towards being too hard on others to meet your perfectionistic requirements. Your strengths include dependability, flexibility, methodical approach, and attention to detail. However, you are also prone to getting bogged down with a negative attitude and cynical, prejudiced behaviour as well as having a tendency to grumble and gripe when things are not to your liking. Be mindful that you do not lose the big picture when focusing on the details.
Venus in Virgo
You are patiently loyal to those you love, giving and helpful whenever you are needed. You tend to express your affection through acts of kindness rather than through words or some sort of extravagant romantic gesture. Something about being too emotionally open makes you uncomfortable and you'd prefer to be more reserved in your expressions. There may be insecurity that you are unattractive or unlovable somehow. Your own doubt causes you to become fault-finding in your significant other and difficult to please. Beware that you do not wait so long for the elusive "perfect partner" that you waste your chances at happiness with someone real. You expect your environment to be neat and organised. Developing a way to aid others can help you to counter your tendency to complain and criticise. Despite these tendencies, you are gentle, compassionate, and kind which allows you to do well in professions where you are caring for others.
Mars in Taurus
When you put your mind to something, you will persevere at all costs. You are unlikely to alter your course once you have decided on it and can be quite stubborn. If you have started on a journey, you will continue until you get to where you need to be. Incredibly faithful, you will not betray another unless they have done so first, in which case anything goes. You are even-tempered and easy-going, and it takes a lot to push you over the edge. However, if you do manage to get to that point, your blood is boiling, and you see red and charge! You are dependable, steady, and able to work harder than others. A consistent schedule with no guess work is likely to suit you well as you flourish in this sort of environment. Seeing the fruit of your labour is important to you. Practical applications are also appreciated. Abstract concepts are not for you, you need something down to earth and realistic. At times it may be difficult for you to motivate yourself to move as you enjoy lounging around in creature comforts. However, when you do manage to start, you are able to endure; difficult to light the candle but slow burning once it is lit. You are less likely to start a project than you are to continue it. Material possessions are important to everything you do and you keep an eye on being safe and protected. It is possible that you will miss many opportunities due to your inability to change course once you have started, however this makes you incredibly reliable and dependable. Try to be mindful of your tendency to treat your romantic partners as possessions and curb your jealous inclinations. You find peace of mind in material assets though it may be beneficial to you to acquire this from more significant avenues. Caution is prevalent in all of your dealings and you fear a situation altering. Developing some sort of health issue or having to endure physical discomfort also worries you. Sometimes you can be so stuck on your chosen path that nothing and no one can deter you. You may suffer from foot-in-mouth issues; try to be diplomatic when expressing yourself. Also, it would do you well to be more giving of your possessions.
Jupiter in Leo
You are giving, warm-hearted, sympathetic, and self-sacrificing. With your excellent administrative capabilities, and your desire to be held accountable, you make a better leader than you do a follower. You tend to be enthusiastic and strong-willed. Things that are a benefit to humanity are of interest to you. However, at times you are able to be cold, indulgent, arrogant, flashy, and may have gambling problems. It would be best for you to be respected through your king and giving nature.
Saturn in Gemini
Mentally you are rather serious and intentional, with great ability to focus. You are an excellent coordinator and easily decipher complex situations while finding realistic resolutions to whatever difficultly is presented to you. Acquiring knowledge is something you thoroughly enjoy spending your time on. However, you must be mindful of a tendency towards pessimistic, overly sceptical, and gloomy thinking. Anxiety may become an issue for you and there seems to always be sensitivity with your lungs or trouble with oxygen in the system. Take care to keep the air circulating in your bedchamber. The influences of Saturn in this placement will stabilise the typical fickle behaviours of Gemini and allow you to be more mentally balanced. Saturn in Gemini can be very beneficial though you must try to stay positive about what may come to pass. To achieve success, it is necessary for you to cultivate a more systematic way of thinking and behaving.
HOUSE POSITIONS OF PLANETS
The Planets in astrology symbolize 'what' is being addressed. They behave as actors in a production. What is happening on stage? The Houses in astrology are the stage. They ask the question "where?' Where is the action? In the home, in health, in the career or in the marriage, to name a few. The Houses tell the story of where the action is happening, what type of people are involved and what sort of environment it is.
Sun in 2nd house
You aspire to obtain power through material gains and your natural talents, as it is important for you to be highly regarded and worthy of respect. Motivated and giving, yet you can be prone to excessive spending and in turn may find yourself being domineering or controlling with your possessions, and sometimes with others as well. You may also harbour feelings of being unloved or unworthy, if an aspect is afflicted with the Sun.
Moon in 9th house
You find security in your philosophies and beliefs. You tend to daydream about a life different from your own; the grass is always greener. Often thinking on the deeper meaning in life, you strive to find new ventures which propel you to go on prolonged adventures, whether these travels are mental or physical. Interested in a variety of topics and subjects, you would make an excellent educator as you can muster up heart-felt enthusiasm for the matter being discussed. It is possible that you have prophetic dreams. You are likely to be interested in a career that involves higher education, religious or philosophical studies, travelling, foreign affairs, moral values, or law. You may need to relocate to an area far from your birth place in order to succeed in your endeavours.
Mercury in 3rd house
Mercury in this placement gives you a clever, observant mind that is able to absorb information like a sponge. Quick and attentive, as well as gifted with versatility; you can be a jack-of-all-trades. It is likely that you will go through many short-lived adventures, but in time you will be able to bring your ideas to fruition due to your ease at articulating yourself through both the written and spoken word. Being very detail oriented, you may venture into a career in teaching or technology.
Venus in 3rd house
You are well able to articulate your creativity in both the written and spoken word. You tend to keep your immediate environment rather copacetic as you have distaste for conflict. Preferring to keep your surroundings harmonious, you can be evasive when confrontations are expected. Because of your amicable, pleasant nature, most will find it easy to be in your company. Being comfortable and tension-free is important to your well-being.
Mars in 11th house
You have many acquaintances as well as a large group of enthusiastic friends, and you are often a leader in social gatherings. There is a tendency to give a lot of yourself to your companions; therefore it is imperative that the people you form strong bonds with do not have a bad influence on you. This placement denotes a probability that either you will try to use your friends, or they will try to use you. Either way, you are quite involved in group events. In addition, you possess strong wants, hopes, and aspirations.
Jupiter in 2nd house
Optimistic and self-assured, you are unusually prosperous financially. Material gains seem to just fall into your lap with little effort and most would consider you "lucky" in this area. It is unlikely that you have ever had to suffer from lack of having your material needs met. It would be wise for you to use your superb financial instincts to invest, as you easily inspire faith and confidence in others. It is likely that those in advantageous positions will reach out to assist you monetarily at one point or another to help you actualise your dreams. In addition, try to be mindful of a tendency towards over-indulgence with lavish cuisine, as you are prone to extravagance in this area.
Saturn in 12th house
Though you are filled with doubts and insecurities, there is a strong inclination to develop a good deal of self-restraint and compassion. You may feel an urge to right the sins you may have indulged in during a past life. This karma may make you feel destined to isolate yourself from humanity, though a strong will-power enables you to amend these previous wrongs. It is likely that you will find yourself on a journey to serve others. A tendency to keep your fears bottled up may result in constant physical ailments unless you express them. You relish your alone time and may prefer to find a career that allows you take a back seat or where you would not need to socialise often with the community.
Uranus in 11th house
You tend to be drawn to unconventional people when forming friendships and your social associations are often unique, innovative, intuitive, or artistic in some way. Group connections and friendships can transform unexpectedly or cease altogether. You are rather popular and out-going, making connections effortlessly, though you tend to have only a handful of those you would consider real friends. You are likely viewed as a bit cool and detached by your social group. You possess a strong passion to reform, though it would be more conducive for you to use this energy towards benefiting humanity rather than rebelling against it.
Neptune in 4th house
Easily confused, you may find yourself plagued with anxiety and self-doubt which can at times make you feel removed from others and the outside world as a whole. Being at home may seem ideal to you, but this is often only a delusion. You feel a strong mystical connection with either your mother or father, possibly with both of them. Neptune in this placement creates subconscious forces that spur forward much uncertainty and misconception in regards to your home life and where you came from; things are not always what they seem. In addition, you are likely drawn to living near large bodies of water.
Pluto in 2nd house
You are particularly talented in money matters with astute observations, tolerance, and perseverance in this area. Finding yourself with an unusual need for material gains, you must be careful not to treat those close to you as objects as well. It may be necessary for you to learn to remove yourself from the grasp your possessions have on you and try to readily share what you acquire instead. There is a tendency with this placement for your assets to be under tight control, whether this be of your own accord or from an outside source. Behaving honourably in your financial dealings will be crucial.
SABIAN SYMBOL POSITIONS OF PLANETS
The Sabian Symbols are a set of 360 symbolic declarations that correspond with each of the 360 degrees of the astrological zodiac chart wheel, starting at Aries degree number 1 and finishing with Pisces degree number 30. They were created by Marc Edmund Jones and Elsie Wheeler, circa 1925 in San Diego, California. In modern times, they are commonly used by astrologers in order to deeply understand the significance of planets that are occupying a particular degree of the zodiac.
Sun in
Leo 24
Sabian Symbol: A transendental yogi sits unkempt and dirty.
Kozminsky Symbol: In a rustic cottage grassy field, an old rusty sword lies.
Moon in
Pisces 15
Sabian Symbol: An officer of the military instructing his troops before a battle.
Kozminsky Symbol: Two men on a mountain lookout, one scanning nervously at the horizon, the other is fallen on the ground in the penetrating sun.
Mercury in
Virgo 19
Sabian Symbol: On a balmy summer day, a swim race is almost complete.
Kozminsky Symbol: Men work on the slopes of a fire mountain, smoke is rising.
Venus in
Virgo 21
Sabian Symbol: Two teams of girls' basketball play together.
Kozminsky Symbol: A man triumphantly burns a will while someone else is lying on a table nearby.
Mars in
Taurus 27
Sabian Symbol: A withered old Indian woman is selling trinkets of her tribe to others who pass by.
Kozminsky Symbol: An inventor looks admiringly at an engine that he just completed as he rises from his bench.
Jupiter in
Leo 11
Sabian Symbol: Children swing high from a hanging swing in the branches of a gigantic oak tree.
Kozminsky Symbol: Soldiers of questionable character are seen dragging off innocent women.
Saturn in
Gemini 25
Sabian Symbol: A gardener trims a row of magnificent tropical palm trees.
Kozminsky Symbol: From the heavens, a shining pentagram is held by a hand holding a great scroll.
Uranus in
Gemini 9
Sabian Symbol: A confident medieval archer stands bow in hand and his quiver full of arrows.
Kozminsky Symbol: A document is held by a hand and a crown and royal seal is shown.
Neptune in
Libra 1
Sabian Symbol: In a metaphorical painting, a brilliant butterfly is seen in death impaled by a dart.
Kozminsky Symbol: Above a square, a lion has his paw resting upon a heart.
Pluto in
Leo 8
Sabian Symbol: A revolutionary is spreading his ideas to the people.
Kozminsky Symbol: Walking in a forest are two lovers and they see before them a beautiful butterfly and two white doves.
Ascendant in
Cancer 16
Sabian Symbol: Square symbolism using a table and an ancient book is used by a man who studies a Mandela.
Kozminsky Symbol: High on the mountaintop, a young man receives a sword given from the heavens as he looks out over the country.
Midheaven in
Pisces 26
Sabian Symbol: The new moon is just visible at sunset. Lovers find it romantic, philosophers hear it speak to eternity.
Kozminsky Symbol: A water-witcher with hazel sticks in his hands, sets out to find underground water.