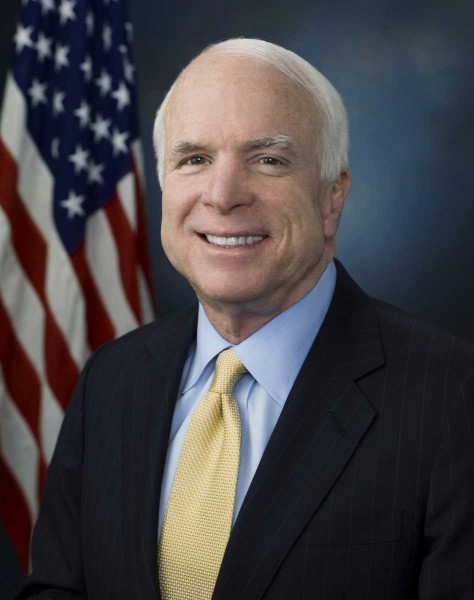 Birth Chart: John McCain (Virgo)
John Sidney McCain III (born August 29, 1936) is an American politican who currently serves as the senior United States Senator from Arizona. He was the Republican presidential nominee for the 2008 United States presidential election.
Astrological Natal Chart
John McCain
Born at Colón, Panama
Saturday, August 29, 1936
18:25 (time zone = GMT -5 hours)
79w54, 9n22
THE RISING SIGN OR ASCENDANT
At the exact minute of your birth, the astrological sign that is rising on the eastern horizon is designated the Ascendant or Rising Sign. The Ascendant is how you dawn on the world, how you present yourself to others. If someone were to guess your astrological sun sign, they would guess it based on what you show the world, which is your rising sign. It's the characteristics and personality traits that you put forth for all to see. It's the stained glass window that you project outward for the rest of your chart to flow through.
YOUR ASCENDANT IS:
PISCES rising
Those with a Pisces rising are typically emotionally delicate, caring, sympathetic, unrealistic, lost in their fantasies and unable to make decisions as they procrastinate themselves into an idle idea. You are full of idealism and romance, warmly demonstrative of your affections but unable to will yourself to handle the daily pressures of life. At times you can even be likened to the professor who contrives brilliant concepts while being unaware of what is right in front of him. Often you are unable to concentrate on practical matters and may daydream your life away. Your dislike of reality may cause you to seek out things you can lose yourself in, ways to escape life such as music or addictive substances. Inside you may feel eternally lonely and nothing can penetrate this from the outside. It is imperative that you are able to take time for yourself to be alone and re-centre your spirit as you are highly sensitive to your environment and may absorb too much negative energy. Others truly enjoy your company though it is imperative that you develop practicality and focus yourself on what is real and present. Aiding others is part of your path, though be mindful that you are not taken advantage of by people using your good heart against you. Learning how to stick through your challenges, rather than escaping them, is an important life lesson for you. Pisces is ruled by both Jupiter and Neptune and therefore their placements in the chart will be significant.
PLANETARY ASPECTS
If the planets symbolize the forces and energies that happen in different situations, then the aspects between the planets symbolize how these energies work together and integrate with each other. There are challenging and easy aspects between the planets and it is up to the individual to choose how they are going to utilize the aspect energies for a positive outcome. The aspects between planets are said to speak to each other. Depending on which planets are aspecting each other and the rest of the natal chart, will determine which planet is dominate and which is not in the aspect between them. But ultimately it is up to the individual to decide how they are going to use the aspects of planets in their chart with their free will, in a meaningful and productive way.
Moon harmonizing with Mercury
(power = 11.68 and this aspect is harmonious = 11.68)
Your memory is superb and you can quickly recall previous moments in time and all of the details involved, including other people. There may be talent in teaching or speaking to the public as you put forth a great deal of emotional energy towards communicating your thoughts. You value education and try your best to gather as much data as you can, attempting to always be in the know when it comes to progressive advances. You would also make for a good therapist because of your excellent listening skills and your non-judgemental attitude towards people's troubles. People feel nurtured by you and you inspire them to believe in their abilities. You pick up on the subtleties and the unspoken words others have trouble communicating outright, allowing you to convey outwardly the things that will truly help people. Try to make it a habit of writing down your experiences and responses, as this can allow for some personal growth when you look back on them in the future. There may be a skill in linguistics. Mentally you are logical and your thinking is not muddled by your feelings as your mind and emotional state work together harmoniously. Often times, it may seem as though you are speaking other people's thoughts as they are thinking them, or sometimes even before they are made aware of them, as you are highly attune to other people's emotional energy. People take comfort in this ability because they can be sure that you really do comprehend their situation. You are able to use the written or spoken word to express your thoughts and the concepts you have created in your mind. All forms of communication appeal to you, as does travelling. You prefer your life to be full of changes and various new experiences so that your mind has something to contemplate and there is always something new to express or feel. You may wish to try your hand as a writer due to this placement bestowing clarity of mind.
Jupiter discordant to Neptune
(power = 8.98 and this aspect is discordant = -4.49)
Your emotions may be extremely sensitive and you are prone to becoming engrossed in dreamy romantic fantasies. This illusion can sometimes affect your progress in real life, as you may avoid your less fanciful, everyday obligations in order to stay in your daydream. Be mindful that others do not abuse your kindness, as you can be naïve in your readiness to help someone who seems to be down on their luck; do not let people manipulate your warm nature. It is also possible that you go to the other end of things and play the victim yourself, feeding on the pity of others just to be noticed, or you may use dishonest tactics on others, often times on those in your family. There is likelihood that in one way or another you encounter trouble deciphering what is true and what is false, as you can twist reality into fascinating delusions. It is paramount to develop your more practical side, learning when to restrain yourself from your own wishful thinking.
There is a tendency towards negative consequences as a result of a scam; therefore it would be best to avoid becoming involved in arrangements in which you are promised wealth for little investment. Thinking positively is good, though you must also keep your feet on the ground and your head out of the clouds. Nothing worth having in life is without hard work and sacrifice; there is always a price to pay. Develop tolerance towards others and their foibles rather than expecting people to adhere to your idealistic standards. You will find yourself becoming disenchanted with others, and life in general, when those you had high hopes for cannot meet your expectations. Involvement in mystical endeavours can have a harmful influence on you; it would be best if you avoid these. Substance abuse may also become a problem for you and should be kept an eye on.
Sun harmonizing with Uranus
(power = 8.90 and this aspect is harmonious = 8.90)
You are drawn to all things unconventional, untraditional, eccentric, or just plain odd. The old-fashioned way of doing things is not for you and you will not pay old traditions any mind when you are making your decisions. Searching for new experiences, you are always ready and willing to go off on a random adventure. You enjoy keeping up to date with all of the newest technology and often are the first to have the latest gadgets and gizmos. You are very independent and need a great deal of space to venture forward into the world. Progressive and innovative, you strive for change and reform of some sort. You think outside the box and can be madly brilliant with finding creative answers to whatever problem you are presented with. Artistic and highly intuitive, you must find an outlet to express these gifts. You are able to remove yourself from the lower impulses of human nature and call on your more enlightened self for guidance and purpose. Many times situations sort of just happen to you, spontaneously and seemingly at random; you can never quite know what to expect in your life. Some unseen force seems to be protecting you as you can get big breaks just when you felt time were running out.
Venus discordant to Saturn
(power = 8.82 and this aspect is discordant = -11.03)
You are likely to be emotionally underdeveloped. Opening up to others is not easy for you due to your being unable to move past previous hurts, always fearful that the same will happen once more. You keep both your money and your feelings to yourself. Innately, you know that nothing comes for free and you would rather not pay the price unless it is truly worth having. Rather than expressing your emotions to another, you will tend to purchase tokens of affection, as it seems to be easier for you to handle them rejecting your present than for them to reject you emotionally. You deeply desire to be loved but you are unable to be intimately close to another. Inside, you are insecure and do not believe you are worthy of being loved. It is only when you transform this way of thinking that your life will turn around for the better. You deserve as much love as anyone does, though this needs to come to you on your own. Try to let go of what happened in the past and move forward with your life.
Your demeanour is usually stern and sombre and others may think you generally do not care about much. These observations are untrue as it is more so that you are being careful about who you reveal yourself to. You desire warmth and affection though it is very challenging for you. In order for you to receive affection, you will need to show it first. You cannot purchase other people's feelings. Letting loose and having a good time without reservation is hard for you. Working diligently towards a practical result is something you can more readily comprehend, but emotions? They confuse you. It is uncommon that you engage in fun just for the sake of fun. Work tends to be fun for you which is baffling to others. Oddly enough, there is the occasional moment where you will distract yourself with something and leave the work to build up. You must find equilibrium between the serious side of life and enjoying yourself.
You may seek out romantic partners that do not treat you the way they should. If you find a way to appreciate the person you are, others will also. Safety and stability are valuable to you though you are unsure how to acquire them. You often worry about losing monetary assets or the people you care for. These feelings may become a self-fulfilling prophecy. Allow yourself to open up to others and forget past hurt. Look your problems right in the eye and deal with them; it is the one path to conquering them.
When faced with much difficulty you can become very pessimistic and down on your luck. Acting responsibly is important though life has put these challenges in place for you to grow in strength and wisdom. You are more likely than others to comprehend that there is more to life than being happy. However, this does not require that you must live in misery. Your loneliness stems from your unwillingness to accept that people do truly care for you. Again, it is likely your own insecurities colouring reality for you. If you want to draw love towards you, then you must first act in a caring fashion.
You are guarded about sharing your interests with others because you are fearful that they will reject you. In your relationships you may be mildly envious or try to possess your partner, as you tend to be so afraid of losing what is yours that you cling to it. However, this tendency only works to distance your partner from you as they feel trapped, creating the exact thing that you were worried about. No amount of force can keep someone that does not wish to be kept. Feelings of love should be allowed to be expressed freely, without control being placed on them. Try to keep in mind that the challenges you are facing in life are only there to aid in your growth.
Moon discordant to Pluto
(power = 8.61 and this aspect is discordant = -8.61)
There is intensity in every aspect of your life from your emotions and wants, to your romantic partnerships, with many of them being full of passion, instability, and heartbreak. You have a great personal magnetism that pulls others in. There is a tendency towards obsessing over people and partnerships. In your relationships, you may take turns trying to possess one another, each person controlling as much of the situation as they can until the other has had enough and tries to turn the tables. You can be jealous and also try to manipulate others, whether you do this behind the scenes or in a more overt manner. There is not much you will not do in order to maintain your power over people and the situation at hand. Your intense emotions can create such a strong pull within you that you find yourself acting in ways that are irrational. Evetually your emotions reach a peak and you need to remove yourself completely from the people in your life and the situations that you are in, and start anew. You are not the most open-minded person and can be very stubborn in your viewpoints, throwing them at others aggressively, often disregarding new concepts that others are trying to convey to you, and always insisting that your opinions are correct. You remember every slight, perceived or otherwise, that someone has done towards you. Work on your perception and you might find that people are different than you originally thought. Your feelings are so overwhelming sometimes that you are unable to reign them in. Finances can be an obsession for you as you need to feel secure. The biggest lesson for you in this placement is to temper the emotional chaos within. You have a deeply rooted sense of rejection and feeling as though you are somehow unworthy, and this makes it hard for you to believe that the people you care for are to be trusted. This aspect will test your romantic partnerships to help you grow as a person and show you how to truly have faith in the people you are bonded to.
Saturn discordant to Neptune
(power = 8.01 and this aspect is discordant = -12.02)
It is likely that you attempt to evade your duties and all that you are afraid of. This inclination may lead you towards escapism via substance abuse or other means that can provide an outlet. You may be afraid of what you do now know, an end to your existence, or of a higher power. It is imperative that you face the things you are afraid of directly, as this is the only way to surpass them. Do not disregard the issues in your life, expecting that they will somehow disappear—they won't. The more you suffer the more you will learn to submit to the course fate has put before you, the more you give in to this the more likely you will be to reach enlightenment and redemption.
There is a good chance that you place too much value on acquiring material or monetary assets which can blind you to the things that truly matter. Ponder the tale of the one who "gained the world yet lost his soul" and re-evaluate what you feel is significant. Money does not buy true happiness, though this lesson may not come easily to you.
You doubt other people's intentions, unable to trust most. This innate distrust may have been due to previous life karma involving matters in which you were betrayed somehow, losing your material assets and social status due to having cared too deeply for others or believing in them too faithfully. These sorts of difficulties occur to show us how insignificant monetary assets are and that we should instead focus our attention on doing the right thing regardless of what we gain out of it. It would be beneficial for you to appreciate the things you have but be able to lose them when necessary. Let go!
This position may also prompt ambiguity, misconception, false pride intellectually, and deceitful scams. Your motivation may be lost without you knowing the cause. Your escapist tendencies may also influence you in this way. It is possible that in a previous life you had used power as a leader in a way that was cruel and selfish. If you act selflessly, karma will see to it that you are treated well.
Mars harmonizing with Jupiter
(power = 7.46 and this aspect is harmonious = 9.32)
You are confident, driven, and enthusiastic. You are of the mindset that if you try hard enough to achieve a goal, you will eventually do so. There is an awareness of when things should be done and an intuition regarding what methods would be effective, and which ones would not be. Competition can be fun for you and you remain cheerful throughout the challenge. However, this competition is mostly done on your own, as you like to push yourself farther than you have before. Revenge is not something that you usually engage in as you prefer to let go of whatever wrongs others have done you. What you find truly interesting are things that broaden your mind, such as higher learning, spiritual matters, philosophical concepts, or travel. Being active and out in nature appeals to your adventurous spirit. If you could develop self-discipline, you are likely to do well in sporty activities. You exude positivity and greet the world with enthusiasm. Money comes easily to you and therefore you are likely to waste it too readily. You give of yourself and your possessions freely. What happens in the future is not troubling to you as you trust in the universe to provide you with your necessities. Others see you as honourable and honest in your dealings. It is rare that you allow anger to dwell within you for very long; usually you are apt to let things go easily as you believe that staying upset would only be wasteful. When times are tough, you are still able to maintain your optimism and continue to be kind and considerate towards others.
Jupiter discordant to Saturn
(power = 4.99 and this aspect is discordant = -4.99)
You have a tendency to make yourself miserable due to deeply rooted anxieties over being unable to support yourself and possibly losing whatever material possessions you have acquired. This concern distresses you to such a degree that you pinch your pennies, worrying that any moment now it can all come tumbling down. As the anxiety increases, you find yourself sacrificing your excitement, your giving nature, and your trust in the world. Try to relieve your apprehension by relaxing more and doing the opposite of your inclination; GIVE. Do not lose trust in the universe to look out for you and keep you safe. Have faith and you will find yourself surrounded with what you need.
There is a possibility of setting your goals higher than you can achieve. This sort of mentality sets you up for a fall and when you do inevitably fail, you are unable to hold onto your initiative and motivation to continue with your aspirations. Keep in mind that you can accomplish a lot by taking things one day at a time; slow and steady wins the race. Allow yourself a realistic timeframe to aspire to, as time is the one thing you have the most of; do not fight against it, but become in sync, flow with it. Dismissing your aspirations will result in endlessly jumping from on unfinished project to another; learn self-restraint and complete the things you begin. You may feel an internal tension for stimulation which can have you trying to do too many assignments at once. The most important thing for you to learn is to be satisfied with yourself despite your possible imperfections.
Mars discordant to Uranus
(power = 4.94 and this aspect is discordant = -6.17)
You are vibrant, innovative, unique, quick-witted, observant, anxious, self-sufficient, wild, hasty, and possess good mechanical skills. Others may need to watch out when you become angry as this can happen rather suddenly and the process can destroy everything around you. Inwardly you have a craving towards reforming old traditions whether or not these changes will be beneficial; you have a rebellious nature. There is a restlessness within you that causes you to be always on the move, looking for new adventures. Dangerous situations and risky ventures do not deter you and you may find these even more exciting for being so. Often you are impatient and insist that you have your way the moment you decide on something. Many times you will follow your own course without thought to how it may affect anyone or anything else. Others may view you as selfish and arrogant. You have a tough time sticking to any course long-term as you are unsure what it is that you are actually trying to accomplish.
Working as a team is difficult for you though it would be highly beneficial for you to develop a way to compromise with others. You communicate your wishes directly and perhaps at times bluntly; others are usually aware where they stand with you and what you are looking for. You require a great deal of independence to be able to do things as you see fit and if things do not go the way you envisioned, you can burst forth with anger; working for yourself or in solitude is probably best for you. This placement insists that you develop a way to be patient with others and if you refuse to, fate will throw you into circumstances that will force your hand. Volatile situations, and people, are drawn to you so as to show you how to manoeuvre in them. Trust in your intuition as it is particularly strong and usually accurate. You are prone to accidental injuries and mistakes due to your inability to pace yourself, always rushing ahead without thinking; try to come with a tentative plan in the least. This is the lesson you are required to learn with this placement, in addition to developing discipline and self-restraint.
Mercury harmonizing with Pluto
(power = 3.29 and this aspect is harmonious = 3.29)
Mentally you are capable of delving into the most hidden of depths. Whether or not they are pleasant, you will uncover whatever secrets are buried beneath. You would make an excellent investigator as you are naturally gifted in the field. Psychological evaluation is another area that you are talented in and there is a strong interest in topics related to the afterlife and mystical studies. You are the sort that will learn one thing thoroughly rather than dabbling briefly all over the map. Despite your expectation that others be transparent with you, you are unwilling to provide the same disclosure to them. You feel most comfortable in situations where the attention is not focused on you and you can do as you please with little interference from others. You are capable of using your hands to heal others if you can properly channel your energies and may do well to try your efforts in massage therapy or chiropractic care. You find a kind of comfort in disassembling and reassembling things, as you have good technical skills and like to see how everything works together. You are drawn to situations, people, or subjects that project a mysterious quality and you are always up for the challenge of figuring them out. When you do come to a conclusion, you are able to clearly express what you have learned. You use your logical, analytical mind and intuitive ability to assess everything that you come across. Mentally you strive to transform and transcend whatever you find. Other people easily recognise your confident dedication to the things you do. If you are interested in a topic, you are able to focus yourself completely in order to absorb any and all information pertaining to it. Highly observant, nothing gets passed you and you are amazingly accurate in your evaluations of the circumstances you find yourself in and the people you come across.
Moon discordant to Uranus
(power = 2.91 and this aspect is discordant = -2.91)
Your emotions vary wildly and it is anyone's guess as to when or why they will alter. Very self-sufficient, you abhor being restricted for any reason. You are drawn to everything that is unique, strange, or shocking, though you tend to jump from one thing to the next without allowing yourself to master any of it. You are unable to restrain yourself yet it is often the best thing for you. You seek out thrills, variety, exciting adventures, and feel like a zombie if forced to do the same thing day in and day out. Fresh concepts and ideas are like air to you and you are enthused to involve yourself in them. Sometimes you can rush in too quickly, and perhaps carelessly, particularly in regards to your romantic partnerships. You rebel when you perceive your freedom will be curtailed somehow. It is difficult for you to stand by your word as you never know if your emotions about the matter will change tomorrow, 5 years from now, or not at all. Everything is done spontaneously. There is a tendency towards acting selfishly and putting yourself first above all. The situation at home can be volatile and the bonds you form with females are as well. Try to think about your feelings before expressing them without warning. People are often confused about where they stand with you because one moment you are cold and the next sociable. Sometimes you will consciously keep yourself at a distance as you are worried that getting close to people may somehow limit your independence. Your spirit needs to be allowed room to roam as it may. For personal growth, you must find a way to subdue the emotional chaos that lives within and surfaces at random. If your feelings are negatively triggered, you can react irrationally or recklessly. This careless activity causes you to be prone to accidental injury. You feel tense when you are inactive as your nervousness needs an outlet. At times you will do something odd just for the shock-value. Your need to be unrestrained can make it challenging to settle down in one location or with a partner. As you are prone to angry bursts, it would be best if you developed a way to hone your patience.
Venus harmonizing with Pluto
(power = 2.28 and this aspect is harmonious = 2.84)
You are emotionally intense and when you love someone, you love them with your all. Your powerful passions will either magnetically draw others to you or frighten them away. You have a great deal of charm and a way of attracting others to you almost without effort. This influence you have over others can cause you to easily use manipulation tactics, even if these actions are often subconscious. This placement allows you to either change your beliefs into something more beneficial to you, or to aid other people in changing their beliefs. You are likely to be creative and strive to promote a beautiful, peaceful, and comfortable environment. Your perception and compassion for others causes you to reach out and help people in whatever way you can.
SIGN POSITIONS OF PLANETS
The Planets in astrology symbolize 'what' is being addressed. They behave as actors in a production. What is happening on stage? The signs in astrology are the way that the actors behave on stage. They ask the question 'how?' How is the planet motivated? How are they living their life, in their highest good or in their shadow? The signs describe in detail how the actor might react, behave or conduct themselves.
Sun in Virgo
Virgos have a strong need to keep their lives orderly, pure, and flawless. They tend to be quiet, efficient, diligent, dutiful, trustworthy, selective, prompt, exacting, thoughtful, and shy with a great talent for analysing all they come across (learn about compatibility with Virgo here). Virgos are reasonable and grounded, superb workers with high attention to detail. However they can also be difficult, cold, overly particular, negative, self-focused, and cynical, with a darker sense of humour and may be prone to melancholic mood swings. Virgos are often at their best when they are involving themselves in work that allows them to use their analytical abilities in the field of technology, caretaking, or any work with detailed tasks. They do not mind others taking the leading roles, as they are more concerned with providing quality service to people.
Virgos have an active mind, always questioning and searching for answers to their many curiosities. They enjoy problem solving, studying people's behaviour, and examining their environment carefully. Virgos are adept at remembering even the things others may find insignificant. They prefer to keep active either physically or mentally, as they require new stimulation; lack of interesting new data and experiences can cause tension for a Virgo and they are known for being rather anxious.
When a Virgo makes a commitment, they keep it; their word is their bond. They are excellent administrative coordinators and proficient in maintaining an orderly environment. Virgoans have an innate fondness for organisation and tranquillity. They are hard on themselves to keep things just right and this tendency extends to others as well. If they are unable to find this perfection, a Virgo will become irritable and pick people apart for lacking whatever quality they believe the person should possess.
Virgos may be fretful as they are often looking for the ideal and trying to improve things. Even when something has been completed, they will think back on how it could have been made better. Unfortunately, this sort of worrying can impact their physical state, sometimes affecting their digestive track; keeping themselves optimistic will have a positive effect on their health. They can be prone to creating problems where there are none, especially with their health. However, most of the time their health is just fine as they tend to be on the lookout for ways to improve it. It is important for a Virgo to have time during the day to reflect and relax from all of their mental activity, regardless their age, and they do tend to age well.
A Virgo may find it challenging to convey their innermost feelings to another. Though they can be independent creatures, they enjoy having someone to care for and someone to show small, thoughtful acts of kindness to.
Moon in Aquarius
You prefer to filter your emotions through your mind and can come across as rather cool and emotionally reserved. Most people are unable to comprehend the way you handle your emotions and may come to believe that you are unfeeling. This placement bestows a stable emotional nature. You often feel secure when you are involved professionally with groups and engaging in team work. You are innovative, unique, and advanced in your thinking; you utilise these traits to benefit humanity. Your relationships with your relatives may be less significant to you than the ties you hold with your friends as it is likely that you feel more bonded to those in your life that you have CHOSEN. You require free reign in your connections with people and will take a step back from the relationship when others become too involved. A partner that is envious, domineering, and clingy will only push you away. You may find yourself involved with many partners as you tend to be curious. You have an aversion to the conservative and old-fashioned. You are naturally social and outgoing, advanced in your thinking, and self-sufficient. Your open-minded nature entices you to seek knowledge of all sorts. However, empathy and compassion is not a strong suit for you and you struggle to comprehend others on an emotional level. On occasion your inner tension will manifest as expressing unconventional or extreme viewpoints, only for their shock value. You may also be detached, unpredictable, unyielding, stiff, selfish, and defiant.
Mercury in Libra
You are most gifted in being able to comprehend every angle of a situation and come to a diplomatic resolution to the problem. You are rational, harmonious, just, perceptive, and socially adept. You work well in a team environment. You are able to stay cool and focused on the issue at hand and remain impartial; this makes you well-suited to a career in mediation, politics, or consulting. You strive to keep justice in a harmonious fashion, regardless the circumstances. Highly artistic, you are able to work in creative endeavours or projects that deal with people of different cultures. Your mind is logical and balanced, and you easily convince others of your viewpoints. You are adaptable and prefer to hear every aspect of a story. However, this trait can make you indecisive as you too easily comprehend each angle and it can be difficult for you to decipher which story holds the most weight. Comparing and contrasting, analysing continuously while finding interesting ways to explain your discoveries; this is what you are most skilled in.
Venus in Virgo
You are patiently loyal to those you love, giving and helpful whenever you are needed. You tend to express your affection through acts of kindness rather than through words or some sort of extravagant romantic gesture. Something about being too emotionally open makes you uncomfortable and you'd prefer to be more reserved in your expressions. There may be insecurity that you are unattractive or unlovable somehow. Your own doubt causes you to become fault-finding in your significant other and difficult to please. Beware that you do not wait so long for the elusive "perfect partner" that you waste your chances at happiness with someone real. You expect your environment to be neat and organised. Developing a way to aid others can help you to counter your tendency to complain and criticise. Despite these tendencies, you are gentle, compassionate, and kind which allows you to do well in professions where you are caring for others.
Mars in Leo
There is a well-developed sense of pride. You have a desire to achieve and be admired for these achievements, or for the person that you are. You like to be the winner, the one at the top. You dislike anyone telling you what you should be doing or to remain behind the scenes. You want to be seen and will often create drama in order to make sure that happens. You may arrogantly declare you are correct in every situation, as you dislike being wrong. You are driven, diligent, aggressive, dynamic, inventive, and full of energy; competition is highly appealing to you. Life may seem like one big game to be won. You seek praise and value honesty and acting in accordance to one's moral standards; nothing less is acceptable. Though you are extremely self-assured, there is a chance that you may feel insecure and self-protective, possibly acting abrasive, if your confidence is challenged. You are spontaneous, eager, motivated, and energetic. Once you have decided on the object of your desire, you will stop at nothing to win them over; displaying great passion and enthusiasm. When you have something you wish to express, you do so, no holds barred. However, be careful not to act foolishly and carelessly where money is involved; gambling can become an issue for you. You can also become touchy, confrontational, and possessive. Keep an eye on your heart, as this area of your body is particularly sensitive. Be sure to get plenty of exercise as this will release some of the excess emotional energy before it manifest in an unhealthy way.
Jupiter in Sagittarius
You are a warm, giving, open-minded, accepting, faithful, philosophical humanitarian who is largely interested in justice, theories, spirituality, or knowledge. Others are inspired by your vision for the world and instinctively have faith that you will do what's best for them. People are drawn to your ethical and honourable nature. Aiding humanity in some way is important to you and you will go out of your way to support others. This unfaltering belief in human beings inspires people to believe in themselves. It is possible that you occupy a very respectable role in your workplace. You may tend to stick to traditional ways as having acceptance from others is valuable to you. Do not spend too much time trying to prove your actions by making justifications. You have many endearing qualities, unfortunately when afflicted you may also be prone to being arrogant, small-minded, bigoted, and inflexible as well as enjoying tacky representations and squandering your money on risky ventures.
Saturn in Pisces
Challenges in setting limitations, restrictions, or plans may be present, in addition to difficulty with self-discipline. Your life can be disoriented at times, and you may find yourself adrift amidst the chaos of life; the correct path is not usually clear to you. You are compassionate, creative, altruistic, and intuitive, with delicate emotions. You hold to an idealistic view about life though at the same time have a habit of being too serious. Innately you sense that your current challenges are due to karma from your previous life; what has been given must be paid for. This may be the reason you experience an inner sadness that others cannot quite grasp. Your career may involve you investigating data or working in a supportive role, out of hindsight. When afflicted you can become emotionally unstable and are unable to make decisions on your own; your environment and those around you will affect you a great deal and you should be mindful to stay away from negativity. When you have failed in your attempts towards your goals or have been mistreated somehow, there is a tendency towards becoming stuck in a pessimistic, depressive state; only by fully releasing what has previously occurred, can you once more become positive about what is to come. It would help you to learn to detach a bit from other people's worries, as this would allow you to better aid them. Conveying your previous experiences to others is a great path towards personal development.
HOUSE POSITIONS OF PLANETS
The Planets in astrology symbolize 'what' is being addressed. They behave as actors in a production. What is happening on stage? The Houses in astrology are the stage. They ask the question "where?' Where is the action? In the home, in health, in the career or in the marriage, to name a few. The Houses tell the story of where the action is happening, what type of people are involved and what sort of environment it is.
Sun in 7th house
When choosing a partner, you are likely to prefer someone who is highly respectable and high up on the social scale. You want your relationship to somehow boost your social status, as pride is important to you; you need to be able to admire your partner.
It is important to you that your partner inspires you to be yourself and helps bring forward your strong willpower and artistic capabilities. Feeling a strong need for security in your relationships, you are often drawn to someone assertive who works in a reputable position. This sort of person helps you to become more self-assured and allows you to increase your own sense of authority.
Equality is a key theme in your relationships, as any sort of imbalance of power will resort in conflict for you. Both parties must make sure to be fair when collaborating with one another. Feeling as though you belong together as a team and as family are important to you.
Marriage and relationships play a significant role in your life. You are likely to expect your partner be the assertive element in your partnership as you are more reactive than proactive. You may have a preoccupation with finding a substitute for the male parental figure in your life and at times insist your significant other fill these shoes.
The way your Sun is aspected will determine the sort of partners you will attract. With a well aspected Sun, you will attract those that are considerate, honest, confident, strong-willed, honourable, and motivated to succeed. However, if your Sun is negatively aspected, you will instead attract selfish, pretentious, and controlling partners.
The greatest obstacles you face in a successful relationship are your insistence that things are done your way, as well as being arrogantly prideful.
Moon in 11th house
This placement suggests being admired and valued by women and you will likely get along best with females in general. Your emotional security is tied to your position in a group setting; you need to feel like you are included, otherwise you will suffer with destructive emotions and insecurities. You may find yourself placing a large amount of effort into humanitarian endeavours as you enjoy nurturing others, especially in group situations. Your career is likely to involve social networking in some way. Perhaps you will acquire your professional position due to your acquaintances or they will be important to you during your career, often sticking around for a long time to come. You may wish to heed the counsel of your friends as they may be more valuable to you than that of a professional.
Mercury in 7th house
When choosing a partner, you look for someone who is well-informed and displays a sharp intellect. Witty banter appeals to you as well and it is important to you to be able to communicate easily and readily with your partner. Your romantic interest needs to be quick, curious, and clever to hold your attention as you often engage them in debate.
Relationships in general, especially marriage, are always at the forefront of your thoughts. A partner to you, whether they are a romantic partner or a business associate, must provide you with a good deal of mental stimulation. If they can challenge you or help you enhance your communication skills, all the better. You desire someone who will bring forward an exchange of ideas and inspire you to share your thoughts; you want them to understand you on a mental level more than anything else.
It is likely that the person you choose will be very verbally expressive, analytical, and witty though may at times be critical, tense, anxious, and engage in arguments with you. They are probably interested in the written and spoken word in general, as well as languages or communication of all forms. Traveling may be important to them and they may work in an administrative or technological field.
It is advisable that you curb your critical analysis and tendency to argue with others, as this will help your chances to achieve a happy union.
Venus in 7th house
Friendly, outgoing, and full of charm; you thrive in social situations. Others generally enjoy your company and relationships in general tend to be pleasant and easy for you. You may need to be mindful that you are not being taken advantage of, as you may not stand up for yourself due to an aversion to any sort of conflict. You are probably drawn to someone who is financially successful and physically attractive. You want to be able to spend time together enjoying all of the luxury life has to offer. Make sure to keep your expectations of others realistic.
You truly value partnerships, although acquiring affection may be a little too important to you. Imbalance is something that you need to look out for, as you may expect too much from your partner and relationship. Try not to make a mountain out of a molehill.
You strive to find a romantic partner that will provide you with all of the luxuries life has to offer. You are looking to indulge and are seeking someone who will supply you with the opportunity. Marriage often raises your social status. Be mindful not to become too engrossed in sensualities as they may lead you to trouble. You despise conflict much preferring your partner to be less aggressive and more accommodating. If Venus is negatively aspected, you may need to be careful that your partner's moral values are as honourable as they seem.
Mars in 6th house
You are gifted with large stores of energy for whatever work you engage in. A diligent, driven, effective and vibrant worker, you may find yourself drawn towards mechanics. It is easy for you to bounce back from any physical challenge though you must try to be more patient with co-workers who are not as naturally gifted as yourself, as you can become easily annoyed. At times you can act rashly due to your frustration and find yourself in dangerous situations; you are prone to accidents in the work environment, especially involving heat of some sort. Trouble with heat is a common ailment for you as you are also more susceptible to high fevers.
Jupiter in 10th house
Your naturally amiable and giving nature attract success and respect into your professional or public life. Others are drawn to you and intuitively feel they may depend on you. You feel a strong sense of duty to your career and to improving yourself which will bring many advantageous opportunities to your personal life as well as to humanity in general. You have a talent for gaining people's trust and inspire their faith in your hopes and ideas for future endeavours.
Saturn in 1st house
Others see you as controlled with a good deal of discipline. You have a more serious nature and tend to be a bit reserved with others, preferring a cool demeanour. This may be due to a harsh or difficult childhood, possibly even an illness that held you back. You are plagued with insecurity and feelings of inadequacy, often believing you were never truly loved. Frequently things seem like a struggle to you and this gives way to a pessimistic view leading you to sometimes struggle with depression. Fortunately, you are very dutiful and a hard worker which allows you to power through whatever obstacle that comes your way. There is a tendency to greater luck in the later stages of life versus the earlier ones, therefore keep moving forward as your hard work will eventually pay off.
Uranus in 2nd house
You may have a unique career or way of acquiring an income. What matters most to you in this area is the ability to pursue your creative and innovative ideas at will. Often your material possessions, including finances, are unstable. There is an erratic and unpredictable energy regarding resources, which fluctuates continuously; you can never be sure what sort of situation you will find yourself in financially. Fortunately, you are usually able to escape being dragged down by these obstacles.
Neptune in 7th house
There is an inclination to be unrealistic in regards to marriage or a romantic partner. The partner is likely to be a creative type who has a strong interest in spiritual matters or may act in an unclear, puzzling manner. You may need to sacrifice a good deal for this person or for the relationship to continue. Your values and goals may not align with your partner's, leading to trouble communicating with one another. In addition, you are attracted to those you can save in some way, often from themselves; there may be issues with substance abuse for the partner.
The idealised version of your romantic partner is likely to have more weight in your mind than who this person actually is. You may be brought to accept the harsh reality of their actual character at some point during the union. This realisation can produce great unhappiness for you and you are likely to feel as though they have fooled you somehow and that the entire relationship was a sham. Be mindful to pay attention to the data that is actually in front of you rather than believing you are involved in a fairytale scenario.
You will probably be attracted to an individual that brings your kindness and consideration to the forefront, someone that motivates you to be more empathetic. You often view this person as a perfect mate incapable of doing any wrong, fantasising about your romantic rendezvous together. Your imagination is likely to get the best of you and this person is not alike the one you have fabricated in your mind.
Another possibility is for you to become involved in romantic partnerships with either those you have a high regard for or persons that are down on their luck. If your Neptune is negatively aspected, your strong appreciation of their character may have been due to you being dazzled by outward circumstances and this potential mate abusing your empathy by misleading you into believing they were worse off than they were.
There is a tendency for your romantic partner to be emotionally fragile and require you to baby them. They may be artists or musicians, possibly performers, disinterested in material concerns or being a provider. There is likely a high sense of spirituality in your partnership and you find yourselves less interested in the physical aspects of this relationship and more focused a deep, divine expression instead. Unfortunately, the flip side is that these types are fickle, undependable, and often only looking out for their own selfish needs or they may be disadvantaged somehow, anxious, phobic people or plagued with poor health.
You may stay in unhappy relationships due to your inability to face reality in regards to your relationship or who your partner really is, deceiving yourself into believing that this is an ideal union or that you can somehow make it so.
To achieve a happy and successful marriage partnership, it is imperative that you put aside your fantastical romantic notions and keep your feet on solid ground. Pay attention to the facts that are presented to you, keeping both eyes fully open early on. Make sure to analyse the person and the situation clearly before venturing forward.
Pluto in 5th house
Your interests tend to be uncommon. You are capable of expressing yourself originally and imaginatively. The ability to create is important to you and you would do well to find a creative endeavour to satisfy this craving rather than conveying it sexually, as you are apt to do. Your romantic life seems to denote a preoccupation with sex and there may be underlying tensions to do struggles for power. You may find it a challenge to understand your children, and vice versa.
SABIAN SYMBOL POSITIONS OF PLANETS
The Sabian Symbols are a set of 360 symbolic declarations that correspond with each of the 360 degrees of the astrological zodiac chart wheel, starting at Aries degree number 1 and finishing with Pisces degree number 30. They were created by Marc Edmund Jones and Elsie Wheeler, circa 1925 in San Diego, California. In modern times, they are commonly used by astrologers in order to deeply understand the significance of planets that are occupying a particular degree of the zodiac.
Sun in
Virgo 7
Sabian Symbol: In an Oriental palace, we see the eyes of the local harem.
Kozminsky Symbol: Holding the Crus Ansata in the air, a man stands in his ceremonial fashion.
Moon in
Aquarius 3
Sabian Symbol: A deserter comes to the realization that freedom is never free.
Kozminsky Symbol: Holding a cross, an old man walks.
Mercury in
Libra 3
Sabian Symbol: Everything has changed as soon as the dawn of a new day arrives.
Kozminsky Symbol: When a young girl struggles with surrounding cords, the more they increase thus disallowing her escape.
Venus in
Virgo 24
Sabian Symbol: The book, Mary had a Little Lamb is opened.
Kozminsky Symbol: A woman is held in the hand of a giant.
Mars in
Leo 13
Sabian Symbol: On his cottage patio, a retired sea-captain rocks in his rocking chair.
Kozminsky Symbol: At noon, the sun shines on an ancient oak tree.
Jupiter in
Sagittarius 16
Sabian Symbol: Seagulls are flying around a ship in the calm ocean.
Kozminsky Symbol: On a starlit night, a woman stands with a white angel on her right and a dark angel on her left. The stars shine brightly.
Saturn in
Pisces 21
Sabian Symbol: A girl pets a white lamb as the Chinese servants look on.
Kozminsky Symbol: Butterflies circle around a jeweled staff in a field of violets.
Uranus in
Taurus 10
Sabian Symbol: A Red Cross nurse is attending to her duties.
Kozminsky Symbol: A woman sits by a calm lake gazing at the face of a man that she sees reflected in the water.
Neptune in
Virgo 17
Sabian Symbol: The earth is rumbling and lava is flowing from an eruption of a volcano.
Kozminsky Symbol: Resting his head on his left hand at his desk, an astrologer is researching a natal chart.
Pluto in
Cancer 29
Sabian Symbol: In a Greek countryside, a woman births twins weighing in golden scales.
Kozminsky Symbol: While a man sits in a prison cell, golden light comes through the window and a bird stands there singing softly.
Ascendant in
Pisces 7
Sabian Symbol: A cross sits on a rock in the fog.
Kozminsky Symbol: Two wrestlers are attempting to win, one is evil looking and the other is angelic manly beauty.
Midheaven in
Sagittarius 11
Sabian Symbol: On the left side of a temple, a lamp is burning inside a human shaped container.
Kozminsky Symbol: A group of people walking toward a fisherman with his net draped over his shoulder.