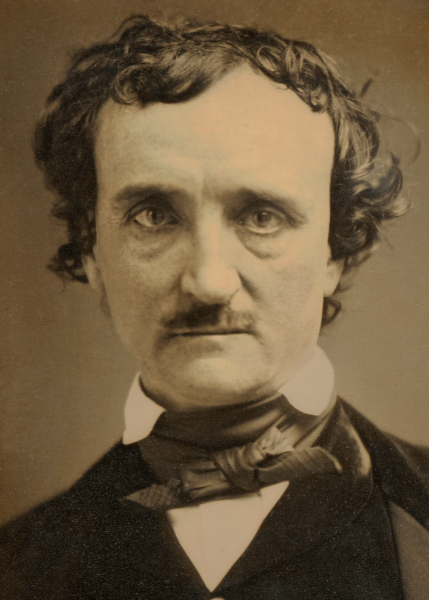 Birth Chart: Edgar Allen Poe (Capricorn)
Edgar Allan Poe (/po?/; born Edgar Poe; January 19, 1809 – October 7, 1849) was an American writer, editor, and literary critic. Poe is best known for his poetry and short stories, particularly his tales of mystery and the macabre. He is widely regarded as a central figure of Romanticism in the United States and American literature as a whole, and he was one of the country's earliest practitioners of the short story. Poe is generally considered the inventor of the detective fiction genre and is further credited with contributing to the emerging genre of science fiction. He was the first well-known American writer to try to earn a living through writing alone, resulting in a financially difficult life and career.
Astrological Natal Chart
Edgar Allen Poe
Born at Boston, USA
Thursday, January 19, 1809
01:00 (time zone = GMT -4.9 hours)
71w04, 42n22
THE RISING SIGN OR ASCENDANT
At the exact minute of your birth, the astrological sign that is rising on the eastern horizon is designated the Ascendant or Rising Sign. The Ascendant is how you dawn on the world, how you present yourself to others. If someone were to guess your astrological sun sign, they would guess it based on what you show the world, which is your rising sign. It's the characteristics and personality traits that you put forth for all to see. It's the stained glass window that you project outward for the rest of your chart to flow through.
YOUR ASCENDANT IS:
SCORPIO rising
Those with Scorpio rising are typically reserved on the outside while intense on the inside, they are private and full of mystery, have a strong will, can be quiet, though they are brave and dedicated, unyielding, creative, independent, disciplined (though not always with their desires), and may be difficult to read. The soul of the individual with the Scorpio rising is fighting a battle between their lowly physical desires and enlightenment. In the end, the lower self must yield and be reborn, rising up from the ashes to a higher understanding. You will be involved on all levels, mentally, physically, emotionally, and spiritually. Outside you seem cool and unfazed, though inside there are intense emotions ever-present; you are a very deep person. You insist to be made aware of other people's secrets though you will not disclose your own, preferring to remain quiet as to your intentions. You have a sharp mind and enjoy investigative endeavours. You insist on penetrating every hidden cavern, understanding the ins and outs, why and how. You are very determined when you apply yourself, strong-willed, and can conquer any obstacle, even if the obstacle is you. You must move past any possessive, resentful, or envious tendencies. You are drawn to subjects that incorporate mystical topics, sexuality, the healing arts, or death. When you are good, you are very very good, but when you are bad, you can be a complete scoundrel. You must develop a way to forgive others as this is an important life lesson for you. Scorpio is ruled by both Pluto and Mars and therefore their placement in your chart will be significant.
Shhh! Capricorn prefers to plan sexual encounters and then proceed according to plan. A seduction feels like cooperation, foreplay like a warm-up, and intercourse feels like work. Read all about Capricorn sexuality here.
PLANETARY ASPECTS
If the planets symbolize the forces and energies that happen in different situations, then the aspects between the planets symbolize how these energies work together and integrate with each other. There are challenging and easy aspects between the planets and it is up to the individual to choose how they are going to utilize the aspect energies for a positive outcome. The aspects between planets are said to speak to each other. Depending on which planets are aspecting each other and the rest of the natal chart, will determine which planet is dominate and which is not in the aspect between them. But ultimately it is up to the individual to decide how they are going to use the aspects of planets in their chart with their free will, in a meaningful and productive way.
Moon blending with Venus
(power = 14.47 and this aspect is harmonious = 3.62)
You are a kind, caring, empathetic spirit that will aid anyone who is in need of it. You are openly demonstrative of your affections without discrimination and enjoy nurturing others in a motherly fashion. Romantically, you prefer someone that has a high regard for partnership, home-life, and familial ties. All forms of inconsiderate behaviour by other people are extremely offensive to you. Your charming, polished demeanour is welcome in any social situation. You excel at entertaining others in your home due to your gracious manner and strong desire to take care of people; others know their company will not be taken for granted. You truly listen to other people and do not judge them for their mistakes or different views, so your counsel is often highly sought after. You are likely to be gifted in vocal ability, the arts, or to be musically inclined. The way you look matters to you and you will take great pride in making sure you appear well-kept. However, be mindful of laziness setting in and keeping you from engaging in tasks that are laborious though necessary. Over-indulgence in tasty foods is another problem area for you and you need to make sure you get enough physical activity to counter this. You are susceptible to eating your troubles away when you become emotionally compromised. Keep an eye on this tendency or it will create issues for your health. Motivation for physical activity can be difficult for you to muster up as you do not enjoy it much. Despite being prone to shyness deep down, your pleasant and approachable persona gives you much popularity. You have a knack for creating beautiful things in harmonious patterns whether this is art, design, floral mixes, fashion, or music. This placement bestows luck in your partnerships, finances, and physical well-being however you must curb your desire to spend more than you have trying to achieve a more comfortable, luxurious life-style. You crave pleasurable experiences and this craving needs to be moderated.
Moon harmonizing with Uranus
(power = 11.76 and this aspect is harmonious = 11.76)
Mentally you are responsive, unique, perceptive, imaginative, and think on your feet. You can do well to channel your energies into inventing something progressive or unusual and you are drawn to mystical subjects. Astrology or technological topics fascinate you. Your sense of humour is a bit eccentric at times and you may behave in a surprising manner or poke fun at yourself just to get others to react. You feel a strong pull towards intensely emotive circumstances or anything thrilling and different. You demand your independence and hate to be tied down to anything that will limit it. However, you are often forced to adapt quickly to a variety of different circumstances that can pop up at random for you. Your notions are usually fresh and innovative, and usually can be applied in a way that would strongly benefit humanity. You are also able to view every aspect of a situation fairly. Although, you are often impatient, get bored easily, and do not finish what you have started. Others find you amusing and unique, and you are usually very lucky. Whatever is a deviation from the norm will tend to draw you in, for you seek the exhilaration of trying something you have not experienced before. You are able to see the benefit in monitoring your temper and feelings.
Moon blending with Pluto
(power = 11.58 and this aspect is neutral)
Your feelings tend to stay buried deep down, despite them being extremely powerful, and you are drawn to situations or people that allow you to feel as much as possible. Your emotions fluctuate wildly from one moment to another, quiet at first to bursting with anger to something else. The reactions you have are always intense; it is as if it cannot be any other way. Often times you are just as taken aback by your responses as others are. If someone matters to you, you can be obsessive with your feelings about them and it is all or nothing as you do not feel anything half-way. Sometimes you may make decisions or take actions that reasonably are not the best idea, however in these moments you are unable to act reasonably and get lost in your strong emotions. You are prone to desiring control in your close relationships, though you do this in a covert manner, often resorting to manipulation. This, along with your intense emotional reactions, can create an unstable and often hurtful theme in your partnerships. However your relationships will be filled with passion, that is for sure. You have a tendency to be jealous as well and should be mindful of this. It is important for you to develop self-restraint regarding your emotions or they will consume you. Your partnerships may have an underlying layer of obsession of some sort, whether this comes from yourself or from your significant other. Your sensitivity can cause you to react extremely to even the smallest of slights, which are often perceived yet not meant. In your career, you tend to put in every effort to do a job well; you are loyal and devoted to your work. Perseverance is built into you and you know how to endure even difficult situations. In addition, you are also very perceptive and can get to the bottom of things seemingly without even trying. You enjoy untangling other people's troubles and would do well in the field of psychology. Your willpower is powerful and you fight with all you've got when need be. The after-life is of particular interest to you. Do not insist that other people view things the way you do, or share your emotional reactions; people must be free to be their own person and have their own responses.
Sun blending with Mercury
(power = 10.79 and this aspect is neutral)
You can be unwilling to entertain another person's point of view, preferring to hold tight to your own. Objectivity may also be difficult for you due to self-centredness. You enjoy communicating to others about all the things you love, think, or feel but are disinterested in hearing about other people. You are witty, with a sharp mind and a hunger for knowledge and new stimulation. If you are unable to experience novel situations, you become disinterested in your life; consistent mental stimulus is imperative for you. You are well able to convey your views and can be adept at persuading others, though you need to apply a greater focus while listening to people. Often you are trying to figure out what your next point in the conversation will be and miss out on what was said. You run on a high voltage and may develop little nervous habits. Finding an outlet for your anxiety by use of your hands may alleviate this nervous energy. In addition, try to focus more on what other people are contributing to the situation rather than being immersed in your own talents.
Venus harmonizing with Uranus
(power = 9.71 and this aspect is harmonious = 12.14)
You are artistically inventive, unique, open-minded, emotionally expressive, and tend to speak your thoughts without reserve. Others are drawn to your charming personality and sexual magnetism. Doing the same thing day in and day out is not for you, instead you are always ready for the next exciting adventure to begin and are enthused when someone is able to surprise you! Self-sufficient, you require much room to breathe in any partnership. Your views on relationships are anything but conventional, and you are open to alternative arrangements. For friendship, you usually seek out those that are different in some way; eccentricity only adds to the appeal. People walk in and out of your life spontaneously and are usually presented to you as a way to test your belief system and willingness to adapt. These people, as well as your friends, come around to satisfy inner necessities and will leave when they are of no more use. You have a fantastic way of looking outside the box and arriving at genius ways to solve challenges. Most of the time, whatever happens in your life is seemingly random and unexpected. You are unable to plan for these things, the only thing you can do is allow them to happen and act upon the present situation. This is especially the case in regards to your romantic endeavours. There will always seem to be something exhilarating, uncommon, and random occurring in your life that will aid you in gaining wisdom and growing spiritually.
Moon discordant to Neptune
(power = 8.57 and this aspect is discordant = -8.57)
You are imaginative with an amazing sensitivity and keen intuition. You prefer to behave in a caring, tender manner and enjoy a bit of romance. You empathise with others, listening to their troubles while never judging them. Your idealistic views can inspire others through artistic ventures, which you find deeply emotionally satisfying. Large bodies of water soothe your spirit and you are naturally drawn towards them. You may find that photographing the sea is fulfilling for you. You can be very selfless when aiding other people. Your emotions may become unbalanced if you are unable to channel your energy creatively. Metaphysical or mystical subjects fascinate you and you may be talented in these fields. There are tendencies towards escapism from the harsh realities of life and you will spend a lot of time dreaming up a better situation for yourself and basking in this dream-world. However, be mindful that you do not end up abandoning the real world and your obligations to it; the only way to conquer you obstacles is to face them. Your kindness and sensitivity can be susceptible to a sad tale, giving others opportunity to use this to their benefit; be careful who you trust. Learn to restrain your intense feelings and keep your feet on the ground.
You are not the assertive type and may have trouble standing up for yourself when necessary. It is important that you find a way to fight for the things you believe in. Always go with what your gut instincts are telling you as you are highly intuitive. Keep away from mystical endeavours that can cause more harm than good, such as calling forth dark spirits, hypnosis, and fortune-telling. You are very spiritual but not always realistic. It is difficult for you to say no when you are tempted by something, so it would be best if you kept yourself out of these circumstances completely. You tend to absorb the energy that you are surrounded with and therefore need be conscious to avoid negative situations or people; stay in a warm, encouraging environment so as to keep your optimism up. Sometimes you feel the need to seclude yourself from the world and over-indulge. When you start to care for someone, you may be prone to viewing them in rose-coloured glasses and putting them up on a pedestal. When they eventually disappoint you, you can feel as though your entire world is crashing down.
It is possible that you will feel the need to escape through substance abuse or lying to create a better situation for yourself. At times you cannot tell the difference between what is true and what is not. Conflict is difficult for you and when something unpleasant must be confronted, you will often escape to one of your daydreams as a way to avoid it. Too easily will you believe what others have told you without a healthy amount of scepticism. Once someone has appealed to your emotions, they can pretty much tell you anything they wish and you would not doubt them. Try to be aware of this shortcoming and reserve your judgement after you have had some time to think things through rationally. If your feelings have been wounded, it is possible that you will create a false story to get out of the circumstance rather than deal with it directly. Because you are so sensitive, it is difficult for you to decipher when someone is genuinely being honest with you; people can fool you easily. Even the smallest of slights can deeply affect you. When you are feeling hurt in this way, your first reaction may be to remove yourself from others completely, even if this is only in your own mind. Your active imagination can interpret a situation differently than it truly is and when you eventually find the truth of the matter, you can sink into despair. A theme of dishonesty or trickery is likely with this placement, whether it comes from other people or from within yourself.
Jupiter blending with Pluto
(power = 8.20 and this aspect is harmonious = 4.10)
You feel that all creatures on this earth are somehow connected to one another. Self-improvement and the betterment of the world in general, are important to you. You feel easily inspired in ways to bring about advancement and improvement of both yourself and humanity as a whole; you want to change the world. It is likely that you possess a good deal of motivation to accomplish some sort of permanence. Learning and keeping yourself well-formed is imperative to you and you are always searching for truth. You often share this passion for knowledge with others and may become an instructor. Striving to alter the environment for the better, you prefer holding high status as this will help you achieve this goal. Try to pay more attention to other people's ideas and beliefs, rather than closing your mind to them right from the start. You are not always correct, nor should you try to be.
Venus blending with Pluto
(power = 8.04 and this aspect is harmonious = 2.01)
Your feelings towards love are passionate and all encompassing, perhaps to the point of abandoning reason, and you require intensity in a partnership. Extremely enamoured with your loved one, you can be rather envious and try to possess them. You insist that you experience every emotion down to your very core. This may create challenges as partnerships cannot exhibit the level of intensity that you insist upon on a regular basis. Often, it does not matter to you whether or not the emotions are positive, only that they stir up very strong reactions within you. You would rather cope with emotional torture than to feel nothing. The passionate partnerships that you crave usually do not stand the test of time, however you search for them because they teach you valuable lessons about yourself and alter you significantly, creating growth and wisdom.
You can become obsessed with the things that matter to you. Either you put in everything you have, or you prefer not to engage at all; you cannot do anything half-heartedly. You will likely find it difficult to control your emotions or desires, and might end up devoting yourself passionately to the wrong thing. These powerful urges and feelings will cause destruction if not tempered. Try to use the sensual energy that you possess in abundance, to create something meaningful; you can use art to release your inner tensions. Do not over-indulge or become pleasure-seeking. The only way a partnership will work is for you to stop holding on so tightly to your lovers, treating them like objects to be owned, but rather allow them the space to be an individual. You may have trouble feeling secure and should try to find your own inner confidence rather than taking out your perceived inadequacies on others. The challenges that you face in your life are there to teach you to rethink your beliefs and priorities.
Moon blending with Jupiter
(power = 7.78 and this aspect is harmonious = 3.89)
You are accepting and understanding, usually letting go of people's foibles and letting them try once more, even if they have wronged you in the past. You believe that people should strive to be as good of a person as they can be and when people are around you, they tend to adopt this attitude for themselves. Your presence has a way of evoking joy and bringing people comfort. Your abundant social connections are largely due to an extremely giving nature, which people appreciate and gravitate towards. This placement is likely to bestow you with good luck in your finances. You enjoy making people laugh and will do so at your own expense, if necessary. Filled with positive thinking, you believe in humanity as a whole. You have a great deal of empathy for others and are gentle with, and receptive to, their emotions. It is natural for you to try to see things from another person's point of view and you truly listen when people are talking to you. You do not cast judgement upon others and people sense this about you and therefore take your to heart. However, sometimes you become so engrossed in having fun that you procrastinate in doing your duties. In addition you need to be mindful not to over exert yourself. If you cannot find equilibrium within yourself, you will tend to eat more than you should. Tasty snacks and rich meals make you feel emotionally secure when you cannot derive this another way; restrain from these cravings of they will only create larger challenges for you later on.
Saturn blending with Neptune
(power = 7.35 and this aspect is discordant = -3.68)
You are likely to experience uncertainty, despair, and insecurities, doubting yourself and your capabilities. The situations that you have experienced previously tend to stick with you more than most and you must learn to trust others. Your past life karma implies that you did not behave in the best manner with others and here is your chance to make amends and learn forgiveness when you are wronged. This placement insists that you find a way to treat others kindly despite of the way they treat you. Seclusion from the world will not aid you on your journey; you need to stay amidst the trouble and figure out the moral course of action as this is the only path towards conquering the coarseness within you. Confront the difficulties before you and the people who are creating struggles for you, have faith that this is the way to redeem yourself. Do not disregard the issues in your life, expecting that they will somehow disappear—they won't. The more you suffer the more you will learn to submit to the course fate has put before you, the more you give in to this the more likely you will be to reach enlightenment and redemption.
Venus discordant to Neptune
(power = 7.10 and this aspect is discordant = -5.32)
You are romantically idealistic and often will fall in love with the idea of someone rather than for who they actually are. Your tendency is to believe someone is your perfect soulmate, incapable of doing wrong, which leads you into becoming disillusioned when they inevitably disappoint you. It is very difficult for you to recover when this occurs. It would be most beneficial for you to take time to get to know someone with both of your eyes wide open, before coming to any conclusions about them; the same is true about the world at large. Your idealism in regards to what relationships should be like tends to create conflict for your real-life partnerships.
Another possibility in this placement is having dreamt up some perfect imaginary partner and searching for this person your whole life, not realising that no one could ever measure up as this person could never realistically exist. Your spirit is wrecked when the day comes that you finally understand that your fantasy is unattainable. Rather than seeking someone that fits in with your fantasy, look instead for someone that, while flawed as all humans are, can still be a great partner for you. Idealism is great as long as it is tempered with realism. Strangely enough, while you can be very romantic and daydream about the adventures you may have with your soulmate, you find it difficult to actually commit to any relationship. You are often elusive in regards to romantic endeavours and insincere to both the person involved, and yourself.
Caution must be taken not to be drawn into an unhealthy partnership where one person is far more dependent on the other or where one gives too much of themselves or sacrifices their well-being just to appease the other. Equality in a partnership is crucial and you should not feel like you need to save the other person or that they must consistently aid you.
You are particularly reactive to your environment and prefer being in a beautiful, harmonious place where you can foster your creative talents in some way. You are naturally drawn to artistic things or people. You possess an otherworldly allure that people find captivating. Sensuality in all forms attracts you, as does anything out of the norm or which requires you to use your keen intuition. Love situations do not exactly fill you with security. Your delicate nature may be difficult to handle sometimes but you must do your best to push forward. Try to be understanding that everyone has their shortcomings but it does not always make them unworthy of pursuing. Do not expect your mate to know what you are thinking at all times, but rather explain to them the inner workings of you. It is not a sign that they do not care for you when they are unable to read your thoughts; express yourself directly.
A lesson for you to learn in this life is how to change your worldly beliefs into spiritual wisdom. You may find material assets falling away unexpectedly without explanation to show you that the material things you own are unimportant; the experiences you have during your life, and the wisdom you gain from them, are the only things that will matter when you are leaving this life. Develop your ability to care for others without expectations, forgive them their foibles, and let go of any resentment you have built up. Do not be bothered by small issues, though take care not to be stepped on by going to the other extreme and becoming far too accommodating. You are prone to escapism through substance abuse when life becomes hard for you to handle. Rather than avoiding your troubles, roll up your sleeves and face them. Only then will you find the inner strength you had within yourself all along. The more you tackle things directly, the easier it will all become.
Uranus harmonizing with Pluto
(power = 6.33 and this aspect is harmonious = 6.33)
There is a possibility with this placement to benefit humanity by using your imagination and ingenuity. Frequent fluctuations and transformations are likely to be part of your life and aid you in improving yourself and the lives of others. Intuitively you are aware that these fluctuations are good for you and are therefore welcoming of them. You find yourself striving to better the world, and you are able to do this peacefully and lawfully, without causing strife or disharmony.
Sun harmonizing with Saturn
(power = 4.28 and this aspect is harmonious = 2.14)
You have a good head on your shoulders and keep your feet firmly planted on the ground, taking life seriously and applying self-control, patience, and hard effort to achieve your goals. You are aware that anything worth having may require some sacrifice and time. Effective, detail-oriented, and organised, your word is your bond as you have a realistic view on what can and cannot be achieved. Your ability to focus allows you to work diligently until you have completed your task and when you do something, you make sure to do it right. Highly capable, you succeed at whatever you decide to fully take on. You are dutiful and never skirt your responsibilities. However, many times you take certain actions only because you feel as though you are obligated to. You have a timid or quiet sort of demeanour, though this does not make others feel uneasy when in your presence. Being the centre of attention is not something you seek, as you are not interested in displaying yourself for others. At either home or your work environment, you prefer to have things be neat and orderly. There is a likelihood that you may prosper by those more advanced in their age. People in respectable positions tend to want to see you succeed as they are intuitively aware of your dedication to all that you undertake. Leadership comes naturally to you and you understand just what needs to be done to further your goals. Mentally you are realistic, thoughtful, and demanding. You do not take well to others telling you how to do something as you prefer to think through it yourself thoroughly, analyse it, and come to your own conclusions as to what needs doing and how.
Mercury harmonizing with Saturn
(power = 4.06 and this aspect is harmonious = 2.03)
You are able to focus yourself exceptionally well and are capable of great self-control. Your mind can attain amazing feats due to these talents and your organisational abilities also aid in providing structure for your plans. It may take you longer than it would take others to think through a situation but once you do, you understand it completely and deeply. You prefer to take a more sombre attitude in life, working hard instead of playing around light-heartedly with others. Mentally you are detail-oriented and do not mind completing tasks that are too dull and monotonous for others. You do not beat around the bush when it comes to business and are a clear, direct communicator that portrays themselves as reasonable and practical; you would make a fine administrator. Others know they can depend on you to come through on your promises as doing things the right way is important to you. You do best focusing on one area and specialising in it, versus trying to learn a little bit about many fields. Solitary learning is likely more effective for you than traditional methods, as you require time to fully absorb and think through the information. You may be good at critical thinking due to your excellent ability to find loop-holes in peoples reasoning. Careers that require a systematic way of thinking are right up your alley. Mentally you are disciplined, reasonable, dutiful, exacting, and precise. Physically you are healthy and heal quickly from any ailment you encounter.
Sun harmonizing with Neptune
(power = 0.00 and this aspect is neutral)
You have an excellent imagination and your environment can have a large impact on you. In your world, beauty and magic are everywhere! You are drawn to the metaphysical realm and strive to comprehend the meaning of all that you come across. There is a strong bond between you and the world at large; you are at one with humans, animals, and the forces at work. You have a great amount of empathy and care deeply for others, always willing to come to the aid of those who need you. Expressing yourself creatively, whether this is through artistic, musical, or acting pursuits, is essential to your happiness in life. Although, your strong idealism and romanticism can do well with some practicality. You are full of hopes and dreams that you are able to attain if only you can apply yourself. Karmic endeavours in past lives have set you up to build on your psychic abilities and turn them into reality by aiding those you come across in this life. You are able to remove yourself from your earthly self and connect spiritually when in need of advice. You have a particular fondness for the arts, higher principles, and sophistication. Premonitions or guidance may come to you in odd forms. Delicate emotionally, you will avoid conflict if possible. You possess a magnetic quality and an almost magical allure.
SIGN POSITIONS OF PLANETS
The Planets in astrology symbolize 'what' is being addressed. They behave as actors in a production. What is happening on stage? The signs in astrology are the way that the actors behave on stage. They ask the question 'how?' How is the planet motivated? How are they living their life, in their highest good or in their shadow? The signs describe in detail how the actor might react, behave or conduct themselves.
Sun in Capricorn
In nature, a goat will strive to climb to the top of the hill and a Capricorn, being half goat, is no different. They will try to achieve great heights on their own merit. Capricorns are conventional, coordinated, systematic, dutiful, trustworthy, sincere, effective, reasonable, controlled, commanding, driven, serious, and willing to wait as long as is necessary to attain their goals. However, they can also be anxious, negative, penalising, doubtful, inflexible, and close-minded (learn about compatibility with Capricorn here). They do well in positions where they must utilise their excellent coordinating talents alongside their diligent nature and honourable work ethic. Coming up short on their responsibilities worries them.
Due to their reserved demeanour, they may seem the lone-wolf type. Capricorns can put up impenetrable walls in order to maintain their safety from harsh realities. You cannot keep them from pursuing their dreams. They will cling to their obligations and take work very seriously. Capricorns feel inadequate somehow and this compels them to work harder to achieve. They desire the respect of others and wish to be looked up to.
Capricorns enjoy strategising; they will make sure to analyse a situation thoroughly before deciding on a course of action. You can depend on them to come through during an emergency situation. They are also sound counsel, when needed. Capricorns are not usually hostile, though they can be intimidating if they feel threatened somehow.
Often times a Capricorn will feel lonely and misunderstood, highly attuned to any slights directed their way. If Capricorns are in a bad place mentally or emotionally, they may become punishing or vengeful towards those who have wronged them. Capricorns need a great deal of warmth and affection, though may keep others at arm's length, believing they may be wounded otherwise. However, they are exceptionally faithful to those they are closest to. Being esteemed, admired, and appreciated are vital to them.
They feel most secure with a steady cash flow, as they are anxious to lose their material assets. Capricorns are unlikely to take risks in order to gain fortune, they would prefer to take the slow and steady course, investing in a sure bet. Not much will deter a Capricorn from their goal and they can muster enormous fortitude when they have decided on a course of action. Instant gratification is not their style; they are aware that what is truly worth having will require many sacrifices. Working diligently and steadily can revitalise them. Capricorns are also likely to be frugal and enjoy forming collections of items precious or interesting to them. Wastefulness is not something they can abide by. Wasting of their time is part of this; they prefer to spend time in conversation only when they have something they wish to convey.
Capricorns will need to curb their insecurities in order to tap into their artistic potential; self-doubt will limit them. It is imperative that they develop confidence in their abilities and combat negative thinking patterns. Capricorns can accomplish anything if they only put their minds to it; where there is a will, there is a way and Capricorns definitely have a strong will!
Capricorns are able to endure a great many challenges and delays in order to attain their objectives, which is important, as their road will be laden with them unfortunately. Going through these challenges causes them to learn discipline, fostering growth in enlightenment by releasing their focus on material aims. Working may prove to be relaxing to a Capricorn; often they will use this as a form of escape from daily life. However, they can become workaholics if they are not careful. They do not really know how to unwind and are usually at their best when their lives are full of activities for them to do.
Capricorns are considerate and independent. They may not possess the grand charisma that some of the other signs do but they are kind, diplomatic, and caring individuals. They are easily able to empathise with others due to their own difficult emotions. Romantically, Capricorns can be just as enamoured and affected as the rest of them, though they are usually unable to express those feelings outwardly. They will take the time to get to know someone thoroughly before committing to them, preferring to take into consideration long-term goals and values. However, once they are committed they tend to remain so, as they feel they can work through any difficulty if they give it their all.
Moon in Pisces
You convey your feelings in a considerate and supportive way. You are caring, compassionate, sympathetic, tender, creative, and unobtrusive, with a fascinating way of perceiving how others are feeling or may respond to circumstances. You have a large amount of empathy, feeling the pain others are experiencing. Those who are suffering instinctively seek you out as they are aware on some level that you will not judge them for their woes. Often times, people are unable to imagine that you are suffering just as greatly as they are themselves; regardless of your personal feelings you will always do your best to aid those in need. Deep down you believe that the suffering you have experienced happened for a reason, even if the sole motive was to teach you a lesson. Your kind-heart may be misused by others which forces you to retreat from the world to replenish your inner balance. Your spirit craves music and there is a pull towards it. Music becomes a major part of your life or expression, as you discover that only through music are you able to find a home for the often indefinable emotional chaos present within you. You have an idealistic view of love; be mindful that the romantic in you falls in love with the person you are seeing rather an idea you have constructed in your mind. Your daydreams and emotions can be quite real to you and you can become completely engrossed in them, perhaps too much. Your moods may fluctuate wildly, leaving those close to you baffled, unknowing what to do. Challenging projects do not deter you and you are likely to enjoy working for people who are not as affluent as yourself. You absorb the energy around you whether you want to or not and this drains you; you do best when you can work on your own, away from the stressful energies of others. There is likely to be some sort of creative or artistic talent, though you may need to discipline your mind before your fantasies run away with you.
Mercury in Capricorn
Mentally you are reasonable, logical, sombre, self-controlled, impartial, sensible, and clear-headed; fanciful assertions do not sway you. You need factual data before you can get behind a concept. You are naturally sceptical, though at times this makes you pessimistic. You will tend to tackle challenges in a practical way, keeping a cool head regardless of the situation. As long as you remain interested in a subject, you can put forth great levels of focus and to achieve the outcome you desire. Detail-oriented, you are unlikely to forget what most people would over-look or deem insignificant. Your serious approach to life may come across to others as humourless, dull, or unhappy and you usually have a good deal going on mentally. Your mind is meticulous, controlled, and well-organised which contributes to a good business sense as well as an ability for administrative tasks. Forward-thinking, you have an excellent talent for strategy and can easily devise a scheme for successfully reaching long-term goals. You require a certain amount of seclusion to consolidate your thoughts or engage in solitary activities; you make a great student. You understand that time is a valuable commodity and therefore do not waste yours when you can be achieving something more meaningful.
Venus in Pisces
You convey your affection with empathy, kindness, warmth, and consideration while adding a bit of old-fashioned romance. You are very giving by nature and wholeheartedly come to the aid of those who need it. However, be mindful not to trust others too easily as you can be easily moved by a sad tale and taken advantage of, enabling others to rely on you as their sole support. This tendency to come to another's aid can manifest in your romantic relationships as taking on an extreme role such as the victim or the rescuer. Your romantic relationships may begin by you finding someone who is having a rough time and believing only your love can somehow save them. Those who exhibit a creative and emotionally sensitive nature are drawn to you, and you to them. You crave to be bonded with someone with whom you can have a truly meaningful union with. Shallow relationships do not appeal to you; you need something deeper, something you can put your soul into. Your views towards relationships are very idealistic and you prefer to see things through rose-tinted lenses. The beauty in a love relationship does not elude you though you must be mindful not to be in love with a vision rather than what is really there. You are a delicate soul, sensitive and at times emotionally intense, as well as creative and sympathetic. Your high sensitivity and receptivity may bring about premonitions. You avoid confrontation and therefore may agree to things you'd be better off avoiding; learn to stand up for yourself so that others do not walk all over your good intentions. You may somehow feel deep down that true love is not real unless it hurts, and so you readily sacrifice yourself.
Mars in Libra
Mars in Libra is a challenging placement and you are often unsure whether you would like to be assertive and dominating, having things within your control or whether you will prefer to avoid conflict at all costs, compromising everything you hold dear in the process. If Mars is positively aspected, you will be well-liked by others and enjoy a pleasant social life, especially with the opposite sex. However, if Mars is negatively aspected, others may view you in an unpleasant way and you will find yourself having to defend yourself as well as enduring challenging, unbalanced, unreliable romantic relationships where you manipulate others just for the fun of it. Either way, you will be strongly drawn to the opposite sex. One moment you seek harmony with others, the next you are baiting them into a rivalry. You strive to find a way to be self-sufficient and speak your mind, while at the same time work with others in a cooperative fashion. Often you become tense due to having to bend to others requests, when you would rather be free to do as you wish. At times you may find yourself frozen when you are unsure whether or not others will approve of your actions. Regardless, you do not like to be alone. You need to acquire your objectives by connecting to and working with people. Despite your dislike of disharmony, if you believe someone is being taken advantage of, you will speak your mind; this trait may lead to an interest in justice. You will shy away from any sort of extreme behaviour, as you need to keep balance in your life. You will likely take a steady pace to achieving your goals, rather than over-exert yourself. You are usually diplomatic, observant, eager, and easy to get along with though at times you may be touchy and start debating with others. You may need to work on your tolerance and negotiation skills.
Jupiter in Pisces
The best way for you to grow is through benefiting humanity or enlightening others. You believe that everyone is connected and that what harms one of us, harms the rest. You are compassionate, giving, amiable, modest, unobtrusive, and prophetic with a quiet humour and excellent intuition. Spiritual matters are of particular significance to you though you must carve your own road to truth. Occasional seclusion from the world is healthy for you as you may need to sooth the tensions you feel internally. You feel a strong urge to aid those that are less fortunate than yourself and may be involved in humanitarian efforts; your presence allows others to have faith that somehow things will work out for the best. You can become effective in the healing arts, if interested. Being out in nature is a favourite pastime, and you have an affinity for animals, especially those of a larger breed. When afflicted, you can be too emotionally sensitive, embellish facts or stories, over-indulge, prone to excess in general, and become wrapped up with the long-gone joyful moments of the past.
Saturn in Sagittarius
This placement bestows a generous disposition with humanitarian efforts guided by dedicated, methodical actions, counsel, justice, and spirituality. All endeavours will be marked with honour and integrity. You are determined and self-sufficient, with great intuition and an inclination towards theoretical subjects, especially philosophy. Your achievements will mature as you do. You are a giving and dutiful person with talent in organisation as well as technical and systematic aptitude. Growth can be accomplished through self-reflection and meditative practices. Unfortunately, you may also have a tendency towards disbelieving, sarcastic, doubtful, selfish, narrow-minded, and disingenuous behaviour. Be mindful of your circulatory system, particularly in the lower half of your body; keep yourself active and make sure there is good air circulation in your bedchamber.
HOUSE POSITIONS OF PLANETS
The Planets in astrology symbolize 'what' is being addressed. They behave as actors in a production. What is happening on stage? The Houses in astrology are the stage. They ask the question "where?' Where is the action? In the home, in health, in the career or in the marriage, to name a few. The Houses tell the story of where the action is happening, what type of people are involved and what sort of environment it is.
Sun in 3rd house
Learning and acquiring information is important to you, though you may insist that each new piece of data be proven scientifically before accepting it as valid. Also, you will find yourself readily sharing the new information you have acquired with others. Your mental make-up includes a methodical approach to creating, something that you much enjoy doing. There may be a tendency to be impatient and domineering intellectually, as pride is something you need to keep an eye on. Your insistence on always being right may create conflict for you with your family or community and you will often embark on many short-lived intellectual adventures to obtain the constant stream of data you crave. You may also possess ability for the written and spoken word.
Moon in 4th house
Family ties are important to you in this placement. You often search for and enjoy collecting possessions that tie to you to where you came from, a way of clinging to your past. Family relations and your home life instil a deep sense of personal security for you and there is likely a strong influence from the parental figures in your life. Your living location may change frequently as you search for an ideal location to put down roots. In your career, there will be an emphasis on things to do with the home; you may even work from home or create a home-like environment in your office as this will allow you to feel comfortable and secure.
Mercury in 3rd house
Mercury in this placement gives you a clever, observant mind that is able to absorb information like a sponge. Quick and attentive, as well as gifted with versatility; you can be a jack-of-all-trades. It is likely that you will go through many short-lived adventures, but in time you will be able to bring your ideas to fruition due to your ease at articulating yourself through both the written and spoken word. Being very detail oriented, you may venture into a career in teaching or technology.
Venus in 4th house
A feeling of luxury is important to you in your home and you crave to be in an attractive environment. People feel comfortable when in your home as you have a knack for making them so. You are creative and particularly delight in entertaining others, especially children and family members. This placement creates a tendency towards weight gain as you age, however it bestows you with a pleasing and content life.
Mars in 12th house
Your emotions tend to run high though you may suppress them or go to the other extreme and find yourself suffering from obsessive fear. Others are instinctively aware of this and create difficulties for you. There is a possibility of complications due to defamation or hidden adversaries. Buried grudges may be an issue that needs to be dealt with, and there is also a chance of false allegations from concealed sources. You feel as though you are on your own in this world. It would be wise for you to use your intense emotionality to better comprehend a deep sense of purpose and to become unified with mankind. You dislike being in the public eye and would do best working privately or in secret.
Jupiter in 5th house
This placement bestows a great deal of luck in romantic involvements and life situations where children are involved. Cheerful and enthusiastic, you derive pleasure from educating those around you. Your creativity will play a large part in your joy and prosperity, as you are strongly inclined to contribute substantially with your artistic abilities. There is a good indication that you will be fortunate in regards to children though you may need to be careful with an indulgent nature leading to gambling problems that may spur forth many rumours about your reputation.
Saturn in 1st house
Others see you as controlled with a good deal of discipline. You have a more serious nature and tend to be a bit reserved with others, preferring a cool demeanour. This may be due to a harsh or difficult childhood, possibly even an illness that held you back. You are plagued with insecurity and feelings of inadequacy, often believing you were never truly loved. Frequently things seem like a struggle to you and this gives way to a pessimistic view leading you to sometimes struggle with depression. Fortunately, you are very dutiful and a hard worker which allows you to power through whatever obstacle that comes your way. There is a tendency to greater luck in the later stages of life versus the earlier ones, therefore keep moving forward as your hard work will eventually pay off.
Uranus in 1st house
You possess an eccentric mind with an aptitude for thinking outside-the-box. This coupled with a strong intuition and will-power allows you to lead others into interesting, original endeavours. It is beneficial for you to listen to and develop your intuition as yours may be more accurate than most. You like to find fresh and often unusual ways of doing things. There is never a dull moment with you around and this stimulating personality attracts others to you. Unfortunately, your unique individuality may cause you to feel discontent and lonely at times; it is not often easy to be ahead of your time. It's a good thing that you enjoy your freedom and have an independent nature. However, at times you will find yourself a bit anxious and high-strung, with a high degree of mental activity that can cause you to neglect your physical state.
Neptune in 2nd house
Very imaginative with sensitive cognitive abilities that are almost mystical; your intuition is highly accurate and helps you to explore what you are naturally gifted at doing. You appreciate beauty more than most and tend to dream with intensity. Money is not much of a concern for you and you may find the topic of funds to be puzzling. You tend towards certain extremes, either you show a great deal of generosity, or you find yourself behaving in a deceitful manner. Be mindful not to participate in risky financial endeavours. Karma seems to play a role for you, as you may find that if you do not have genuinely good intentions, you will experience material losses through deceptive actions from others. However, if you are honest in your dealings, your finances will steady. Try to always be upfront when handling these matters.
Pluto in 4th house
You have a strong intuition and ability to be mentally creative. You crave a warm home environment, though this will often elude you due to your struggle for being the one in control. There may also be a problem with anger issues in your home life that create conflict for those living with you. Home may be the place you feel most able to rejuvenate yourself, however you are likely to feel tension in the location you were born in. For better or worse, your parental figures have had a strong influence in your life though there is an indication that they may have acted domineering or manipulative.
SABIAN SYMBOL POSITIONS OF PLANETS
The Sabian Symbols are a set of 360 symbolic declarations that correspond with each of the 360 degrees of the astrological zodiac chart wheel, starting at Aries degree number 1 and finishing with Pisces degree number 30. They were created by Marc Edmund Jones and Elsie Wheeler, circa 1925 in San Diego, California. In modern times, they are commonly used by astrologers in order to deeply understand the significance of planets that are occupying a particular degree of the zodiac.
Sun in
Capricorn 29
Sabian Symbol: A gypsy is reading tea leaves in the parlor.
Kozminsky Symbol: A ruined fortress where an older man sits on the earth against a rock, reading an ancient book, he is very sad.
Moon in
Pisces 10
Sabian Symbol: A pilot flies across the sky, a master of his skill.
Kozminsky Symbol: Quicksilver spills from a dish and a man sweeps it up.
Mercury in
Capricorn 29
Sabian Symbol: A gypsy is reading tea leaves in the parlor.
Kozminsky Symbol: A ruined fortress where an older man sits on the earth against a rock, reading an ancient book, he is very sad.
Venus in
Pisces 10
Sabian Symbol: A pilot flies across the sky, a master of his skill.
Kozminsky Symbol: Quicksilver spills from a dish and a man sweeps it up.
Mars in
Libra 19
Sabian Symbol: In hiding, robbers are at the ready to attack a caravan.
Kozminsky Symbol: As a wounded soldier's blood seeps out, a lion rises from it.
Jupiter in
Pisces 17
Sabian Symbol: An easter celebration is enjoyed by the rich and the poor.
Kozminsky Symbol: Holding a spear of gold is an officer.
Saturn in
Sagittarius 2
Sabian Symbol: The wind is pushing the sea around, forming white caps on the waves.
Kozminsky Symbol: Holding a dagger in her hand, the woman is angry.
Uranus in
Scorpio 10
Sabian Symbol: A reunion dinner is enjoyed by a group of men.
Kozminsky Symbol: A colorful revolving star.
Neptune in
Sagittarius 7
Sabian Symbol: Cupid asks for the human heart to follow him.
Kozminsky Symbol: A raven sits on top of the main mast of a large ship.
Pluto in
Pisces 14
Sabian Symbol: A lady wears a coat of fox furs.
Kozminsky Symbol: At a seaport, stevedores load the ship.
Ascendant in
Scorpio 6
Sabian Symbol: The gold rush of California leaves families in disarray as men flock to the action.
Kozminsky Symbol: An eagle has captured a snake in its beak.
Midheaven in
Leo 14
Sabian Symbol: A human soul, presenting itself as a toddler, looks for opportunities to reincarnate.
Kozminsky Symbol: As one man looks on, two men toss coins up in the air.