Birth Chart: Celine Dion (Aries)
Céline Marie Claudette Dion, CC OQ ChLD (/?di??n/; French: [se?l?n dzi?j??]; born 30 March 1968) is a Canadian singer and businesswoman. Born into a large family from Charlemagne, Quebec, Dion emerged as a teen star in the French-speaking world after her manager and future husband René Angélil mortgaged his home to finance her first record. Dion first gained international recognition in the 1980s by winning both the 1982 Yamaha World Popular Song Festival and the 1988 Eurovision Song Contest where she represented Switzerland. Following a series of French albums during the 1980s, she signed on to Epic Records in the United States. In 1990, Dion released her debut English-language album, Unison, establishing herself as a viable pop artist in North America and other English-speaking areas of the world.
Astrological Natal Chart
Celine Dion
Born at Charlemagne, Canada
Saturday, March 30, 1968
12:15 (time zone = GMT -5 hours)
73w29, 45n43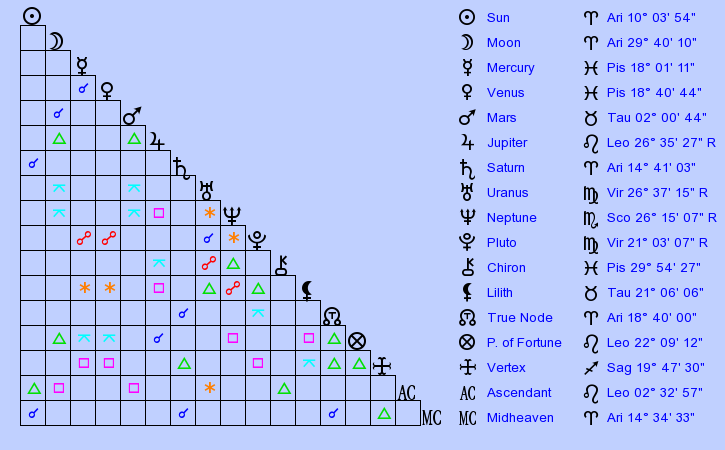 THE RISING SIGN OR ASCENDANT
At the exact minute of your birth, the astrological sign that is rising on the eastern horizon is designated the Ascendant or Rising Sign. The Ascendant is how you dawn on the world, how you present yourself to others. If someone were to guess your astrological sun sign, they would guess it based on what you show the world, which is your rising sign. It's the characteristics and personality traits that you put forth for all to see. It's the stained glass window that you project outward for the rest of your chart to flow through.
YOUR ASCENDANT IS:
LEO rising
Those with a Leo rising are typically giving, prideful, emotionally reactive, outgoing, loud, narcissistic, brave, confident, dramatic, romantic, and they are excellent showmen. They tend to go about like royalty, taking care of their "subjects" and expecting complete devotion from them. You have vitality and can be a bit of a risk taker, sometimes too much so. Extremely prideful, the biggest insult someone can throw at you would be to your ego. Appreciation is also something you require in order to feel satisfied. You can come off as loud and tough, but inside you are a big softie. When you care, you are easily wounded. In regards to a romantic partner, you would prefer that they are someone who will make you proud, and you in turn would like to foster this sort of reaction from them. You are very loyal to those you care for and would protect them fiercely if ever need be. Your anger can flare up suddenly but luckily this tends to resolve quickly and you are back to being your merry self again. Dramatic displays tickle your fancy and you can be somewhat of a drama queen or king yourself. Being in the limelight, all eyes focused on you is not only comfortable for you but you seek this attention out. At times you can be inflexible and unyielding, but you do this in a jovial way. It is unlikely that you will ever forget a slight, particularly if your ego is damaged, though you will usually forgive. You are rather sporty and enjoy being out in nature. You have an excellent drive and cheerful disposition, however if something goes wrong in your love relationship, it can zap the life out of you. Having warmth and love in your life is crucial to you. When discouraged, you may lose your willpower to live. A lesson you will need to learn during your lifetime is to be more humble. Leo is ruled by the Sun and therefore it's placement in your chart will be significant.
PLANETARY ASPECTS
If the planets symbolize the forces and energies that happen in different situations, then the aspects between the planets symbolize how these energies work together and integrate with each other. There are challenging and easy aspects between the planets and it is up to the individual to choose how they are going to utilize the aspect energies for a positive outcome. The aspects between planets are said to speak to each other. Depending on which planets are aspecting each other and the rest of the natal chart, will determine which planet is dominate and which is not in the aspect between them. But ultimately it is up to the individual to decide how they are going to use the aspects of planets in their chart with their free will, in a meaningful and productive way.
Moon blending with Mars
(power = 12.66 and this aspect is discordant = -3.16)
You never seem to tire out emotionally and it is important that you are able to divert some of this intensity into other avenues so as to stay steady and sane. You find it difficult to be inactive and will usually behave in an intolerant, grouchy manner when you are forced to do things at a slower pace than you would like. You can be very moody and your anger tends to erupt with little warning. Compromising is not easy for you as you prefer to strongly pursue what you desire, despite this causing disharmony with your spouse or family. You have a strong urge to compete with others on even small matters, though this may not be apparent to you. You are self-sufficient and require the utmost freedom to do as you wish. God help anyone who tries to insist you do something or in which way you are to go about it. You are susceptible to accidental injuries due to trying to do much too quickly; be patient with yourself and others. Usually your demeanour is caring and kind, though at times you can be a harsh critic and are too outspoken about other people's flaws or mistakes. Mentally you process things speedily and therefore you are likely to react with impatience and irritation when others are unable to comprehend things as fast as you. This placement bestows you with better than average health and recovery time.
Mercury blending with Venus
(power = 10.34 and this aspect is harmonious = 2.59)
You enjoy beautiful things of high-quality as your senses are particularly attuned to shape and texture. Your sensitivity towards spatial dimensions and skill in creating beauty lends to an artistic talent that can be expressed in many forms. You may find yourself working in fields of design, decorating, writing, music, or various craftworks. This placement also bestows attractive vocal abilities that you can use to diffuse difficult circumstances. Both your way of thinking and your way of speaking lead to harmonious outcomes. Diplomatic solutions in tense situations come naturally to you. You may also find yourself doing well as a salesperson of arts or of aesthetically pleasing items. You instinctively know what colours would work well together and what sorts of musical chords are most pleasing together. In the case that you are not artistically gifted, you will have a fondness for the arts and creative ventures in general. Your charming personality, subtle humour, and polite mannerisms make it easy for others to get along with you and people generally enjoy your company. You make an excellent mediator when someone has been slighted or can be a calming presence during challenging debates. When your emotions are triggered, you will analyse them before acting and it is likely that you "think" your emotions or "feel" your thoughts as you are unable to separate your mind from your feelings.
Moon harmonizing with Jupiter
(power = 8.92 and this aspect is harmonious = 13.38)
You are generally happy, accepting, positive, laid-back, and generous. You want to spread some of the joy you feel to others, though at times you may give too much of yourself. In your mind, whatever you set out to accomplish will work out somehow and this can cause you to put in very little effort or concern. If something is difficult, you may exert only sluggish attempts of solving the issue. This is particularly true in regards to your emotions. You are also likely to indulge in tasty cuisine more than you should which causes you trouble in maintaining your figure and can lead to larger problems in the future. This placement bestows you with a pleasing personality, an idealistic viewpoint, an ethical nature, open-mindedness, good fortune, and monetary aid from friends and familial ties. You highly dislike dishonest behaviour and prefer to act honourably at all times; you have a very strong moral compass. You enjoy thinking about philosophy and can be rather devoted to your beliefs even if you do not belong to any specific religion. You are self-assured and do not suffer with the insecurities that many are plagued with; you know who you are and what you are capable of. When you do encounter trouble, it does not keep you down for long but rather you are likely to find your problems quite humorous. In fact, you try to insert a good deal of laughter and joy into your life in general. You hope to see others improving themselves and their situations and you are happy to aid them in doing so if it fosters their advancement. The main concern with this placement is to be mindful of your tendency towards laziness and over-indulgence. You are well-loved by others due to your upstanding nature.
Mercury discordant to Pluto
(power = 7.97 and this aspect is discordant = -7.97)
Instinctively you are distrustful of the world around you and highly fascinated with mysteries that you attempt to solve. In your quest to uncover these secrets, you will delve down to the deepest and darkest caverns if need be. Subjects involving sexuality, life and death, spiritual rebirth, the healing arts, or mysticism are particularly interesting in your opinion. You strive to know everyone else's intentions though you are uncomfortable with people being aware of your own. Psychological evaluation comes naturally to your way of thinking and you would do well in any field where you are required to understand or reveal hidden information. Mentally sharp, you have no trouble focusing when needed. You have a knack for reading people and circumstances and your observational skills are top notch; very little escapes your attention. You intuitively sense the truth behind who people truly are and the situations you find yourself in. The metaphysical realm is of interest to you as it gives you much to ponder. You enjoy tales that deal with mysteries or scientific matters, especially fictional films with these themes; you like to give your mind something to figure out. There is a hidden part of you that strongly relates to and understands the darker things in life and you wish to understand as much as you are able to about matters which are seemingly uninteresting to most. Your viewpoints are strongly held and you are easily able to sway others to your way of thinking when you choose to. In fact, you are likely to become obsessed with some of your most tightly-held views, stubbornly clinging to them against all odds. The same sort of tunnel-vision occurs when you find something that you are truly fascinated with. Be mindful that you give heed to other people's opinions as you can gain significant knowledge from doing so. Inwardly you can be high-strung and tense, making patience difficult for you to come by and creating irritable moods. Try to give your brain some time to relax every day.
You often feel as though others are out to cause you harm somehow and you succumb easily to paranoia because of this. Your intensity regarding your views and opinions can be more than many people can handle and it would do you well to consciously tone things down a bit. Develop more tolerance for those who see things differently than you do, instead of going into a smug rant at the first sign of disagreement. You cannot be right at all times and it would beneficial for you to accept that others may indeed be correct some of the time. Try not to criticise a concept before fully thinking it through. This placement may make you sceptical of anything you encounter until strong proof has been shown to you of its merit. Use your good intuition and connection to the spiritual realm to discover the evidence yourself instead.
Jupiter discordant to Neptune
(power = 7.66 and this aspect is discordant = -3.83)
Your emotions may be extremely sensitive and you are prone to becoming engrossed in dreamy romantic fantasies. This illusion can sometimes affect your progress in real life, as you may avoid your less fanciful, everyday obligations in order to stay in your daydream. Be mindful that others do not abuse your kindness, as you can be naïve in your readiness to help someone who seems to be down on their luck; do not let people manipulate your warm nature. It is also possible that you go to the other end of things and play the victim yourself, feeding on the pity of others just to be noticed, or you may use dishonest tactics on others, often times on those in your family. There is likelihood that in one way or another you encounter trouble deciphering what is true and what is false, as you can twist reality into fascinating delusions. It is paramount to develop your more practical side, learning when to restrain yourself from your own wishful thinking.
There is a tendency towards negative consequences as a result of a scam; therefore it would be best to avoid becoming involved in arrangements in which you are promised wealth for little investment. Thinking positively is good, though you must also keep your feet on the ground and your head out of the clouds. Nothing worth having in life is without hard work and sacrifice; there is always a price to pay. Develop tolerance towards others and their foibles rather than expecting people to adhere to your idealistic standards. You will find yourself becoming disenchanted with others, and life in general, when those you had high hopes for cannot meet your expectations. Involvement in mystical endeavours can have a harmful influence on you; it would be best if you avoid these. Substance abuse may also become a problem for you and should be kept an eye on.
Sun blending with Saturn
(power = 7.38 and this aspect is discordant = -3.69)
Your maturity is apparent right away, as you tend to take life very seriously. Acting responsibility and doing the things that are required of you are high priorities in your mind. You are able to apply your self-restraint and discipline to achieve any goal you choose. You are an excellent organiser and have good managerial skills, understanding just what needs to happen for things to progress properly. Trivial, fanciful endeavours are of little interest to you as you are more concerned with what can be achieved through working diligently. Your sombre demeanour may cause others to falsely assume that you have no feelings or do not care. It is challenging for you to express the more delicate emotions that you keep buried deep down. Failing scares you and therefore you do whatever you can to succeed. It is usual for you to feel depressed, however you generally pay this no mind and continue working and pushing forward. Loneliness can also be a problem for you as you believe that only you are able to complete a task the correct way. An independent life fits you and you do not resent the circumstances you have been placed in as you know there is always a way to sink lower. You are extremely motivated to succeed, perhaps too much so. You possess a great deal of patience and this is a good thing because your climb to the top is going to be slow-moving; luckily you are able to persevere. There is a tendency towards being a bit harsh and critical, particularly in regards to your own efforts. Reserved by nature, you prefer to use caution rather than letting loose. Expressing your feelings or displaying warmth towards loved ones makes you feel uneasy and you would rather keep a tight rein; you may be a bit timid at times. You are not one to break a rule as you truly comprehend the reasoning behind it and this can make you a rather strict authority figure.
Uranus harmonizing with Neptune
(power = 5.63 and this aspect is harmonious = 5.63)
You have an ability to enlighten yourself through spirituality, whether this ability is conscious or subconscious. Philosophy and acquiring knowledge are important to you and you tend towards idealism. However, you are often accepting of others views, despite them differing from your own. You have keen intuition and a sensitive, creative mind that may lead to mystical abilities.
Venus discordant to Pluto
(power = 5.63 and this aspect is discordant = -4.22)
You feel a pull towards intensely emotional situations with others of the opposite sex. This pull is so strong that you feel as if it is almost uncontrollable. The craving you feel for intense experiences makes it difficult for you to reject these situations. You require a great deal of love and may over-indulge in your sexuality or become obsessed or difficult to satisfy. There is a double standard in your relationships as you are extremely envious and try to possess those you are interested in, while expecting that they give you freedom to do as you please. This can lead to inequality in your partnerships. Your attempts to control your partner will often lead them to pull away from you. A major challenge for you in your partnerships is that you insist on being the one in control of the relationship but always seem to be drawn to those who prefer to take the same role, leading to both of you constantly struggling for dominance. You would rather experience trouble if it means that you will also experience intense emotions, than to have a conflict-free, steady partnership that never reaches the high frequency you desire. You need to feel something powerful in order to feel as though you are truly living.
Your lesson is to take a good hard look at your beliefs and alter them accordingly. Your partnerships give you an opportunity to confront deep issues inside yourself and grow in wisdom. It is for this reason that you are drawn to those that are a challenge for you. The only way for you to grow is for you to experience the same behaviour you exhibited to others in a past life, back towards yourself in this one. You have an opportunity to remedy your past karma if you are able to react in kindness rather than vengeance. Learn to let things go. When you have cleansed your past karma and grown in wisdom, you will notice that you will no longer be attracting people who will create havoc for you. This placement denotes that you are able to move forward from previous malicious behaviours.
In regards to your health, you are likely to be susceptible to kidney trouble or issues with removing toxic material from your system. If the system is unable to remove toxic material, you may find yourself dealing with lung complications or trouble with the skin. Finding a way to let go of negative emotions that are toxic to your spiritually, and foster kindness and forgiveness towards others, can help your physical health.
If you are able to put other people's needs above your own, you can create healing through the powerful emotions you possess.
Mars harmonizing with Jupiter
(power = 4.58 and this aspect is harmonious = 5.72)
You are confident, driven, and enthusiastic. You are of the mindset that if you try hard enough to achieve a goal, you will eventually do so. There is an awareness of when things should be done and an intuition regarding what methods would be effective, and which ones would not be. Competition can be fun for you and you remain cheerful throughout the challenge. However, this competition is mostly done on your own, as you like to push yourself farther than you have before. Revenge is not something that you usually engage in as you prefer to let go of whatever wrongs others have done you. What you find truly interesting are things that broaden your mind, such as higher learning, spiritual matters, philosophical concepts, or travel. Being active and out in nature appeals to your adventurous spirit. If you could develop self-discipline, you are likely to do well in sporty activities. You exude positivity and greet the world with enthusiasm. Money comes easily to you and therefore you are likely to waste it too readily. You give of yourself and your possessions freely. What happens in the future is not troubling to you as you trust in the universe to provide you with your necessities. Others see you as honourable and honest in your dealings. It is rare that you allow anger to dwell within you for very long; usually you are apt to let things go easily as you believe that staying upset would only be wasteful. When times are tough, you are still able to maintain your optimism and continue to be kind and considerate towards others.
Uranus blending with Pluto
(power = 2.43 and this aspect is neutral)
This placement bestows an ability to modify society through altering the systems that keep them in place. You will need to choose whether you wish to use this ability to benefit yourself or benefit others; however it is likely that if you act selfishly, you will suffer the consequences. Endeavours involving the public on a grand scale are possible. Somehow, you will impact humanity. You can be strong-willed and diligent if you do not allow yourself to become distracted with juggling too many tasks at once; finish one thing before starting another. Try to keep yourself from straying to unknown paths only for the sake of change. Put into things that which you would want to reap.
Neptune harmonizing with Pluto
(power = 0.80 and this aspect is harmonious = 0.80)
Those born in your generation have the ability to be of aid to humanity as a whole. Let your intuition guide you in assisting others.
SIGN POSITIONS OF PLANETS
The Planets in astrology symbolize 'what' is being addressed. They behave as actors in a production. What is happening on stage? The signs in astrology are the way that the actors behave on stage. They ask the question 'how?' How is the planet motivated? How are they living their life, in their highest good or in their shadow? The signs describe in detail how the actor might react, behave or conduct themselves.
Sun in Aries
Aries are assertive, brave, excitable, self-sufficient, inspiring, innovative, strong-willed, spontaneous, hasty, egotistical, overly focused on themselves, and often lacking in patience (learn about compatibility with Aries here). Arians are usually attentive to their own self development and what is most desirable to them, rather than worrying too much about other people's wishes.
Arian's prefer being in positions where they can utilise their ability to take charge of a situation. They have a talent in managing others and establishing, coordinating, and controlling endeavours. However, though they will be the first to start on a project, they are often the first to leave it as well. Arians must be mindful not to rush ahead before thinking things through thoroughly. They can achieve incredible feats if only they can learn to channel their energies constructively.
An Aries will be innately energetic and excited to engage in action and contest, which can be motivating to others. They are brave and never lacking in interesting new concepts to establish. Vitality is one of their greatest strengths.
There is a tendency to overlook other people's ideas and capabilities due to Aries being too focused on their own skills. They need to allow others an opportunity to shine as well, rather than insisting that they themselves do it all. Learning to collaborate can create many opportunities for Aries, as this may counter their difficulty in seeing their assignments through to the end. Developing patience during moments where their interest in a project wavers can be crucial to their success.
Arians have a direct, no-nonsense approach. They will clearly state exactly what they are thinking and feeling, leaving nothing to be assumed or misconstrued. Arians may have a quick temper, but once they have expressed the inner rage, they will tend to forgive and forget. They prefer to say things straight out than to keep them inside, though at times the initial blast of their emotions is violently intense. Let them blow up and brace yourself during the explosion, it will not last long.
An Aries will always pursue what they desire, though at times they will lose interest in the object they were pursuing once they have acquired it. Regardless, Arians will be taking the lead in their romantic endeavours. They are prone to head pain due to internal pressure and friction.
Arians must mind their temper, build their tolerance, cultivate a way to save their strength, and learn to finish what they start; waiting is a natural part of project development, and they will be unsuccessful without it accepting this fact.
Moon in Aries
Flexibility and a tendency towards being fickle during your assertions are prevalent in this placement. You are quick to anger and may come across recurrent disturbances due to your moods. There is a predisposition towards doing things in great haste and if, heaven forbid, they take longer than you would prefer, you can find yourself in an instant rage. You are strong-willed, impulsive, hasty, unrestrained, and have an unpredictable temper. It is unlikely that you will keep things in, as you prefer to speak your mind, letting everyone know just what you are thinking and where they stand. However, be mindful not to become controlling over others when your moods flare up. You will likely strive to be the centre of attention or at the least, in control of the situation. You dislike having to receive aid or pity from others in any way, as you feel this comes across as a weakness. There is a probability that you will begin endeavours with zest, only to leave them incomplete when your excitement cools. You are self-sufficient, brave, and always up for an adventure. You dislike hearing others whine and grumble as you are prepared to engage whatever you encounter. It is important for you to get enough physical exercise as this allows you a positive outlet when your emotions are running high. You are often the first one to forge ahead into new undertakings. You may use your successes to hide deep rooted feelings that you are somehow not good enough.
Mercury in Pisces
The way you process, receive, and convey information tends to incorporate creativity, compassion, sensitivity, diplomacy, and idealism, while displaying prophetic tendencies. However, when afflicted you may become an overly-emotional, day-dreaming procrastinator who sluggishly goes about life half-sound. Motivating yourself to do something perceived as difficult can be met with formidable subconscious resistance and you may find yourself somehow distracted, skirting your responsibilities, and unable to organise yourself. Artistic ventures are more apt to ignite your passions than technical endeavours. You may turn your nose up at traditional methods of education yet find yourself almost absorbing information from thin air when you are truly fascinated by a topic. The energies that you encounter in your environment have an immense influence on you and therefore you must be mindful of the situations you surround yourself with. Occasional seclusion from the world is necessary for you to replenish your inner balance and serenity. However, do not cut yourself off to such a degree that you become obsessed about your own short comings, as you can tend to wallow in despair if left alone for too long. You may find that you heal better through alternative methods such as visual aids or massage therapy. Creative or artistic subjects will usually hold your attention, especially those involving the written word, acting, or music as you can be quite imaginative. It may be easier for you to convey your thoughts in creative ways rather than articulating yourself verbally; you are a bit scatter-brained and your speech may jump around, making you seem less intelligent than you really are. You are more likely to be guided by your intuition than being forced to accommodate concrete conclusions based on hard data. Often you understand how others are feeling prior to them understanding it themselves. You may at times become so lost in your own internal world that you are blind to the physical state of things going on around you. For you, nothing is impossible and you have a fantastic way of keeping your mind open to possibilities. Non-physical realms exist to you the same way that the physical realm does and your initial inklings about others are unusually spot-on. This gut intuition of yours does not seem to require hard data to be accurate; you just get a sense of things and people. Your thoughts may go down many unexpected roads which affect you a great deal; therefore it would be most beneficial for you to focus on staying positive mentally.
Venus in Pisces
You convey your affection with empathy, kindness, warmth, and consideration while adding a bit of old-fashioned romance. You are very giving by nature and wholeheartedly come to the aid of those who need it. However, be mindful not to trust others too easily as you can be easily moved by a sad tale and taken advantage of, enabling others to rely on you as their sole support. This tendency to come to another's aid can manifest in your romantic relationships as taking on an extreme role such as the victim or the rescuer. Your romantic relationships may begin by you finding someone who is having a rough time and believing only your love can somehow save them. Those who exhibit a creative and emotionally sensitive nature are drawn to you, and you to them. You crave to be bonded with someone with whom you can have a truly meaningful union with. Shallow relationships do not appeal to you; you need something deeper, something you can put your soul into. Your views towards relationships are very idealistic and you prefer to see things through rose-tinted lenses. The beauty in a love relationship does not elude you though you must be mindful not to be in love with a vision rather than what is really there. You are a delicate soul, sensitive and at times emotionally intense, as well as creative and sympathetic. Your high sensitivity and receptivity may bring about premonitions. You avoid confrontation and therefore may agree to things you'd be better off avoiding; learn to stand up for yourself so that others do not walk all over your good intentions. You may somehow feel deep down that true love is not real unless it hurts, and so you readily sacrifice yourself.
Mars in Taurus
When you put your mind to something, you will persevere at all costs. You are unlikely to alter your course once you have decided on it and can be quite stubborn. If you have started on a journey, you will continue until you get to where you need to be. Incredibly faithful, you will not betray another unless they have done so first, in which case anything goes. You are even-tempered and easy-going, and it takes a lot to push you over the edge. However, if you do manage to get to that point, your blood is boiling, and you see red and charge! You are dependable, steady, and able to work harder than others. A consistent schedule with no guess work is likely to suit you well as you flourish in this sort of environment. Seeing the fruit of your labour is important to you. Practical applications are also appreciated. Abstract concepts are not for you, you need something down to earth and realistic. At times it may be difficult for you to motivate yourself to move as you enjoy lounging around in creature comforts. However, when you do manage to start, you are able to endure; difficult to light the candle but slow burning once it is lit. You are less likely to start a project than you are to continue it. Material possessions are important to everything you do and you keep an eye on being safe and protected. It is possible that you will miss many opportunities due to your inability to change course once you have started, however this makes you incredibly reliable and dependable. Try to be mindful of your tendency to treat your romantic partners as possessions and curb your jealous inclinations. You find peace of mind in material assets though it may be beneficial to you to acquire this from more significant avenues. Caution is prevalent in all of your dealings and you fear a situation altering. Developing some sort of health issue or having to endure physical discomfort also worries you. Sometimes you can be so stuck on your chosen path that nothing and no one can deter you. You may suffer from foot-in-mouth issues; try to be diplomatic when expressing yourself. Also, it would do you well to be more giving of your possessions.
Jupiter in Leo
You are giving, warm-hearted, sympathetic, and self-sacrificing. With your excellent administrative capabilities, and your desire to be held accountable, you make a better leader than you do a follower. You tend to be enthusiastic and strong-willed. Things that are a benefit to humanity are of interest to you. However, at times you are able to be cold, indulgent, arrogant, flashy, and may have gambling problems. It would be best for you to be respected through your king and giving nature.
Saturn in Aries
Saturn's most positive attribute is structure, while the most positive attribute of Aries is the ability to lead others. When you combine the two, you have a capable leader who is aware of what needs to be done and is going to go the distance, persevering as long as is needed to accomplish their goals. Challenging circumstances only inspire you to press forward even harder. You often find yourself taking over the work that others in your group were responsible for as you are rather independent and believe that you would do a better job at the task at hand; you may find yourself feeling frustrated with others for not living up to their potential. The most negative attribute of Saturn is the tendency to look out for one's own best interests at all times, and the most negative attribute of an Aries is their inclination to involve themselves in other people's preparations. These together create an individual who is predisposed to sticking their nose where it may not belong and trying to take control over other people's concerns. You may become domineering, forcing people to do your bidding when they should be making decisions for themselves. Any sort of restriction will likely create a rebellious response in you, as you do not appreciate being told how to go about your affairs. It would do you well to keep this in mind when you are trying to lead others. You will encounter many restrictions, trials, and tribulations on your journey towards ground-breaking accomplishments; independence will only become attainable through upholding a sense of duty and developing self-control. Mind your tendency towards trying to do everything in haste, it will be your undoing; instead, cultivate tolerance towards a slower, more steady pace. You will also need to take extra care when putting your plans in place. You naturally develop a sense of consistency and safety while working on your goals. There may be a deep-rooted insecurity towards feeling as though you are never quite good enough, and you will make great efforts to remedy any doubts you may have about yourself by continuing to improve. You may find that you are susceptible to headaches due to the immense pressure you impose upon yourself to succeed. This placement also indicates a need for you to make sacrifices of yourself.
HOUSE POSITIONS OF PLANETS
The Planets in astrology symbolize 'what' is being addressed. They behave as actors in a production. What is happening on stage? The Houses in astrology are the stage. They ask the question "where?' Where is the action? In the home, in health, in the career or in the marriage, to name a few. The Houses tell the story of where the action is happening, what type of people are involved and what sort of environment it is.
Sun in 9th house
You expect that every piece of information be proven to you before you will accept it, as you search for truth in all matters. You try to live your life in a philosophical way, though you can swing to either being broad-minded, idealistic yet accepting or blindly and rigidly following what you have heard. Traveling is important to you, whether this be on a physical plane or spiritual one. You are gifted with learning languages and enjoy engaging with new cultures.
Moon in 10th house
You place a high significance on your public image and your need to acquire success may be in the forefront for you emotionally. It is likely that you are somehow involved with the public or women's affairs, especially in a way that allows you to be visible to society; being of use to humanity is important to you. Career pursuits may alternate throughout your life. You are drawn to positions of leadership in your work life due to your strong insistence on expressing your unique authenticity; by mindful of becoming too emotionally dramatic.
Mercury in 9th house
You have an aptitude for articulating your views in both the written and spoken word and probably have a flair for languages in general; you might do well in the field of translation. You tend to be open-minded and easy-going with your ideas. Always interested in learning, especially in regards to philosophy or religious studies, you might find yourself teaching others or being a lifelong student. Due to your ability to express yourself, you may do well selling to the public, such as with advertising, though you are also likely to pursue law or justice in some way.
Venus in 9th house
Highly interested in foreign cultures, you are likely to move away from where you were raised. Travelling in all forms is very appealing to you and you are likely to experience a gain from these situations. You are able to be a diplomatic presence between different cultures. There is a strong interest and enjoyment in religious ceremonies, philosophical studies, education, or law and you enjoy creative material brought to you from other cultures such as music, art, or items that are aesthetically pleasing. You are just and reasonable in legal transactions.
Mars in 10th house
You are assertive and highly motivated to achieve in your career. You aspire to reaching the top and it is likely that you will, as you have great administrative and managerial capabilities. You prefer to be the reason for your own success, leading yourself rather than following others. Self-sufficient and goal oriented, you may encounter some tension with those in higher positions at work, your parents, or other authority figures. You are best suited for working in an environment where the challenges vary, rather than being stuck doing the same thing day in and day out.
Jupiter in 2nd house
Optimistic and self-assured, you are unusually prosperous financially. Material gains seem to just fall into your lap with little effort and most would consider you "lucky" in this area. It is unlikely that you have ever had to suffer from lack of having your material needs met. It would be wise for you to use your superb financial instincts to invest, as you easily inspire faith and confidence in others. It is likely that those in advantageous positions will reach out to assist you monetarily at one point or another to help you actualise your dreams. In addition, try to be mindful of a tendency towards over-indulgence with lavish cuisine, as you are prone to extravagance in this area.
Saturn in 10th house
You have a good head for business, are largely self-sufficient, and diligent in creating structure. It is likely that you will find yourself rising steadily to the top rather than a quick jump to success; be patient as your persistence and determination will pay off. Do not try to shrug off your duties as this will lead to disappointments. For you, what you put in is what you what you gain. Your tendency to take advantage of others on your quest for power will ruin your achievements; try to somewhat curb your strong desire to stand at the top of the mountain. Do not discard others, as you may need to rely on them in the future. Your childhood may have been repressed or challenging due to having strict, controlling parents; the tension with one or both of your parental guardians may continue into your adult life.
Uranus in 3rd house
Quite the original thinker, your ideas are inventive, fresh, and imaginative, though they are not usually conventional. You tend to communicate in ways that can sometimes baffle others as your thought patterns may be rather eccentric. You are rarely bored as you thirst for information and enjoy learning new bits of data. Your mind is restless and it is important for you to find intellectual stimulation. Traveling seems to temper this craving; therefore you may find yourself away from home often. Relationships with family and your immediate community tend to be afflicted with an underlying tension that can be somewhat strained and stressful.
Neptune in 5th house
You are a natural performer and have a charming stage presence as you have a great artistic ability. Idealistic and imaginative, you may sometimes be impractical. You are often seeking romantic situations that are unrealistic and your attachments tend to end suddenly with little known cause. Wearing rose-coloured glasses in regards to love relationships, you can be quite the romantic. This placement indicates that you will encounter many challenges with your offspring and your love life, sacrificing much for both, yet with little reward. Your children may necessitate special attention.
Pluto in 3rd house
Always searching for answers and you usually find them as you have the flexible, penetrating mind of a detective. You quickly comprehend the nuances in any given situation and accurately detect people's hidden intentions. You particularly enjoy solving problems and may do research or puzzles on your free time as a hobby. You are often probing for deeper meaning and it is important to you to decipher truth. On occasion, you will find yourself feeling rather frustrated or anxious when solutions do not come to you as quickly as they usually do. Writing down your thoughts may help you come to an understanding and release some mental anxiety; you can find this regenerating to your entire system. You may use this method to cleanse your mind as you can put the past behind you and start anew.
SABIAN SYMBOL POSITIONS OF PLANETS
The Sabian Symbols are a set of 360 symbolic declarations that correspond with each of the 360 degrees of the astrological zodiac chart wheel, starting at Aries degree number 1 and finishing with Pisces degree number 30. They were created by Marc Edmund Jones and Elsie Wheeler, circa 1925 in San Diego, California. In modern times, they are commonly used by astrologers in order to deeply understand the significance of planets that are occupying a particular degree of the zodiac.
Sun in
Aries 11
Sabian Symbol: The ruler of the land is presented.
Kozminsky Symbol: As the flock playfully frolics, a child ties a ribbon around a lamb's neck.
Moon in
Aries 30
Sabian Symbol: In a duck pond, there is seen a duck with ducklings swimming.
Kozminsky Symbol: A man is attempting to put out a raging forest fire with only one pail of water.
Mercury in
Pisces 19
Sabian Symbol: A master and pupil are both content in their relationship.
Kozminsky Symbol: As a greyhound runs in the distance, a diseased man is lying on a cross of stones.
Venus in
Pisces 19
Sabian Symbol: A master and pupil are both content in their relationship.
Kozminsky Symbol: As a greyhound runs in the distance, a diseased man is lying on a cross of stones.
Mars in
Taurus 3
Sabian Symbol: There are natural steps that lead up to a lawn of blooming clover.
Kozminsky Symbol: Handfuls of seeds are thrown to earth by a man and they sprout and grow towards him as soon as they touch the ground.
Jupiter in
Leo 27
Sabian Symbol: On the eastern horizon, dawn appears as pink and gradually the stars of night disappear.
Kozminsky Symbol: A hand is pierced by a thorny orange branch and starts to bleed.
Saturn in
Aries 15
Sabian Symbol: An Indian is weaving a ceremonial basket in the light of the setting sun.
Kozminsky Symbol: A crusading knight is sinking in quicksand, his red cross on white corselet exposed. A mocking Arab is near him, on the only safe ground left.
Uranus in
Virgo 27
Sabian Symbol: Elderly ladies drink afternoon tea at an aristocrat's home.
Kozminsky Symbol: Watching a theater performance is a newspaper critic.
Neptune in
Scorpio 27
Sabian Symbol: A military band is marching with colorful banners through the street.
Kozminsky Symbol: Speaking with his ministers, a king holds a spearhead with the sun's disk emblazed on it.
Pluto in
Virgo 22
Sabian Symbol: A royal coat of arms has jewels on it.
Kozminsky Symbol: In the forest, Bacchanalian orgies are engaging nymphs and fauns.
Ascendant in
Leo 3
Sabian Symbol: A middle-aged woman cuts her long flowing hair into a bob for the very first time.
Kozminsky Symbol: On a human head, light flows from everywhere; from the left eye it's black vapor, from the right eye it's yellow and white light comes out of the forehead.
Midheaven in
Aries 15
Sabian Symbol: An Indian is weaving a ceremonial basket in the light of the setting sun.
Kozminsky Symbol: A crusading knight is sinking in quicksand, his red cross on white corselet exposed. A mocking Arab is near him, on the only safe ground left.