Scorpio 2015 Horoscope
Astrological Predictions for the Scorpio Zodiac Sign 2015
Astrology
The last three years were dire and straining, because of Saturn passing through Scorpio, but at the start of 2015 the planet has moved on to the next sign. So, 2015 will be a well needed rest. Nothing much at all happens to Scorpio this year.

Well, there is a retrograde return of Saturn in mid-June of 2015, where problems already solved seem to reappear or be replaced by new ones.

But that is just temporary and not at all as straining as the previous years were. Already by mid-September the planet has left Scorpio – not to return for another 30 years.
The planet Saturn was in Scorpio for three years, but left the sign at the very end of 2014. So, in 2015 it is time to relax after that long and strenuous period.

Those who feel this short reappearance of Saturn the most are those Scorpios born in mid-November, which is the third decan of Scorpio. Every Scorpio will feel the Saturn retrograde return and sweat a little, but for mid-November born it can be particularly strenuous. There may be some urgent problems they need to deal with.

But, as mentioned above, it will all be over by mid-September.
Calm, Even Tedious
Apart from the above mentioned summer drama when Saturn makes a reappearance, there is a remarkable stillness after the storm for Scorpio during most of 2015. No other significant planets enter the sign.

This is certainly a welcome vacation after three tough years. But the question is how long it takes before Scorpio finds it a bit tedious.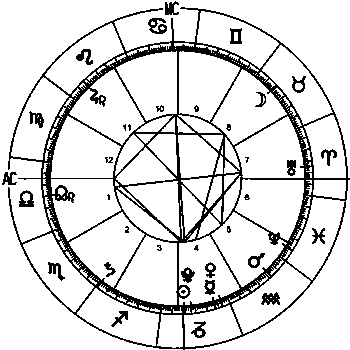 The complete 2015 world horoscope chart, based on Greenwich at New Year 2015. Click on it for a bigger image. Click this link to read more about:

At that point, Scorpio might try to spice up things, fueling some tension among friends and family or searching thrills on his or her own.

Still, there is nothing very memorable to be expected. The year is unusually calm for Scorpio.

That will not change until a couple of days into 2016, when Mars enters the sign. Mars can cause quite some excitement, so every Scorpio would do good to use 2015 for relaxation and recuperation.
Scorpio Horoscope Forecasts
By observing the movements of the planets, astrology can reveal certain things about what will happen to Scorpio during the year – at least some of the most significant events. Here are the astrological forecasts for the Scorpio Zodiac sign in 2017 and the last few years:
2015 Horoscopes
Here are the 2015 horoscope forecasts for each of the twelve Zodiac signs, based on sun sign astrology (your birth sign):
©
Stefan Stenudd
Tags:
scorpio