Birth Chart: Nancy Pelosi (Aries)
Nancy Patricia D'Alesandro Pelosi (/p??lo?si/; born March 26, 1940) is an American politician who is the Minority Leader of the House of Representatives, representing California's 12th congressional district. She previously served as the 52nd Speaker of the United States House of Representatives from 2007 to 2011, the only woman to do so, and is to date the highest-ranking female politician in American history.
Astrological Natal Chart
Nancy Pelosi
Born at Baltimore, USA
Tuesday, March 26, 1940
12:00 (time zone = GMT -5 hours)
76w37, 39n17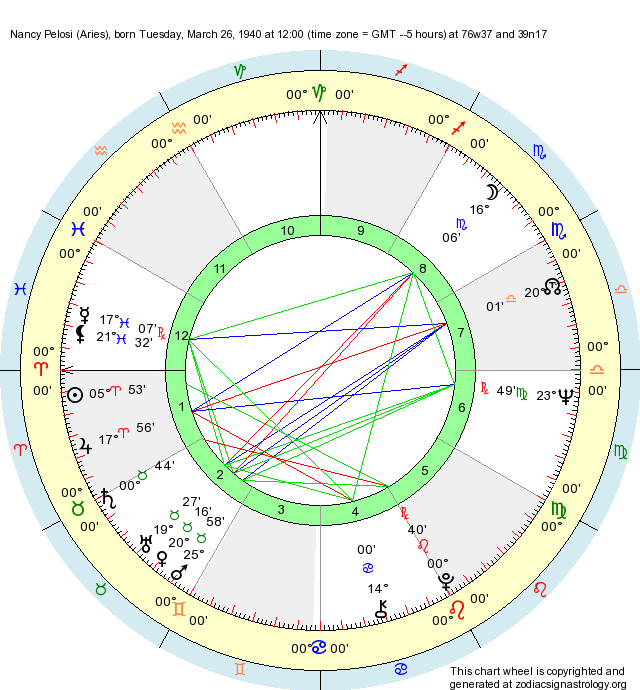 PLANETARY ASPECTS
If the planets symbolize the forces and energies that happen in different situations, then the aspects between the planets symbolize how these energies work together and integrate with each other. There are challenging and easy aspects between the planets and it is up to the individual to choose how they are going to utilize the aspect energies for a positive outcome. The aspects between planets are said to speak to each other. Depending on which planets are aspecting each other and the rest of the natal chart, will determine which planet is dominate and which is not in the aspect between them. But ultimately it is up to the individual to decide how they are going to use the aspects of planets in their chart with their free will, in a meaningful and productive way.
Venus blending with Uranus
(power = 9.17 and this aspect is harmonious = 2.29)
You are impulsive and reactive in both your emotions and your sexuality. Romantically, your feelings often arise suddenly and can just as easily vanish. However, not much can hold you back when you've been stimulated. Unusual, quirky, and untraditional; you enjoy trying new things. Never one to lead a dull life, you crave for something fresh and different to spark your enthusiasm; this is particularly true emotionally. You are more likely to be attentive while hunting for something than you are once you have acquired it; you are not one to stick things out long-term. Partnerships need to give you room to breathe as you are very independent and dislike being restricted in any sense. This sort of attitude leads you into relationships that are unconventional. Traditional commitment may not be for you as you dislike being tied to one person. Your preferences may cause you to subconsciously seek those who would be unable to be bound to you, perhaps due to long distance or a marriage. Intimate involvements that require any sort of promise from you will scare you off quickly and you prefer to keep yourself unattached physically or emotionally.
You are extremely moody, feeling one way this moment, the exact opposite the next and not you nor anyone else can predict what can alter these states. However, because you are never sure exactly what causes these changes, you may try to place the fault of your emotional state onto whoever is near to you. Inside you may feel quite a bit of chaos and it would be most beneficial for you to channel this energy into creative pursuits of some kind. Creating can truly soothe your inner tensions and steady your volatile moods.
You have a magnetic personality and others tend to find you sexually attractive. People are drawn to your allure, enthusiasm, and originality. Eternally curious, travelling is likely to appeal to you as it can help please your ever adventurous and high-strung nature. You do not do well with things staying the same for very long, in all aspects of your life; you require variety or you start to feel uneasy. Other people's opinion of who you are and what you do does not hold much weight to you and you insist on carving your own path. However, be mindful not to overindulge in your sensuality.
Saturn discordant to Pluto
(power = 7.94 and this aspect is discordant = -11.90)
The pathway towards achieving your goals may be obstructed and there is also issue with asserting power. It seems that something always stands in the way of what you are trying to accomplish. It would be wise to evaluate the reasoning behind your actions. Are these actions done for selfish reasons alone, or do they have a benefit for humanity as a whole? Competing with others allows you to learn how to better collaborate with people. Much wisdom can be attained with this placement, however it is imperative that you act selflessly.
Karma from a past life insists that you listen to the opposing views of others openly in this life, as you had acted in a controlling, commanding manner previously. If you insist on holding to your own opinions rigidly, your conditions will only worsen. Great power comes with great responsibility—this responsibility is to ensure others well-being, not only your own. Those who need to learn this are often placed in powerful roles so that they may do so. Be humble, keep striving, and develop your patience.
You can be very innovative though you must develop a way to adapt. You prefer things to stay the same, with the same routine, and this desire prompts you to attempt controlling others in some way. This placement may create a great deal of tension for you emotionally, though you can use these challenges to better understand the meaning of life.
Sun harmonizing with Pluto
(power = 6.79 and this aspect is harmonious = 6.79)
You believe in yourself and in your skills to achieve the things you set out for, feeling that you are capable of withstanding any challenge you should encounter in your life. You are ready and able to overcome whatever you need to in order to survive, even if this means changing your own tendencies to do so. A strong will coupled with great discipline promise that you will rise to great heights. You have an excellent ability to persevere against all odds and can be quite resourceful as well. These skills are put to good use when you make the necessary alterations to the outdated systems in your path. You will fight for justice, whether for yourself or when you see others being treated unfairly. You are a leader with a superb capacity for managerial duties. Others turn to you when they need guidance and you put them on the correct path. Very dedicated, you go after your objectives with complete focus, intensely moving forward in an almost obsessive fashion. Those who skirt away from their troubles tend to rub you the wrong way as you are inclined to see them as weak and find it difficult to give much weight to their views, concerns, or to them as a person. You firmly believe that your fate is what you make it and hold others to the same standard. Very perceptive, your intuition quickly picks up on the truth of a situation. You are aware of the destruction that pessimism can cause and therefore passionately and diligently work to unravel these thoughts, applying the same conviction and purpose that you would with everything you do. Those around you intuit your strength and capabilities, treating you as though you have already reached the top.
Mars harmonizing with Neptune
(power = 5.85 and this aspect is harmonious = 4.39)
You are very imaginative and visual, with a great ability to think outside of the box when an issue needs solving. However when you do look for resolutions, you tend to take the route that will avoid confrontations, instead opting for ways that will keep harmony. You are a humanitarian and enjoy aiding those who may not have been blessed with many opportunities; helping others in this way is deeply spiritually fulfilling for you. There is a talent here for dramatization, especially in the arts. In order to balance your mental and emotional states, it would help you to engage in this artistic talent and direct your energy productively. This outlet can also help you to keep your feet on the ground, rather than allowing your mind to run off into a land of fantasy. Turning fantasy into something tangible can happen for you due to your sensible nature; you couple idealism with practicality. Spiritual mysticism appeals to you and you may find yourself dabbling in the subject when opportunity presents itself. Others are drawn to your magnetic essence, particularly people who require aid of some sort. You can assert yourself when needed, though you do this in a tolerant, accepting, and caring way. Good past life karma bestows safety from secret adversaries who are intending to harm you. Innately you understand that if you continue working patiently and diligently, you will acquire what you are after. Sympathetic and sensitive to others suffering, you truly care for any living creature, human or otherwise, though you must be mindful not to allow others to take advantage of you by way of conjuring up a sad tale just to play on your sentiments. Being around water will soothe your mind and spirit, and therefore you should strive to be near water as often as possible.
Venus harmonizing with Neptune
(power = 4.46 and this aspect is harmonious = 5.57)
You are rather receptive of your environment with a creative talent that you use to produce aesthetically pleasing objects or surroundings. Musical pieces will stimulate a fantastical world inside of your mind that you will happily enjoy for hours on end, peacefully tuning the world out. You are idealistic in your romances and hold to the belief that there is only one true mate for you with whom you can live happily ever after. Luckily, you are able to entertain these dreams while at the same time staying realistic in your day-to-day life without being swept up by it all. You have a strong sympathy to those who are suffering and reach out to aid them when you are able. Naturally you are a generous person and helping others is satisfying to you on a deep level. You insist on doing what is right for mankind, keeping your personal ego at bay. It may be difficult for you to lead others or start a course of action due to your dislike of creating conflict. You will do a lot for the people you love and do not require repayment of your kindness. You feel that there is another world out there that we simply cannot see and enjoy being around other creative or sensitive people with whom you can delve further into the mystics. Gospel harmonies tend to affect you intensely when you listen to them, and you know that you have touched a piece of another life. You are likely to have musical talent, possibly vocally. Usually you will stand up for those that are considered "lesser" by societal standards, though you may need to be careful not to be swayed too much by a sad tale. Those who will aid you in the spiritual wisdom and evolution that you had begun in a past life are likely to be drawn to you in this one.
Venus blending with Mars
(power = 4.31 and this aspect is neutral)
Ardent and passionate, your urges may get the best of you at times. Others are magnetically drawn to you whether you are good-looking or not, though you probably are. People delight in your enjoyable presence and therefore try to keep you around. If someone sparks an interest in you, you will try your absolute hardest to win them over. However, you may instead scare away the object of your affection by pursuing them a bit too intensely. You crave affection and appreciate beautiful surroundings. Engaging in creative pursuits is important to you as you need to focus your energies artistically to combat any internal tensions you may have.
This placement bestows a charming personality and the ability to attract others to you. Highly out-going, you need to spend time with others often; spending too much time on your own may prove difficult for you. You have a strong desire to express love and be shown love in return. However, be mindful of who you express this love to, as others may feel differently than you. You tend to take partnerships very seriously and can be completely crushed when something goes awry, making it particularly important that you are selective of whom you spend your efforts on. This placement can be challenging due to its tendency to create conflicts in your partnerships; you will both love and loathe each other. The emotions are both caring and antagonistic at the same time. Use these situations to inspire you creatively.
Mercury harmonizing with Uranus
(power = 3.67 and this aspect is harmonious = 3.67)
You are highly responsive, both physically and mentally, to the environment that you find yourself in. Naturally you are full of energy and feel a need to be always active. Quickly disinterested, you require a good deal of mental stimulation to keep your mind busy, lending to your preference towards being a part of many endeavours all at once. You are self-sufficient, unique, inventive, and a revolutionary thinker who is always open to new ideas. In fact, finding fresh ways of doing things or progressive philosophies are a valuable part of life for you and you strive to inspire others to engage in these with you. Your gut intuition is unusually strong and accurate. However, you require complete freedom to be able to use this intuition in whatever way feels right to you, reacting to situations without being hindered by other obligations. Careers that entail the same, monotonous work day in and day out are not for you and you would do best with work that uses your superb ability to adapt to changing circumstances and allows you some room for creativity. You would never abide by others demanding that you do something and telling you in what way you must execute your task. It is important to you to discover things for yourself, in your own time. Your thinking does not follow the typical step-by-step process that most others adhere to. Instead, your thinking is more abstract and conclusions tend to just find their way into your mind seemingly from thin air, though this is just your intuition working its magic and providing you with unparalleled insight. Scientific and technological subject appeal to you and you are usually one of the first to try out new gadgets or concepts. Astrological topics and anything related to supernatural phenomena will also hold your attention. You are an articulate communicator, in both the written and spoken word, which readily exchanges fresh and unconventional information with other people.
Uranus harmonizing with Neptune
(power = 3.63 and this aspect is harmonious = 3.63)
You have an ability to enlighten yourself through spirituality, whether this ability is conscious or subconscious. Philosophy and acquiring knowledge are important to you and you tend towards idealism. However, you are often accepting of others views, despite them differing from your own. You have keen intuition and a sensitive, creative mind that may lead to mystical abilities.
Mercury harmonizing with Venus
(power = 2.84 and this aspect is harmonious = 3.55)
You have a talent for creating beautiful forms and designs, as your spatial ability is superb in regards to what would be considered aesthetically pleasing to yourself and others. You excel in all different types of art and design and would do well choosing a career in these fields. Another option for you would be in creative writing; you are able to use words to paint a picture. Your vocals are likely to be quite appealing to others, almost as if you can hypnotise others simply by speaking or singing to them. Diplomacy comes naturally to you and you are able to articulate yourself in a peaceful manner even in the most trying of circumstances. If you are unable to create art, you may do well in selling it instead. You instinctively pick out what goes well together materialistically or creatively. People find your charming, polite, and often humorous demeanour easy to get along with and this likeability will greatly aid you in any endeavour you are involved with that requires you to work with others. There is a tendency towards thinking your feelings rather than feeling them, and this rationalisation makes it difficult for you to openly convey your emotions to others. Whether or not you work in the creative field, you will certainly value art and creativity in general. It is in your nature to resolve disagreements in a harmonious fashion and soothe any emotional upsets.
Mars harmonizing with Pluto
(power = 1.29 and this aspect is harmonious = 0.97)
You have faith in who you are and what you are doing. Confident and driven, you have a tremendous amount of self-discipline and will do whatever it takes to succeed. You are aware of what it is that you wish to accomplish and the best way to go about it. Often the one leading a group, others rely on you to pave the path. You are opinionated and direct in communicating your viewpoints, always ready to fight for the things you value. When you see a way to improve something, you work hard towards reconstruction. You have the will-power, the perseverance, and the dedication to achieve whatever you set your mind to. At times, you may become so focused on your work that you continue forward even when you are completely exhausted; tunnel-vision is likely when you have taken on a project. This tendency is detrimental to your physical health and you must find a way to pace yourself and make time for relaxation. You have a strong character though you keep this low-key as you choose to keep out of the limelight. Preferring to be in the decision maker, you are often the one taking the lead in social situations and dislike anyone else trying to govern your life. However, it would do you well to develop tolerance for the way others do things and learn to be part of the team rather than acting director.
Mystery appeals to you and you enjoy delving into the depths to discover all things hidden. You insist on knowing the ins and outs of whatever situation you find yourself in, always asking "why". There is a preoccupation around death as well, which is life's ultimate mystery. If you channel your energies correctly, you may have an ability to heal others. Investigation comes naturally to you and you access individuals and circumstances effectively and correctly; not much gets passed your keen observation. Shallow interactions are of no interest to you and you prefer deeper, more meaningful ways to use your time. Verbal conflict and confrontation are not enjoyable to you though you will engage in them when you feel they are required. You are well able to keep yourself from projecting angry feelings outwardly, though when you happen to allow them to seep out, your emotions will burst forward intensely and others may need to stay out of your way until you cool down.
SIGN POSITIONS OF PLANETS
The Planets in astrology symbolize 'what' is being addressed. They behave as actors in a production. What is happening on stage? The signs in astrology are the way that the actors behave on stage. They ask the question 'how?' How is the planet motivated? How are they living their life, in their highest good or in their shadow? The signs describe in detail how the actor might react, behave or conduct themselves.
Sun in Aries
Aries are assertive, brave, excitable, self-sufficient, inspiring, innovative, strong-willed, spontaneous, hasty, egotistical, overly focused on themselves, and often lacking in patience (learn about compatibility with Aries here). Arians are usually attentive to their own self development and what is most desirable to them, rather than worrying too much about other people's wishes.
Arian's prefer being in positions where they can utilise their ability to take charge of a situation. They have a talent in managing others and establishing, coordinating, and controlling endeavours. However, though they will be the first to start on a project, they are often the first to leave it as well. Arians must be mindful not to rush ahead before thinking things through thoroughly. They can achieve incredible feats if only they can learn to channel their energies constructively.
An Aries will be innately energetic and excited to engage in action and contest, which can be motivating to others. They are brave and never lacking in interesting new concepts to establish. Vitality is one of their greatest strengths.
There is a tendency to overlook other people's ideas and capabilities due to Aries being too focused on their own skills. They need to allow others an opportunity to shine as well, rather than insisting that they themselves do it all. Learning to collaborate can create many opportunities for Aries, as this may counter their difficulty in seeing their assignments through to the end. Developing patience during moments where their interest in a project wavers can be crucial to their success.
Arians have a direct, no-nonsense approach. They will clearly state exactly what they are thinking and feeling, leaving nothing to be assumed or misconstrued. Arians may have a quick temper, but once they have expressed the inner rage, they will tend to forgive and forget. They prefer to say things straight out than to keep them inside, though at times the initial blast of their emotions is violently intense. Let them blow up and brace yourself during the explosion, it will not last long.
An Aries will always pursue what they desire, though at times they will lose interest in the object they were pursuing once they have acquired it. Regardless, Arians will be taking the lead in their romantic endeavours. They are prone to head pain due to internal pressure and friction.
Arians must mind their temper, build their tolerance, cultivate a way to save their strength, and learn to finish what they start; waiting is a natural part of project development, and they will be unsuccessful without it accepting this fact.
Moon in Scorpio
You like to keep your thoughts and secrets to yourself and may quietly dwell on perceived hurts and betrayals. You are naturally distrustful of others intentions and therefore do not expose your true emotions until someone has been thoroughly vetted, if even then. Emotional intimacy in personal relationships is difficult for you as you prefer keeping your feelings under lock and key; vulnerability feels somehow unsafe to you. All of your actions are expressed in an intense fashion, you care intensely and loathe intensely. You are passionate to the core; nothing is done halfway. This passion can express itself as a tendency to dominate your significant others or treat them as though they were objects that only you hold rights to; be mindful of the green-eyed monster. It is possible that your maternal parental figure was also dominating towards you. You find it difficult to let go of any past hurts or disloyalty and may harbour feelings of spite, bitterness, or remorse. Often these strong inner demons are kept secret. It is imperative that you vent these frustrations somehow and find a way to move beyond previous occurrences; forgiving others will be far healthier for you. Still waters run deep with you, and you would be dissatisfied with shallow, insincere interactions; you attempt to delve as far as you can into another's essence. You will achieve a great deal if you can only learn self-control and restraint. You are driven, enthusiastic, self-sufficient, assertive, passionate, dedicated, and willing to wait as long as it takes to accomplish your goals. You also possess a great deal of personal magnetism. Sexuality or death may be on-going themes in your psyche.
Mercury in Pisces
The way you process, receive, and convey information tends to incorporate creativity, compassion, sensitivity, diplomacy, and idealism, while displaying prophetic tendencies. However, when afflicted you may become an overly-emotional, day-dreaming procrastinator who sluggishly goes about life half-sound. Motivating yourself to do something perceived as difficult can be met with formidable subconscious resistance and you may find yourself somehow distracted, skirting your responsibilities, and unable to organise yourself. Artistic ventures are more apt to ignite your passions than technical endeavours. You may turn your nose up at traditional methods of education yet find yourself almost absorbing information from thin air when you are truly fascinated by a topic. The energies that you encounter in your environment have an immense influence on you and therefore you must be mindful of the situations you surround yourself with. Occasional seclusion from the world is necessary for you to replenish your inner balance and serenity. However, do not cut yourself off to such a degree that you become obsessed about your own short comings, as you can tend to wallow in despair if left alone for too long. You may find that you heal better through alternative methods such as visual aids or massage therapy. Creative or artistic subjects will usually hold your attention, especially those involving the written word, acting, or music as you can be quite imaginative. It may be easier for you to convey your thoughts in creative ways rather than articulating yourself verbally; you are a bit scatter-brained and your speech may jump around, making you seem less intelligent than you really are. You are more likely to be guided by your intuition than being forced to accommodate concrete conclusions based on hard data. Often you understand how others are feeling prior to them understanding it themselves. You may at times become so lost in your own internal world that you are blind to the physical state of things going on around you. For you, nothing is impossible and you have a fantastic way of keeping your mind open to possibilities. Non-physical realms exist to you the same way that the physical realm does and your initial inklings about others are unusually spot-on. This gut intuition of yours does not seem to require hard data to be accurate; you just get a sense of things and people. Your thoughts may go down many unexpected roads which affect you a great deal; therefore it would be most beneficial for you to focus on staying positive mentally.
Venus in Taurus
Romantic relationships bring out your trustworthy, faithful side and you flourish with a partner that is particularly warm and expressive with their feelings. Your senses are highly attuned and this causes you to indulge a bit more than you should, resulting in possible weight gain. Aesthetically pleasing items and environments strongly appeal to you and you find it important that your partner is visually striking. You must be mindful not to place too much significance in material possessions and curb your sensual appetites. You value luxury and prefer not to do any sort of manual labour. It may be that you assume others will do this sort of work for you, even when it is your responsibility. You are creative, loving, charismatic, and empathetic though you will need to learn how to restrain yourself at times. In your romantic partnerships you can easily fall into being envious and trying to own your partner, as well as being unwilling to do the extra work required in a relationship when things get rough. However, you enjoy putting in effort to show your appreciation in useful, concrete means.
Mars in Taurus
When you put your mind to something, you will persevere at all costs. You are unlikely to alter your course once you have decided on it and can be quite stubborn. If you have started on a journey, you will continue until you get to where you need to be. Incredibly faithful, you will not betray another unless they have done so first, in which case anything goes. You are even-tempered and easy-going, and it takes a lot to push you over the edge. However, if you do manage to get to that point, your blood is boiling, and you see red and charge! You are dependable, steady, and able to work harder than others. A consistent schedule with no guess work is likely to suit you well as you flourish in this sort of environment. Seeing the fruit of your labour is important to you. Practical applications are also appreciated. Abstract concepts are not for you, you need something down to earth and realistic. At times it may be difficult for you to motivate yourself to move as you enjoy lounging around in creature comforts. However, when you do manage to start, you are able to endure; difficult to light the candle but slow burning once it is lit. You are less likely to start a project than you are to continue it. Material possessions are important to everything you do and you keep an eye on being safe and protected. It is possible that you will miss many opportunities due to your inability to change course once you have started, however this makes you incredibly reliable and dependable. Try to be mindful of your tendency to treat your romantic partners as possessions and curb your jealous inclinations. You find peace of mind in material assets though it may be beneficial to you to acquire this from more significant avenues. Caution is prevalent in all of your dealings and you fear a situation altering. Developing some sort of health issue or having to endure physical discomfort also worries you. Sometimes you can be so stuck on your chosen path that nothing and no one can deter you. You may suffer from foot-in-mouth issues; try to be diplomatic when expressing yourself. Also, it would do you well to be more giving of your possessions.
Jupiter in Aries
You are aggressive, excitable, full of energy, and always ready to start on one of the many projects swimming inside your brain. You enjoy sharing your viewpoints with others and can effortlessly convince them to follow you on your endeavours. You are likely to be a leader and can easily see the entire situation at hand. However, it would be wise for you to learn how to wait for things to unfold naturally, rather than rushing in impatiently; try to think things through thoroughly beforehand. There may also be a tendency towards believing and stating that you can accomplish more than you realistically are able to. Take care to be more accepting of concepts that may not be your own. You are naturally very persuasive and would make an excellent salesperson. Be careful that you do not delude yourself about your capabilities as you can be overly optimistic and prideful.
Saturn in Taurus
You are diligent in accomplishing the things you set out to do. Material items may be excessively important to you and you are likely to cautiously set aside more of your funds than you need to. The weight given to these assets is for your own peace of mind, however it may end up that you suffer much anxiety by stressing over possible negative outcomes affecting your security in the future. It would be best for you to take some time to think about the things that are truly important to you, rather than living in fear of what tomorrow may bring. You tend to be a hard worker who possesses a great deal of tolerance when things may be going slower than you would like them to. You are self-controlled, careful, unwavering, prepared, structured, and able to persevere when others would give up; you don't mind putting in the extra effort to do a job well. Deep down you are a rather serious individual who is very steady with their emotions, keeping them well under wraps. It may be difficult for you to let certain things go, and you may carry these disturbed feelings for a long time. Being able to trust someone is extremely significant for you. You also have a strong desire to construct something worthwhile.
SABIAN SYMBOL POSITIONS OF PLANETS
The Sabian Symbols are a set of 360 symbolic declarations that correspond with each of the 360 degrees of the astrological zodiac chart wheel, starting at Aries degree number 1 and finishing with Pisces degree number 30. They were created by Marc Edmund Jones and Elsie Wheeler, circa 1925 in San Diego, California. In modern times, they are commonly used by astrologers in order to deeply understand the significance of planets that are occupying a particular degree of the zodiac.
Sun in
Aries 6
Sabian Symbol: A black square is brightly illuminated on one side with red.
Kozminsky Symbol: In a workshop stands a metal smith fixing a caduceus of silver and Mercury within a base of copper. There are various metals and instruments scattered about.
Mercury in
Pisces 18
Sabian Symbol: The crowd watches as a revivalist gives a performance.
Kozminsky Symbol: Caught in a spider web, a fly is seized by the inhabitant.
Venus in
Taurus 21
Sabian Symbol: A finger points to significant passages in an open book.
Kozminsky Symbol: A race horse enters a course wearing number 3 on his saddle cloth.
Mars in
Taurus 26
Sabian Symbol: A Spanish gallant serenades his love while standing at the window grill.
Kozminsky Symbol: A giant is tearing up the community, standing with his foot on a broken sword and behind him are bags of broken golden coins, which are falling over a cliff.
Jupiter in
Aries 18
Sabian Symbol: An empty hammock is stretched out between two beautiful trees.
Kozminsky Symbol: A wounded soldier is reaching out to the goddess Venus, whose hands are outreached to him.
Saturn in
Taurus 1
Sabian Symbol: A mountain stream of clear water is flowing through a rocky outcropping.
Kozminsky Symbol: A red rose bush with a gray vapor has a brilliant colored butterfly.
Uranus in
Taurus 20
Sabian Symbol: Wisps of clouds are streaming across the sky.
Kozminsky Symbol: White eagles are in flight.
Neptune in
Virgo 24
Sabian Symbol: The book, Mary had a Little Lamb is opened.
Kozminsky Symbol: A woman is held in the hand of a giant.
Pluto in
Leo 1
Sabian Symbol: Bursting with determination and ambition, a fat man wishes to have his own way.
Kozminsky Symbol: A group forms to give a document to their king as he exits his carriage.
Ascendant in
Aries 1
Sabian Symbol: A woman rises out of the water and a seal appears. The seal is enveloping her.
Kozminsky Symbol: A fireball exploding over a rainbow.
Midheaven in
Capricorn 1
Sabian Symbol: Standing before the council, an Indian chief claims his power.
Kozminsky Symbol: Rising out of the earth is an armed man.