Birth Chart: Britney Spears (Sagittarius)
Britney Jean Spears (born December 2, 1981) is an American singer, dancer and actress. Born in McComb, Mississippi, and raised in Kentwood, Louisiana, she performed acting roles in stage productions and television shows as a child before signing with Jive Records in 1997. Spears's first and second studio albums, ...Baby One More Time (1999) and Oops!... I Did It Again (2000), became international successes, with the former becoming the best-selling album by a teenage solo artist. Title tracks "...Baby One More Time" and "Oops!... I Did It Again" broke international sales records. In 2001, Spears released her self-titled third studio album, Britney, and played the starring role in the film Crossroads (2002). She assumed creative control of her fourth studio album, In the Zone (2003), which yielded the worldwide success of the single "Toxic".
Astrological Natal Chart
Britney Spears
Born at McComb, USA
Wednesday, December 02, 1981
01:30 (time zone = GMT -6 hours)
90w27, 31n15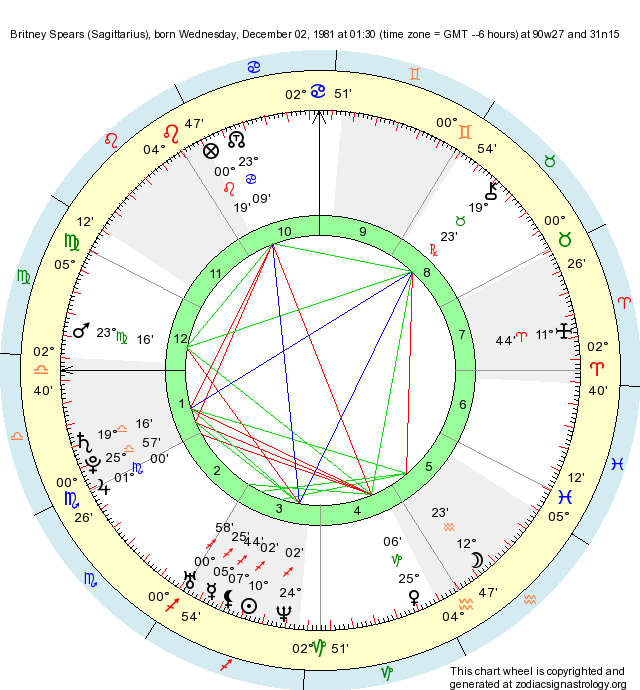 THE RISING SIGN OR ASCENDANT
At the exact minute of your birth, the astrological sign that is rising on the eastern horizon is designated the Ascendant or Rising Sign. The Ascendant is how you dawn on the world, how you present yourself to others. If someone were to guess your astrological sun sign, they would guess it based on what you show the world, which is your rising sign. It's the characteristics and personality traits that you put forth for all to see. It's the stained glass window that you project outward for the rest of your chart to flow through.
YOUR ASCENDANT IS:
LIBRA rising
Those with a Libra rising are typically sophisticated, charismatic, courteous, polite, graceful, diplomatic, pleasing, friendly, creative, affable, prone to indecision, and conflict avoidant. Being alone is difficult for you and you look to others to approve of you. This need may cause you to deny your values in order to win people over. You are also likely to be selfish and egotistical. Refusing others is not easy for you. You will try to evade any sort of conflict and require that things are always in balance harmoniously. Decisions can be challenging for you to make as you prefer to weigh each part of the equation equally, comparing and contrasting, before coming to a conclusion. Debates are enjoyable to you though you keep them conflict-free and pleasant. Outer appearances matter to you. You are lucky in that whatever you require seems to finds its way to you without you needing to put in much work. Making decisions, particularly in your romantic partnerships, is a lesson you will need to learn in your life. Libra is ruled by Venus and it's placement in your chart will therefore be significant.
PLANETARY ASPECTS
If the planets symbolize the forces and energies that happen in different situations, then the aspects between the planets symbolize how these energies work together and integrate with each other. There are challenging and easy aspects between the planets and it is up to the individual to choose how they are going to utilize the aspect energies for a positive outcome. The aspects between planets are said to speak to each other. Depending on which planets are aspecting each other and the rest of the natal chart, will determine which planet is dominate and which is not in the aspect between them. But ultimately it is up to the individual to decide how they are going to use the aspects of planets in their chart with their free will, in a meaningful and productive way.
Venus discordant to Pluto
(power = 9.15 and this aspect is discordant = -6.86)
You feel a pull towards intensely emotional situations with others of the opposite sex. This pull is so strong that you feel as if it is almost uncontrollable. The craving you feel for intense experiences makes it difficult for you to reject these situations. You require a great deal of love and may over-indulge in your sexuality or become obsessed or difficult to satisfy. There is a double standard in your relationships as you are extremely envious and try to possess those you are interested in, while expecting that they give you freedom to do as you please. This can lead to inequality in your partnerships. Your attempts to control your partner will often lead them to pull away from you. A major challenge for you in your partnerships is that you insist on being the one in control of the relationship but always seem to be drawn to those who prefer to take the same role, leading to both of you constantly struggling for dominance. You would rather experience trouble if it means that you will also experience intense emotions, than to have a conflict-free, steady partnership that never reaches the high frequency you desire. You need to feel something powerful in order to feel as though you are truly living.
Your lesson is to take a good hard look at your beliefs and alter them accordingly. Your partnerships give you an opportunity to confront deep issues inside yourself and grow in wisdom. It is for this reason that you are drawn to those that are a challenge for you. The only way for you to grow is for you to experience the same behaviour you exhibited to others in a past life, back towards yourself in this one. You have an opportunity to remedy your past karma if you are able to react in kindness rather than vengeance. Learn to let things go. When you have cleansed your past karma and grown in wisdom, you will notice that you will no longer be attracting people who will create havoc for you. This placement denotes that you are able to move forward from previous malicious behaviours.
In regards to your health, you are likely to be susceptible to kidney trouble or issues with removing toxic material from your system. If the system is unable to remove toxic material, you may find yourself dealing with lung complications or trouble with the skin. Finding a way to let go of negative emotions that are toxic to your spiritually, and foster kindness and forgiveness towards others, can help your physical health.
If you are able to put other people's needs above your own, you can create healing through the powerful emotions you possess.
Venus harmonizing with Mars
(power = 8.17 and this aspect is harmonious = 8.17)
Very affectionate, you enjoy engaging in romance and are a sensitive, appreciative pursuer. Others are drawn to you even if you are not stereotypically good-looking, though you often are. Your personality is vibrant and you are easy to be with, gaining you much popularity. You keep your emotions fairly steady and low-key, which can be very attractive to the opposite sex. There is a part of you that likes to play match-maker and you could easily put others together in a fantastic way, creating harmonious pairings that last.
You are driven by an amorous nature with a fondness for all things beautiful, yearning to channel your passion into creativity of any form. This placement denotes a charismatic magnetism that others respond to. Being alone for too long does not do you well and you prefer to be socially active, happily engaging with other people. You have a strong craving to express yourself affectionately and for this warmth to be reciprocated. Your vitality is apparent to others and people find you alluring. Romantic relationships are likely to flourish as you are aware of what you desire in a mate and are able to convey these feelings clearly. You do not hide your intentions, but rather take a direct, honest approach in these matters. However, you will avoid conflict if you can do so as you dislike disharmony. You invest much effort to understanding your feelings.
Jupiter blending with Pluto
(power = 6.95 and this aspect is harmonious = 3.48)
You feel that all creatures on this earth are somehow connected to one another. Self-improvement and the betterment of the world in general, are important to you. You feel easily inspired in ways to bring about advancement and improvement of both yourself and humanity as a whole; you want to change the world. It is likely that you possess a good deal of motivation to accomplish some sort of permanence. Learning and keeping yourself well-formed is imperative to you and you are always searching for truth. You often share this passion for knowledge with others and may become an instructor. Striving to alter the environment for the better, you prefer holding high status as this will help you achieve this goal. Try to pay more attention to other people's ideas and beliefs, rather than closing your mind to them right from the start. You are not always correct, nor should you try to be.
Mercury blending with Uranus
(power = 6.55 and this aspect is neutral)
Your mind is continuously racing with fresh ideas for you to try out and you are talented in intuitively creating original concepts. Your thoughts are unusual, alternative, and even downright odd at times and you expect to be unconstrained in conveying them. Progressive developments are a specifically exciting interest for you and you enjoy being one of the first to explore new philosophies, technology, and merchandise. Due to your mind putting concepts together so rapidly, you find yourself behaving impatiently when others need to process things at a slower speed. Theories of science and technology have always come effortlessly to you. You have been gifted with a particularly intelligent, bright, quick-witted, and ingenious mind. However every positive has its equal negative and this ability to think so quickly gives to an anxious, jittery temperament which makes it difficult for you to slow down and unwind. You are drawn to subjects that are of a metaphysical nature as they give your brain something new to dissect and ponder. You become easily disinterested and require variety in order to quench your thirst mentally. Travelling to new places may help to give you the mental stimulation you need. Most of your conclusions are made up of gut hunches, instead of the typical step-by-step thought process that others tend to adhere to. These notions come to you seemingly from thin air though they are the result of your excellent and accurate intuition. You are at your best in situations where the outcome is uncertain and it is necessary for you to adapt and think on your feet. Very independent, you insist on having space to express yourself in whatever way you see fit.
Sun blending with Mercury
(power = 6.38 and this aspect is neutral)
You can be unwilling to entertain another person's point of view, preferring to hold tight to your own. Objectivity may also be difficult for you due to self-centredness. You enjoy communicating to others about all the things you love, think, or feel but are disinterested in hearing about other people. You are witty, with a sharp mind and a hunger for knowledge and new stimulation. If you are unable to experience novel situations, you become disinterested in your life; consistent mental stimulus is imperative for you. You are well able to convey your views and can be adept at persuading others, though you need to apply a greater focus while listening to people. Often you are trying to figure out what your next point in the conversation will be and miss out on what was said. You run on a high voltage and may develop little nervous habits. Finding an outlet for your anxiety by use of your hands may alleviate this nervous energy. In addition, try to focus more on what other people are contributing to the situation rather than being immersed in your own talents.
Mars discordant to Neptune
(power = 5.25 and this aspect is discordant = -6.56)
This placement can be difficult due to a tendency towards escapism from daily life and the responsibility that comes with it. Substance abuse may also be prevalent and must be watched for or it can destroy you. The mundane ins and outs of the daily routine bore you and you crave a way to be a part of a fantastical enterprise, where you can couple idealism with your imaginative mind. If you are not able to find an outlet for this, you will be unable to discipline yourself to perform the duties that you are responsible for. Others depend on you yet you often disappoint them. This causes people to view you negatively and disassociate themselves from you in the future. It might prove challenging for you to decipher what is real from what is not; living half-way in a dream-like state is typical for you. It is imperative that you find a way to keep your feet planted firmly on the ground or you will sink. Perhaps you do not feel at home here in the physical realm and are more comfortable in the spiritual one, but you are here now and must do your best to gain wisdom from the situations you encounter. All of us exist in this world for that very reason and you are no exception. Instead of being lost in the fantasy, pay attention and do what you need to.
If you are able to focus and discipline yourself, you just might be able to achieve the fantasy you so strive for. A pyramid was not built in a day, and neither is the kind of life that you dream of. Artistic and creative ventures will allow you to express the pent up feelings you harbour deep down from all of the responsibilities that drag you down in daily life. Your imaginative abilities can create something truly epic, if only you can keep yourself centred in reality and restrain yourself enough to work practically until your vision is realised.
Selfish endeavours are not appealing to you and you would rather devote your time to something that will be beneficial on a grand scale; this will give you a sense of purpose. Climbing the social or corporate ladder may not be for you as you do not possess the qualities competitive, confrontational qualities that often drive others to the top. There is also a habit of deeming yourself either far more capable than you are, or undervaluing yourself. Deceit and delusion are themes in your life, whether they come from other people, or from your own insecurities. People may try to take advantage of your helpful and caring nature, so be mindful that you do not fall prey to every John that tells you a sad tale. Keep in mind that although it would be amazing if you could protect the world from evil all on your own, it is highly unlikely; you can, however, look out for yourself, which will take a lot of effort as it is.
You tend to become overly dependent in your romantic involvements or your partner may be overly dependent on you, and there is a likelihood of either sacrificing too much of yourself to somehow save them or to go the other extreme and act as though they are victimising you. However, it is imperative that you comprehend that when a partnership is not equal, it is not a partnership at all and will not succeed in the end.
This placement can intensify abrasive, sensory, rash, irritable, demanding, and indulgent traits as well as verbal and physical dramaticism. You often follow whichever path your desires steer you towards. Spirituality for you may either go towards being very devoted to your religion, or the exact opposite route, Atheism. However, you seem to embody a bit of a chaotic nature and must learn self-restraint.
You are gifted but are not confident in your capabilities and question whether you are worthy. Your insecurities are masking reality and you need to start believing in yourself. Your lesson is to overcome whatever is keeping you from developing the self-confidence you need to succeed in the areas that you are most talented. Try not to let failing at something deter you from trying again; everyone makes mistakes and this does not make you any less worthy or capable. Keep Trying. When you are feeling insecure, you will start blaming others for your mistakes until you believe the lies yourself. However, what is true never stays hidden for long and in the end when it comes out, you will experience depression; best to be upfront. You should look at each failed attempt as a way to learn and grow, to become stronger and more capable in the future. Your disappointments will aid you in developing self-discipline and a higher spirituality, as will displaying selfless acts of kindness towards others.
Use caution with others as they may not be the person they project themselves as. It is possible that hidden adversaries from a previous life will turn up in this one to administer the karma you deserve. Though you may be tempted, try to keep from participating in unwholesome mystical practices, calling on dark spirits, and similar endeavours. Deep down you feel a strong pull towards being completely genuine and truthful towards other people and your own self.
Neptune harmonizing with Pluto
(power = 5.07 and this aspect is harmonious = 5.07)
Those born in your generation have the ability to be of aid to humanity as a whole. Let your intuition guide you in assisting others.
Sun harmonizing with Moon
(power = 4.65 and this aspect is harmonious = 4.65)
Creativity comes easily to you and you are most successful at reaching your aims when those you care for are there to encourage you. You are able to find a perfect balance between independence and connecting with others. You are self-sufficient, doing just fine alone whenever needed. Previous lives were used to master your emotional reactions and they are now harmonious. Good karma draws good fortune to you in all aspects: status, home-life, friendship, respect, healthiness, and monetary assets. Naturally capable and talented, you soar to the top either by gaining the respect and admiration of those in high places who will aid you on your journey, or you yourself find an area of expertise where you create your own success. Both the external and internal forces at work for you are blended harmoniously, making your life a bit easier than it could otherwise be. All of your challenges are aided by this aspect and despite the obstacles, you will find tranquillity.
Venus discordant to Saturn
(power = 4.16 and this aspect is discordant = -5.20)
You are likely to be emotionally underdeveloped. Opening up to others is not easy for you due to your being unable to move past previous hurts, always fearful that the same will happen once more. You keep both your money and your feelings to yourself. Innately, you know that nothing comes for free and you would rather not pay the price unless it is truly worth having. Rather than expressing your emotions to another, you will tend to purchase tokens of affection, as it seems to be easier for you to handle them rejecting your present than for them to reject you emotionally. You deeply desire to be loved but you are unable to be intimately close to another. Inside, you are insecure and do not believe you are worthy of being loved. It is only when you transform this way of thinking that your life will turn around for the better. You deserve as much love as anyone does, though this needs to come to you on your own. Try to let go of what happened in the past and move forward with your life.
Your demeanour is usually stern and sombre and others may think you generally do not care about much. These observations are untrue as it is more so that you are being careful about who you reveal yourself to. You desire warmth and affection though it is very challenging for you. In order for you to receive affection, you will need to show it first. You cannot purchase other people's feelings. Letting loose and having a good time without reservation is hard for you. Working diligently towards a practical result is something you can more readily comprehend, but emotions? They confuse you. It is uncommon that you engage in fun just for the sake of fun. Work tends to be fun for you which is baffling to others. Oddly enough, there is the occasional moment where you will distract yourself with something and leave the work to build up. You must find equilibrium between the serious side of life and enjoying yourself.
You may seek out romantic partners that do not treat you the way they should. If you find a way to appreciate the person you are, others will also. Safety and stability are valuable to you though you are unsure how to acquire them. You often worry about losing monetary assets or the people you care for. These feelings may become a self-fulfilling prophecy. Allow yourself to open up to others and forget past hurt. Look your problems right in the eye and deal with them; it is the one path to conquering them.
When faced with much difficulty you can become very pessimistic and down on your luck. Acting responsibly is important though life has put these challenges in place for you to grow in strength and wisdom. You are more likely than others to comprehend that there is more to life than being happy. However, this does not require that you must live in misery. Your loneliness stems from your unwillingness to accept that people do truly care for you. Again, it is likely your own insecurities colouring reality for you. If you want to draw love towards you, then you must first act in a caring fashion.
You are guarded about sharing your interests with others because you are fearful that they will reject you. In your relationships you may be mildly envious or try to possess your partner, as you tend to be so afraid of losing what is yours that you cling to it. However, this tendency only works to distance your partner from you as they feel trapped, creating the exact thing that you were worried about. No amount of force can keep someone that does not wish to be kept. Feelings of love should be allowed to be expressed freely, without control being placed on them. Try to keep in mind that the challenges you are facing in life are only there to aid in your growth.
Venus discordant to Jupiter
(power = 4.10 and this aspect is discordant = -1.02)
This placement allows for range of different outcomes. It is possible that you will have a partnership with a person that is interested in subjects that you either are disinterested in or have never experienced. Another option is that you are devoted to a project or foundation that irks those closest to you. It is also possible that you will waste your resources or appear pompous. A tendency to over-indulge in sensuous pleasures, especially fine food and drink, can create challenges in your health. Be mindful of your weight and of any issues with your circulatory system. Life will easily bestow you with the things you need and this causes you to be unappreciative of them, as well as lazy. This placement attempts to teach you to find equilibrium between the possessions you desire and spiritual idealism. The beliefs you hold will likely be challenged and you may need to rethink your values. Emotionally dramatic, you can be prone to leaping into love without looking carefully first. Your amorous emotions may be drawn in by material assets or prestige.
However, despite the troubles you encounter, you are generally a warm, giving individual that will always be there to lend a helping a hand to those that require it. You withhold judgement when helping others and people are instinctively aware of this. A harmonious environment is important to you and therefore you would prefer to be accepting of the flaws found in others rather than create tension. Nonetheless, you must be careful not to skirt important issues just to evade conflict or keep from hurting others emotionally; some things need to be said. Work on your assertiveness in order to make sure you are taken care of and respected. Out-going and social, you strongly prefer the company of others to being alone, as spending too much time on your own makes you feel uneasy. You are able to be diplomatic while remaining popular. Developing self-discipline will be beneficial for you.
Moon harmonizing with Saturn
(power = 3.11 and this aspect is harmonious = 1.56)
You like to keep your feelings under a tight reign. This placement helps to balance your feelings even when circumstances are difficult. Others may be frantic during these times, yet you remain calm and collected. You are reasonable and unbiased during stressful situations which help you to solve the underlying issue amidst emotional chaos. This placement allows you to concentrate more effectively. You do not skirt your duties and people know they can rely on you to do what you have committed to doing. You are loyal to those in your circle and to the people you feel close to, supporting them behind the scenes. You dislike being idle and enjoy watching the fruit of your labour. Mentally you tend to stick to the conservative route, letting tradition guide you. Frivolous thoughts for the sake of fun are not really your cup of tea; you take a more sombre approach. However, you are not always able to show your feelings towards those you care for. It would be beneficial if you could develop a more open manner and convey these inner emotions outwardly to them somehow. You are independent and methodical, as well as having a good ability to organise, handle money and business, and behave diplomatically when interacting with people. You are very patient and willing to persevere until you have reached your goal. You are ethical, dutiful, faithful, and fair.
Saturn harmonizing with Neptune
(power = 2.24 and this aspect is harmonious = 1.12)
This aspect presents you with a chance to attain a higher reasoning in spirituality by self-sacrifice and working diligently to aid others. You will be able to put your necessities on the back burner to do what needs to be done for those loyal to you and this kind of service is happily done by you. You can easily combine your idealistic views with realism in a fantastic way. You will often remove your emotions from a situation so that you may finish what you've started. Any dream you aspire to, you will put forth a great deal of effort to accomplish. You are able to get by on mere scraps when you feel it is needed to achieve your aim. Imaginative applied artistry is your specialty. This aspect implies that the native is protected spiritually by karma from a previous life where they had aided others.
Venus harmonizing with Uranus
(power = 1.14 and this aspect is harmonious = 1.42)
You are artistically inventive, unique, open-minded, emotionally expressive, and tend to speak your thoughts without reserve. Others are drawn to your charming personality and sexual magnetism. Doing the same thing day in and day out is not for you, instead you are always ready for the next exciting adventure to begin and are enthused when someone is able to surprise you! Self-sufficient, you require much room to breathe in any partnership. Your views on relationships are anything but conventional, and you are open to alternative arrangements. For friendship, you usually seek out those that are different in some way; eccentricity only adds to the appeal. People walk in and out of your life spontaneously and are usually presented to you as a way to test your belief system and willingness to adapt. These people, as well as your friends, come around to satisfy inner necessities and will leave when they are of no more use. You have a fantastic way of looking outside the box and arriving at genius ways to solve challenges. Most of the time, whatever happens in your life is seemingly random and unexpected. You are unable to plan for these things, the only thing you can do is allow them to happen and act upon the present situation. This is especially the case in regards to your romantic endeavours. There will always seem to be something exhilarating, uncommon, and random occurring in your life that will aid you in gaining wisdom and growing spiritually.
Moon harmonizing with Mercury
(power = 0.04 and this aspect is harmonious = 0.04)
Your memory is superb and you can quickly recall previous moments in time and all of the details involved, including other people. There may be talent in teaching or speaking to the public as you put forth a great deal of emotional energy towards communicating your thoughts. You value education and try your best to gather as much data as you can, attempting to always be in the know when it comes to progressive advances. You would also make for a good therapist because of your excellent listening skills and your non-judgemental attitude towards people's troubles. People feel nurtured by you and you inspire them to believe in their abilities. You pick up on the subtleties and the unspoken words others have trouble communicating outright, allowing you to convey outwardly the things that will truly help people. Try to make it a habit of writing down your experiences and responses, as this can allow for some personal growth when you look back on them in the future. There may be a skill in linguistics. Mentally you are logical and your thinking is not muddled by your feelings as your mind and emotional state work together harmoniously. Often times, it may seem as though you are speaking other people's thoughts as they are thinking them, or sometimes even before they are made aware of them, as you are highly attune to other people's emotional energy. People take comfort in this ability because they can be sure that you really do comprehend their situation. You are able to use the written or spoken word to express your thoughts and the concepts you have created in your mind. All forms of communication appeal to you, as does travelling. You prefer your life to be full of changes and various new experiences so that your mind has something to contemplate and there is always something new to express or feel. You may wish to try your hand as a writer due to this placement bestowing clarity of mind.
SIGN POSITIONS OF PLANETS
The Planets in astrology symbolize 'what' is being addressed. They behave as actors in a production. What is happening on stage? The signs in astrology are the way that the actors behave on stage. They ask the question 'how?' How is the planet motivated? How are they living their life, in their highest good or in their shadow? The signs describe in detail how the actor might react, behave or conduct themselves.
Sun in Sagittarius
Sagittarians are sociable, adaptable, positive, trustworthy, truthful, and prone to idealism (learn about compatibility with Sagittarius here). On the other hand they are also capable of being blunt, egotistical, smug, argumentative, obsessive, narrow-minded authoritarian show-offs who skirt their responsibilities. Working with details is not their forte and they prefer something which allows them to use their excellent forward thinking skills and fearlessness towards risk.
Sagittarians can convey their strong opinions forcefully and in a tactless manner at times, speaking their minds often without thinking things through first. This tendency is usually caused by their need to obtain the truth and gain knowledge. Sagittarians can come across a bit abrasive while they believe they are only stating the truth. It would do them well to develop more diplomatic tactics rather than bulldozing other people's views or feelings in order to make their points. Luckily, most people are intuitively aware that the Sagittarius has good intentions at heart and only wishes to enlighten them.
Nature, in all aspects, appeals to the Sagittarius as they enjoy spending time outside. They have large amounts of energy that needs to be released and playing sports is a good way for them to do this. They are likely to enjoy sports even when they are not the ones playing in them and may need to watch out for a tendency to spend their savings frivolously on spontaneous bets. Traveling or walking may also be a favourite pastime due to their need for freedom and they relish time spent with animals, especially the larger variety.
Sagittarians are deep-thinking individuals who enjoy pondering the meaning of life and various philosophies. Despite whatever odds they may be facing, Sagittarians will bounce back to their positive selves quickly; they have a strong belief in the universe and that things will somehow work out as they are meant to. They strive to comprehend their existence and grow in wisdom. This need to develop themselves can manifest as the Sagittarian trying to do too much too quickly and possibly burning out instead. It would be best for them to learn to pace themselves and take time to relax before starting new assignments.
Sagittarians would benefit from developing a way to focus on their endeavours until they are complete as it is common for them to become bored and restless once the initial enthusiasm wears off. In the beginning, they are full of energy and excitement which spurs them forward, but the menial tasks drain them.
The health of a Sagittarius is usually good, though they may have issues with extravagant cuisine or beverages, and too much of them!
Sagittarians are regarded as out-going, are always ready to lend a helping hand, and though they can be very blunt in their communication, their jokes can be rather understated at times. They can keep a conversation going and may at times argue with others just to argue. This does not keep them from gathering acquaintances wherever they go. Sagittarians are likely interested in philanthropy in some way and will convey these interests practically. They are quick to come to the aid of others and they are loyal, truthful, and won't try to pull a fast one on someone; they are usually very honourable.
Sagittarians strongly need to have their own space and freedom to do what they please. They can easily feel caged in either emotionally or physically and this keeps them from completely committing to anything or anyone. Marriage may be a difficult pill for them to swallow, and though they can be very idealistic and starry-eyed about love, they must have a partner that is more of an intellectual and communicates openly with them. They may be a bit flirtatious at times as they have a naturally charming persona and they expect their partner to be secure enough to handle this; possessive or jealous displays only cause them to distance from their partner. However, it must be noted that a Sagittarius will likely enjoy the hunt more than the obtained victory as they often lose interest once the challenge is gone.
For their career, Sagittarians do not enjoy routine and may switch jobs frequently, dabbling a little bit here and a little bit there until they find something stimulating enough to hold their interest. Travelling is always welcome to them and they would do well in a position where they were not tied down to one location. Working with people face-to-face is also ideal and they would make excellent salespeople, promoters, businesspeople, and the like.
Though they may not be detail-oriented, they have a skill for making plans and they are great at remembering things. The main task is to find what can actually hold their interest; often they will be stimulated by doing something new and different and any sort of game-play can be very enjoyable to them as well.
Moon in Aquarius
You prefer to filter your emotions through your mind and can come across as rather cool and emotionally reserved. Most people are unable to comprehend the way you handle your emotions and may come to believe that you are unfeeling. This placement bestows a stable emotional nature. You often feel secure when you are involved professionally with groups and engaging in team work. You are innovative, unique, and advanced in your thinking; you utilise these traits to benefit humanity. Your relationships with your relatives may be less significant to you than the ties you hold with your friends as it is likely that you feel more bonded to those in your life that you have CHOSEN. You require free reign in your connections with people and will take a step back from the relationship when others become too involved. A partner that is envious, domineering, and clingy will only push you away. You may find yourself involved with many partners as you tend to be curious. You have an aversion to the conservative and old-fashioned. You are naturally social and outgoing, advanced in your thinking, and self-sufficient. Your open-minded nature entices you to seek knowledge of all sorts. However, empathy and compassion is not a strong suit for you and you struggle to comprehend others on an emotional level. On occasion your inner tension will manifest as expressing unconventional or extreme viewpoints, only for their shock value. You may also be detached, unpredictable, unyielding, stiff, selfish, and defiant.
Mercury in Sagittarius
You are able to see possibilities in a fantastic way; grand schemes for the future, fuelled by enthusiasm for idealistic endeavours. Always looking forward, you are more concerned with possibilities than the tried and true; abstract ideas are your forte. You seek knowledge and are particularly fascinated with spirituality and political or religious topics. It may be challenging for you to complete your projects as you can be impractical and dislike attending to the mundane matters that are a necessary part of all developments; your focus tends to dwindle once you lose interest. Mentally you require a lot of independence to go your own way, though you often think along conventional paths. You are likely to take risks and gamble at opportunities. People do not need to guess what you are thinking or where they stand with you, as you are apt to tell them exactly what's on your mind in no uncertain terms. You're a straight shooter; for you, the fastest way to get from point A to point B is a straight line. Be mindful of speaking too quickly without thinking things through first, as this can cause you, and those you care for, undue stress. Developing a more diplomatic way of expressing yourself can be very beneficial to you as you can be tactless at times. You are likely to excel in business or any field where you are promoting due to your natural ability to influence others. You are sharp, spontaneous, and adaptable. It is likely that you will be involved in more than one assignment, job, or school course at one time. Standing still is not for you as you would much rather travel the world and experience as much as you can, learning and improving yourself continuously.
Venus in Capricorn
You are unlikely to be demonstrate of the romantic feelings you hold for your significant other, preferring a more careful and guarded approach. Love is a serious business for you and frivolous, insincere relationships are not appealing. However, you strongly value other people's opinions of you and desperately need warmth and recognition, despite seeming disconnected. You desire a partnership that will be authentic and stand the test of time. Your views towards love and relationships are conventional and you appreciate traditions. You are likely to stick with your partner through thick and thin, remaining loyal even during trying times. It is probable that the person of your choosing will be more mature than you as you seek out those that will be dependable and supply the security you crave; there may be a significant difference in age. You are faithful, patient, reliable, dedicated, and unwavering. It is possible that you will judge the value of your relationship on material matters, possibly committing only when you believe the partnership will provide you with monetary means or raise your social station. There is a self-protective streak that can limit you when you would like to move forward in your relationships. If Venus is negatively aspected, you may be overly afraid, envious, detached, scheming, or prone to thinking only of yourself. You may feel overwhelmed with a need to succeed or raise your social status.
Mars in Virgo
You take great care in all that you do, making sure each detail is just right. You do not trust others to do as good of a job as you will, and often prefer to just do the job yourself than having to correct each imperfection. You do not mind putting in the extra efforts needed to be certain that you did the best job possible, whereas others usually would not exert themselves in this fashion. Having a task be done in a way that falls short of perfection, is not something you can abide by. You work hard to achieve the correct, effective, specific method for obtaining the best results. However, you may at times restrict yourself from even starting a task that you are unsure you can complete to your high standards. You are excellent at predicting the types of endeavours you can reasonably undertake, though at times you will undervalue your own skills. Talented with time management, you make sure to pace yourself rather than squander your energies. You may find that you are so careful to avoid any possible issue, that you will miss advantageous chances by deeming them too risky. Do not limit yourself because of your self-criticism, reach for the heights and you may surprise yourself with what you can accomplish. Relax and do not let anxiety over the little things cause you too much stress.
Jupiter in Scorpio
You are a diligent, effective worker and possess good executive abilities. You are capable and will pull out all of the necessary stops to accomplish the goals you have set for yourself. Brave with immense internal fortitude, though you tend to keep your secrets to yourself. People are irresistibly pulled towards you. Assertive, passionate, and independent would describe your character. Mentally, you can be very energised and productive. However, there is a tendency towards over-indulging in sensual pleasures, including extravagant cuisine, and this may create many problems and health challenges for you. You are likely fascinated by the mystical realm. A skill in healing others may develop. Channel your drive towards enlightenment and benefiting mankind as a whole, possibly through philosophical means.
Saturn in Libra
You are easy to talk to and know just how to negotiate a situation; your fairness encourages others to have faith in you. Be mindful of your kidneys and the health of your urinary tract as you are prone to having issues with them. The influence of Saturn in this placement hinders the kidneys, enabling the impurities in your system to fester rather than being expelled. Make sure to hydrate yourself as much as possible to counter this issue. You will find that you are required to be diplomatic and kind to others, showing acceptance, care and peace when interacting with people. Unfortunately, Saturn in Libra challenges your romantic partnerships in a way that forces you to develop self-control, diligence, and harmonious methods of conflict resolution. You tend to seek out partnerships as they help you to feel safe, though you may commit to a marriage for financial reasons or chose someone who is born in a different generation than yourself. The possibilities in this placement are many; you may pick a partner who is reserved and cool, or someone older than you, or perhaps you marry in your later years as you are unable to meet someone whose values coincide with your own. There is a chance that your high standards are unrealistic or too traditional make it difficult for you to find a match. If Saturn is negatively aspected, Marriage may seem like an idea that you'd prefer to keep at a distance.
HOUSE POSITIONS OF PLANETS
The Planets in astrology symbolize 'what' is being addressed. They behave as actors in a production. What is happening on stage? The Houses in astrology are the stage. They ask the question "where?' Where is the action? In the home, in health, in the career or in the marriage, to name a few. The Houses tell the story of where the action is happening, what type of people are involved and what sort of environment it is.
Sun in 3rd house
Learning and acquiring information is important to you, though you may insist that each new piece of data be proven scientifically before accepting it as valid. Also, you will find yourself readily sharing the new information you have acquired with others. Your mental make-up includes a methodical approach to creating, something that you much enjoy doing. There may be a tendency to be impatient and domineering intellectually, as pride is something you need to keep an eye on. Your insistence on always being right may create conflict for you with your family or community and you will often embark on many short-lived intellectual adventures to obtain the constant stream of data you crave. You may also possess ability for the written and spoken word.
Moon in 5th house
You tend to be rather emotional in your romantic involvements, as well as your involvements with children. In fact, all situations where children are present are emphasised. Though quite charming, you can be moody and fickle in your romantic relationships. Your craving to be loved and needed by another person may need to be tempered. You are likely to place too high a significance on enjoying yourself and being showered with attention from others. It is important to you to be able to express your emotional state at all times and to find pleasing circumstances. Your constant mood swings may stifle your creative pursuits. In a career, you are often drawn to teaching positions involving children or some sort of theatrical endeavour where your creativity may come forward. In either case, situations in your life tend to be dramatic.
Mercury in 3rd house
Mercury in this placement gives you a clever, observant mind that is able to absorb information like a sponge. Quick and attentive, as well as gifted with versatility; you can be a jack-of-all-trades. It is likely that you will go through many short-lived adventures, but in time you will be able to bring your ideas to fruition due to your ease at articulating yourself through both the written and spoken word. Being very detail oriented, you may venture into a career in teaching or technology.
Venus in 4th house
A feeling of luxury is important to you in your home and you crave to be in an attractive environment. People feel comfortable when in your home as you have a knack for making them so. You are creative and particularly delight in entertaining others, especially children and family members. This placement creates a tendency towards weight gain as you age, however it bestows you with a pleasing and content life.
Mars in 12th house
Your emotions tend to run high though you may suppress them or go to the other extreme and find yourself suffering from obsessive fear. Others are instinctively aware of this and create difficulties for you. There is a possibility of complications due to defamation or hidden adversaries. Buried grudges may be an issue that needs to be dealt with, and there is also a chance of false allegations from concealed sources. You feel as though you are on your own in this world. It would be wise for you to use your intense emotionality to better comprehend a deep sense of purpose and to become unified with mankind. You dislike being in the public eye and would do best working privately or in secret.
Jupiter in 2nd house
Optimistic and self-assured, you are unusually prosperous financially. Material gains seem to just fall into your lap with little effort and most would consider you "lucky" in this area. It is unlikely that you have ever had to suffer from lack of having your material needs met. It would be wise for you to use your superb financial instincts to invest, as you easily inspire faith and confidence in others. It is likely that those in advantageous positions will reach out to assist you monetarily at one point or another to help you actualise your dreams. In addition, try to be mindful of a tendency towards over-indulgence with lavish cuisine, as you are prone to extravagance in this area.
Saturn in 1st house
Others see you as controlled with a good deal of discipline. You have a more serious nature and tend to be a bit reserved with others, preferring a cool demeanour. This may be due to a harsh or difficult childhood, possibly even an illness that held you back. You are plagued with insecurity and feelings of inadequacy, often believing you were never truly loved. Frequently things seem like a struggle to you and this gives way to a pessimistic view leading you to sometimes struggle with depression. Fortunately, you are very dutiful and a hard worker which allows you to power through whatever obstacle that comes your way. There is a tendency to greater luck in the later stages of life versus the earlier ones, therefore keep moving forward as your hard work will eventually pay off.
Uranus in 3rd house
Quite the original thinker, your ideas are inventive, fresh, and imaginative, though they are not usually conventional. You tend to communicate in ways that can sometimes baffle others as your thought patterns may be rather eccentric. You are rarely bored as you thirst for information and enjoy learning new bits of data. Your mind is restless and it is important for you to find intellectual stimulation. Traveling seems to temper this craving; therefore you may find yourself away from home often. Relationships with family and your immediate community tend to be afflicted with an underlying tension that can be somewhat strained and stressful.
Neptune in 3rd house
Your mind intuitively absorbs information instead of accessing it in a conscious, step-by-step method. You have an artistic way of thinking that you filter through your strong idealistic views. Your thoughts come to you in vivid flashes and are enhanced by your rich imagination. You may find you are intuitively aware of things before they happen and can often accurately predict the future. It is easy for you to sense what is happening in others minds before they do. Because most of your knowledge is acquired in an intuitive way that deviates from conventional methods, you can find yourself feeling insecure and anxious as you are unable to explain where it come from. Your mind can put you into a dream-like state that you indulge in to the point of avoiding your duties; you can be quite a procrastinator. Try to be more reliable and especially avoid further escapism through substance abuse. There may be unresolved issues with family and other relations from a past-life that will need to be addressed.
Pluto in 1st house
Although your emotions may be rather sensitive, inside there is a powerhouse of strong will that allows you to fight for the things that are important to you. You can be overbearing at times and may try to use this energy to control others; you are capable of profound anger when the situation calls for it. Your internal strength comes from an intense emotionality and if harnessed correctly, you possess healing abilities that can both transform and regenerate. Others are pulled in by your magnetism, although you may be a bit of an enigma to them, causing you to spend a good deal of your time alone. Independent and courageous, you can sometimes find yourself brooding over trivial matters that may at times be imagined and would be best forgotten. Try to be more adaptable and forgive others their affronts.
SABIAN SYMBOL POSITIONS OF PLANETS
The Sabian Symbols are a set of 360 symbolic declarations that correspond with each of the 360 degrees of the astrological zodiac chart wheel, starting at Aries degree number 1 and finishing with Pisces degree number 30. They were created by Marc Edmund Jones and Elsie Wheeler, circa 1925 in San Diego, California. In modern times, they are commonly used by astrologers in order to deeply understand the significance of planets that are occupying a particular degree of the zodiac.
Sun in
Sagittarius 11
Sabian Symbol: On the left side of a temple, a lamp is burning inside a human shaped container.
Kozminsky Symbol: A group of people walking toward a fisherman with his net draped over his shoulder.
Moon in
Aquarius 13
Sabian Symbol: On a hotel porch there is a barometer.
Kozminsky Symbol: Sitting on a rock, a veiled figure points to a human eye in the air.
Mercury in
Sagittarius 6
Sabian Symbol: Fans come to watch a cricket game.
Kozminsky Symbol: A hand in the sky holds Jupiter and Saturn, the Sun and Mercury and a black robed man is carrying a black rod.
Venus in
Capricorn 26
Sabian Symbol: A water-spite dances in the mist of a beautiful waterfall.
Kozminsky Symbol: A woman lifts up an injured child from the ground.
Mars in
Virgo 24
Sabian Symbol: The book, Mary had a Little Lamb is opened.
Kozminsky Symbol: A woman is held in the hand of a giant.
Jupiter in
Scorpio 2
Sabian Symbol: A bottle of perfume has broken and it is spilling all over.
Kozminsky Symbol: Two men are playing chess together and are deeply focused.
Saturn in
Libra 20
Sabian Symbol: A Jewish rabbi performs his duties surrounded by manuscripts and books.
Kozminsky Symbol: A young girl weaves flower garlands as she sits in the sunlight.
Uranus in
Sagittarius 1
Sabian Symbol: Retired military men relive old memories.
Kozminsky Symbol: With an anchor above her, a nun struggles to walk through a storm.
Neptune in
Sagittarius 25
Sabian Symbol: A little rich boy rides on his hobbyhorse.
Kozminsky Symbol: A castle of ruins near a waterfall sits a woman with no clothes, she offers grapes to a man who studies a document.
Pluto in
Libra 26
Sabian Symbol: A dove and an eagle change back and forth into each other.
Kozminsky Symbol: An elected official gives a speech to his people.
Ascendant in
Libra 3
Sabian Symbol: Everything has changed as soon as the dawn of a new day arrives.
Kozminsky Symbol: When a young girl struggles with surrounding cords, the more they increase thus disallowing her escape.
Midheaven in
Cancer 3
Sabian Symbol: A man is leading a shaggy reindeer through a canyon that is cold and dark.
Kozminsky Symbol: There are worms eating the roots of a climbing plant that is growing over a summer house.