Birth Chart: Barack Obama (Leo)
Illinois State Senator
U.S. Senator from Illinois
Astrological Natal Chart
Barack Obama
Born at Honolulu, USA
Friday, August 04, 1961
19:24 (time zone = GMT -10 hours)
157w52, 21n18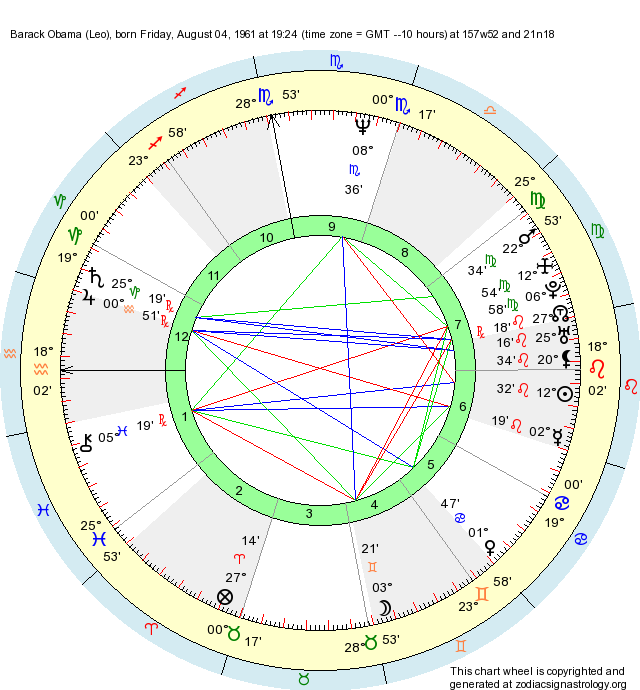 THE RISING SIGN OR ASCENDANT
At the exact minute of your birth, the astrological sign that is rising on the eastern horizon is designated the Ascendant or Rising Sign. The Ascendant is how you dawn on the world, how you present yourself to others. If someone were to guess your astrological sun sign, they would guess it based on what you show the world, which is your rising sign. It's the characteristics and personality traits that you put forth for all to see. It's the stained glass window that you project outward for the rest of your chart to flow through.
YOUR ASCENDANT IS:
AQUARIUS rising
Those with their rising in the sign of Aquarius are typically quirky, unconventional, self-sufficient, social yet removed, uninhibited, intellectually inclined, and can be a bit of a rebel. Your purpose in life is to apply humanitarian efforts that benefit people as whole and remove your ego and any selfish desires you may have for the good of mankind. You offer a fresh perspective and are unique and innovative, a free-thinking alternative to the traditional crowd. There is a tendency towards undecided spontaneous whims. You are mentally sound and possess excellent intuition. Able to coordinate well with a good sense of reason, you are a competent individual. It is likely that you will feel with your head rather than your heart, at times making you a bit cool while you evaluate emotional situations in a detached manner. You will not abide by envious or possessive displays and must be allowed your independence. If Saturn is more strongly aspected in your chart you may demonstrate a more careful, cold, self-interested persona while if Uranus is more strongly aspected, you will show humanitarian, independent, easy going, and open-minded characteristics more readily. Having Uranus weigh more heavily in your chart will bring about a greater focus on spiritual matters rather than material possessions. One of your lessons may be to allow your heart to open up rather than relying so heavily on your head; warm up to others. Aquarius is ruled by both Uranus and Saturn, and therefore the placements and aspects regarding both of these planets in your chart will be significant.
PLANETARY ASPECTS
If the planets symbolize the forces and energies that happen in different situations, then the aspects between the planets symbolize how these energies work together and integrate with each other. There are challenging and easy aspects between the planets and it is up to the individual to choose how they are going to utilize the aspect energies for a positive outcome. The aspects between planets are said to speak to each other. Depending on which planets are aspecting each other and the rest of the natal chart, will determine which planet is dominate and which is not in the aspect between them. But ultimately it is up to the individual to decide how they are going to use the aspects of planets in their chart with their free will, in a meaningful and productive way.
Mercury discordant to Jupiter
(power = 9.53 and this aspect is discordant = -4.76)
You usually possess a positive attitude, though this can be expressed as an extreme. You commit to things that you are unable to see through to the end. Many of the tales you tell are amped up so as to create a larger impact. You are unlikely to believe in religion due to not being able to wrap your head around the matter. You prefer working on a grand scale and leaving the details to someone else. There is an almost obsessive habit of going back again and again to make sure you did something like close the window or put the phone on the charger. You have a tendency towards over-doing things in general as you instinctively feel that if something is good, adding more of it will only make it even greater. You can be close-minded about views that differ from your own. You often ignore the fine print in favour of the big picture and many times this can cause trouble for you in the future. It would do you well to try to keep your visions grounded, as you are likely to overemphasise and misjudge a promising new concept. You do not mean to cause any harm, you simply get over-excited and this can create problems for you. There are so many new concepts, visions, and dreams spinning around in your mind and you find it a challenge to pick one and go with it. In addition, you may find yourself completely engrossed in a foolish endeavour. Mentally you are strongly interested in topics related to abstract theories and spiritual or philosophical matters.
Despite some of the above, you are often successful in business as you seem to have a natural knack for it. Your abundance of fresh concepts and ability to take risk aids you in these ventures. Travelling is particularly appealing to you and you enjoy being introduced to fresh information and new forms of understanding. You may try your hand as an educator due to your appreciate for knowledge and your enthusiasm for conveying what you have learned to others. However, it is important that you develop enough self-restraint to sort through your troubles thoroughly before making a move as you have a habit of impatiently hurrying your work with less-than-perfect results as a consequence; this can even be seen in your often illegible writing style. At times your ideas are too far-fetched and unrealistic to be put into practice. Although, this attitude of yours does keep you from being judgemental of other people. Even with a mind as unique as your own, you have trouble with remembering things sometimes and can be a bit of a space-cadet. There is possibility of being gifted in the written or spoken word. You need to be particularly mindful of becoming so enthralled by a situation that you are unable to think clearly and accurately; make sure your assumptions are correct before you act on them. You are talented in pulling something from one area and successfully connecting it to another area that was seemingly unrelated. Be careful who you trust as there are those that would take your kindness for granted and use you for all that you are worth. In addition, taking some time to think before you speak will help you overcome a tendency towards rambling on and over-explaining when something could be said more simply and cohesively.
Moon harmonizing with Jupiter
(power = 9.50 and this aspect is harmonious = 14.25)
You are generally happy, accepting, positive, laid-back, and generous. You want to spread some of the joy you feel to others, though at times you may give too much of yourself. In your mind, whatever you set out to accomplish will work out somehow and this can cause you to put in very little effort or concern. If something is difficult, you may exert only sluggish attempts of solving the issue. This is particularly true in regards to your emotions. You are also likely to indulge in tasty cuisine more than you should which causes you trouble in maintaining your figure and can lead to larger problems in the future. This placement bestows you with a pleasing personality, an idealistic viewpoint, an ethical nature, open-mindedness, good fortune, and monetary aid from friends and familial ties. You highly dislike dishonest behaviour and prefer to act honourably at all times; you have a very strong moral compass. You enjoy thinking about philosophy and can be rather devoted to your beliefs even if you do not belong to any specific religion. You are self-assured and do not suffer with the insecurities that many are plagued with; you know who you are and what you are capable of. When you do encounter trouble, it does not keep you down for long but rather you are likely to find your problems quite humorous. In fact, you try to insert a good deal of laughter and joy into your life in general. You hope to see others improving themselves and their situations and you are happy to aid them in doing so if it fosters their advancement. The main concern with this placement is to be mindful of your tendency towards laziness and over-indulgence. You are well-loved by others due to your upstanding nature.
Moon discordant to Pluto
(power = 8.38 and this aspect is discordant = -8.38)
There is intensity in every aspect of your life from your emotions and wants, to your romantic partnerships, with many of them being full of passion, instability, and heartbreak. You have a great personal magnetism that pulls others in. There is a tendency towards obsessing over people and partnerships. In your relationships, you may take turns trying to possess one another, each person controlling as much of the situation as they can until the other has had enough and tries to turn the tables. You can be jealous and also try to manipulate others, whether you do this behind the scenes or in a more overt manner. There is not much you will not do in order to maintain your power over people and the situation at hand. Your intense emotions can create such a strong pull within you that you find yourself acting in ways that are irrational. Evetually your emotions reach a peak and you need to remove yourself completely from the people in your life and the situations that you are in, and start anew. You are not the most open-minded person and can be very stubborn in your viewpoints, throwing them at others aggressively, often disregarding new concepts that others are trying to convey to you, and always insisting that your opinions are correct. You remember every slight, perceived or otherwise, that someone has done towards you. Work on your perception and you might find that people are different than you originally thought. Your feelings are so overwhelming sometimes that you are unable to reign them in. Finances can be an obsession for you as you need to feel secure. The biggest lesson for you in this placement is to temper the emotional chaos within. You have a deeply rooted sense of rejection and feeling as though you are somehow unworthy, and this makes it hard for you to believe that the people you care for are to be trusted. This aspect will test your romantic partnerships to help you grow as a person and show you how to truly have faith in the people you are bonded to.
Mars harmonizing with Saturn
(power = 7.25 and this aspect is harmonious = 1.81)
You are controlled and patient, able to persevere through difficult times and put forth a great deal of effort to attain your goals. You endure where others would falter. Innately, you understand that nothing worth having is given without some sort of sacrifice and you are willing to invest your time and energy fully when you have committed to an endeavour. The things you strive for are firmly held in reality and you will usually approach them in a systematic, organised fashion. Highly ambitious, you would make an excellent leader and administrator. However, you are most comfortable working out of the lime-light and produce the best results when on your own. You have a good head on your shoulders though you may sometimes work at a slower pace than others. This slower work pace is likely due to you not wanting to miss any details in your work. Anything you start on, you intend to go the distance. Be careful not to become resentful from holding in your frustrations; find a way to express these upsets to those that have caused them and then let them go. You are a good mix of daring yet cautious. In your past life, you were able to find equilibrium between what you wanted in the moment and your duties. Socialising is difficult for you as you are usually a bit distant with others. Despite your ambitions, you are not power-hungry but rather just wish to do a good job.
Moon harmonizing with Mercury
(power = 6.97 and this aspect is harmonious = 6.97)
Your memory is superb and you can quickly recall previous moments in time and all of the details involved, including other people. There may be talent in teaching or speaking to the public as you put forth a great deal of emotional energy towards communicating your thoughts. You value education and try your best to gather as much data as you can, attempting to always be in the know when it comes to progressive advances. You would also make for a good therapist because of your excellent listening skills and your non-judgemental attitude towards people's troubles. People feel nurtured by you and you inspire them to believe in their abilities. You pick up on the subtleties and the unspoken words others have trouble communicating outright, allowing you to convey outwardly the things that will truly help people. Try to make it a habit of writing down your experiences and responses, as this can allow for some personal growth when you look back on them in the future. There may be a skill in linguistics. Mentally you are logical and your thinking is not muddled by your feelings as your mind and emotional state work together harmoniously. Often times, it may seem as though you are speaking other people's thoughts as they are thinking them, or sometimes even before they are made aware of them, as you are highly attune to other people's emotional energy. People take comfort in this ability because they can be sure that you really do comprehend their situation. You are able to use the written or spoken word to express your thoughts and the concepts you have created in your mind. All forms of communication appeal to you, as does travelling. You prefer your life to be full of changes and various new experiences so that your mind has something to contemplate and there is always something new to express or feel. You may wish to try your hand as a writer due to this placement bestowing clarity of mind.
Neptune harmonizing with Pluto
(power = 5.37 and this aspect is harmonious = 5.37)
Those born in your generation have the ability to be of aid to humanity as a whole. Let your intuition guide you in assisting others.
Sun discordant to Neptune
(power = 4.06 and this aspect is discordant = -4.06)
You often procrastinate with daydreams when you should be working. Many times you avoid challenging tasks entirely, expecting them to disappear somehow. You tend to imagine that your worries are greater than they are or spend countless hours obsessing over problems that never come to pass. Very creative, you feel pulled to channel your energy into artistic pursuits, though they never seem to get off the ground as you do not possess sufficient motivation and diligence. The mystical realm tends to fascinate you though you must be mindful not to become engrossed in negative spiritual endeavours such as calling on dark spirits, hypnosis, and the like, as they will bring you trouble.
Self-restraint is not your strong point and you have a difficult time saying no to temptations. You are likely to have issues with substance abuse at some point in your life, though you need to curb these cravings as they will only bring you grief. You can be a bit delusional and would do well to develop some practicality; you need to keep your feet on the ground if you are to accomplish anything. Your empathy is deep and you are always willing to come to the aid of others. However, your sensitive emotions can be easily abused by those who may play the victim just to take advantage of your kindness. These situations have the potential to drag you down drastically. Keep in mind that you are in control of your own destiny and these people cannot harm you without you allowing them to. Focus on learning how to turn people down when your intuition warns you that they may not be worth trusting.
Finding your direction in life may prove challenging for you as you have trouble concentrating on any one specific point. You are prone to romanticism, nostalgia, and reacting emotionally. Your spirituality can be blinded by material desires. You are strongly affected by your environment and must pay attention to what sorts of circumstances you engage in. Physically you are sensitive to medication in general and should be mindful of how much of it you take, even when given a prescription from the doctor.
A quiet, non-confrontational nature can make it difficult for you to get ahead in life. Your tendency to fantasise breeds delusion, either from yourself or by other people. One of your life lessons is to learn how to defend your values and beliefs, despite potential controversy. Your sensitive feelings are easily wounded by others and you often evade any sort of disagreement, preferring to sweep things under the rug. You are likely to view others with rose-coloured glasses, placing them on a pedestal and seeing only their fine points. When they eventually disappoint you, you are crushed. You must enjoy other people for who they actually are rather than what you want them to be, flaws and all. Past life karma may place hidden adversaries in your path to account for dishonourable acts from the past; be cautious of who you trust.
Jupiter blending with Saturn
(power = 2.47 and this aspect is neutral)
You are highly moral with a good bit of integrity, principled and honest, and you are often found taking on the role of a leader. You enjoy being responsible for others and due to your strong managerial capabilities, you are usually the best one for the position. Your spiritual views are often reasonable and traditional. Strongly just, you appreciate higher learning and the judicial system. A step-by –step, tried and true approach to situation is just your style as you are well-structured and methodical; you lead your life by the same values. Being able to see the big picture, you can easily put an effective strategy in place for the long-term, and carry this out in a controlled, systematic manner. You tend to evade confrontation as it can make you tense and ill-tempered. Try instead to assert yourself more diplomatically rather than becoming abrasive during challenging interactions.
Venus harmonizing with Pluto
(power = 1.81 and this aspect is harmonious = 2.26)
You are emotionally intense and when you love someone, you love them with your all. Your powerful passions will either magnetically draw others to you or frighten them away. You have a great deal of charm and a way of attracting others to you almost without effort. This influence you have over others can cause you to easily use manipulation tactics, even if these actions are often subconscious. This placement allows you to either change your beliefs into something more beneficial to you, or to aid other people in changing their beliefs. You are likely to be creative and strive to promote a beautiful, peaceful, and comfortable environment. Your perception and compassion for others causes you to reach out and help people in whatever way you can.
SIGN POSITIONS OF PLANETS
The Planets in astrology symbolize 'what' is being addressed. They behave as actors in a production. What is happening on stage? The signs in astrology are the way that the actors behave on stage. They ask the question 'how?' How is the planet motivated? How are they living their life, in their highest good or in their shadow? The signs describe in detail how the actor might react, behave or conduct themselves.
Sun in Leo
Leos are typically regal, brave, loving, influential, giving, fun-loving, positive, motivated, faithful, and jovial (learn about compatibility with Leo here). Unfortunately, they can also be egotistical, narrow-minded, controlling, sluggish, demanding, and unaccepting of others. They prefer being engaged in activities that allow them to use their excellent organisational skills, artistic innovation, and managerial abilities. Leos can sometimes put on a tough façade, when deep down they are rather sensitive and vulnerable. If their significant other hurts them in a vulnerable state, they may suddenly shun the partner and behave in an ill fashion towards them.
Leos are often found with all eyes on them. They enjoy sharing tales and add a bit of pizzazz to their show; having fun is important to them. Though they would prefer to be kind-hearted, if they feel it is necessary to be heavy-handed, they will do so without hesitating. If they ever do behave in a mean manner, they will feel that it is only because they have the other person's best interest at heart.
Do not anger a Leo, as he will suddenly act as though he is the royal ruler of the land and you are his subject. They will need to show you their strength and bravado, but once the storm has passed, the lion will happily forget that there was ever an infraction.
When Leos are in optimal condition, they are caring, fun-loving, positive, and bring great joy to others. They can be very giving, though financial resources may be difficult for them to hang on to without them realising where the money has gone to.
Leos are usually healthy and can bounce back easily from physical setbacks. Be mindful towards fevers, as they can be prone to particularly high temperatures when sick. Usually optimistic, when sadness does hit them, it can hit hard. Luckily, they are quickly able to revert back to their cheerful selves. However, if they are suffering from a lost love, they can suffer deeply as heartbreak is the most difficult thing for a Leo to conquer. Heartbreak may lead to physical ailments of the heart.
A Leo must have a high regard for the person they marry, as otherwise the relationship with falter rather quickly. What matters most is that Leos know they are valued.
Moon in Gemini
It would be best said that you "think" your emotions, rather than feel them and you will verbalise these emotions as it helps you to better understand them. However, due to your excellent ability to intellectualise your own emotions, you can fall short when trying to empathise with other people's feelings as you find it difficult to comprehend that others are unable to remove themselves and look at their reactions objectively. It is imperative to you that you are able to vocalise and verbally sort through your various emotional states. More than anything, you crave constant communication and sharing of ideas. You may at times come across as insincere as you tend to steer clear of deeply emotional interactions. Committing yourself to an idea or a person fills you with dread. A large amount of mental activity is crucial to your happiness and you feel most bonded to those that eagerly communicate their interests and exchange ideas with you. It would be fair to say that you are somewhat of a sapiosexual; intelligence and mental stimulation attract you more than physical attributes. Your mind is flexible and diverse, as well as reactive and you tend to soak up information. You are charismatic, quick-witted, and loving, though you must be mindful of allowing too much stress to affect your system, as this will bring about an anxious energy that creates trouble for you. You find it difficult to keep from communicating your thoughts at all times and you will prefer keeping conversations peaceful as unnecessary confrontations are not your style. In fact, there is a likelihood of saying the things you believe others want to hear instead of what is actually true. Try to discipline yourself mentally otherwise you may find yourself blowing with the wind, unable to make your mind up, never planting your feet on the ground.
Mercury in Leo
Your views are strongly held and you convey them with enthusiasm and flare. The things you believe in are important to your self-identity. You enjoy telling stories and communicate in a caring, engaging, charming, and capable manner; you are a great entertainer. Much of your showmanship is laced with dramaticism and you have signature flair when conveying your talents. You are decisive and artistically innovative; teaching may be an option for you. Confident in your cognitive abilities, others may find you arrogant at times. Try to be mindful of presenting yourself as more than you are, as well as being too fixed in your own exaggerated opinion of yourself; not every act of amusement needs to be praised. It would be best for you to try to be respected for your mental capabilities, rather than your purely entertaining, though perhaps shallow, endeavours. You would do well in politics, leading a team, public representative, or instructing others in some way.
Venus in Cancer
You tend to be tender, nurturing, bashful, unobtrusive, romantic, and emotionally delicate. You tend to focus on the past and can be very sentimental about anyone whom you have ever been close to as well as homes or environments which you have spent time in previously. Personal traditions are significant to you and you will always make sure to remember those special days with those you care for; you expect the same care be bestowed upon you and would be quite hurt if a spouse or family member forgot a birthday or anniversary. You seek romantic partners that will nurture and take care of you, especially emotionally. You are typically moody and your feelings can change at a moment's notice. Home is a retreat for you and it must be tranquil. It is likely that you will care so deeply about those closest to you that you may suffocate them by becoming possessive and co-dependent. You may also have trouble with weight gain as you will tend to use food as a means to mask feelings of inadequacy or insecurity from a lack of affection. Your views and self-confidence in regards to relationships was probably highly influenced by your mother, and may still be to this day. You often play the role as caregiver in a personal or group setting and others are drawn to your empathy, consideration, and charismatic personality.
Mars in Virgo
You take great care in all that you do, making sure each detail is just right. You do not trust others to do as good of a job as you will, and often prefer to just do the job yourself than having to correct each imperfection. You do not mind putting in the extra efforts needed to be certain that you did the best job possible, whereas others usually would not exert themselves in this fashion. Having a task be done in a way that falls short of perfection, is not something you can abide by. You work hard to achieve the correct, effective, specific method for obtaining the best results. However, you may at times restrict yourself from even starting a task that you are unsure you can complete to your high standards. You are excellent at predicting the types of endeavours you can reasonably undertake, though at times you will undervalue your own skills. Talented with time management, you make sure to pace yourself rather than squander your energies. You may find that you are so careful to avoid any possible issue, that you will miss advantageous chances by deeming them too risky. Do not limit yourself because of your self-criticism, reach for the heights and you may surprise yourself with what you can accomplish. Relax and do not let anxiety over the little things cause you too much stress.
Jupiter in Aquarius
The current state of human affairs is likely to mean a great deal to you. You feel we are all tied together and should collaborate for a better future. It is likely that you will become involved in many projects where you are working with a large team of people, as you believe this will help you to grow as a person. Due to your innovative ideas, great common sense, sociability, and intellectual pursuits you are able to coordinate with almost anyone. You are friendly and accepting with strong intuition. You are easily able to manage large groups of people harmoniously due to your diplomatic talents; human relations in business may be appealing to you.
Saturn in Capricorn
You are driven, disciplined, and orderly. While working, you can be very diligent, effective, and willing to wait as long as is necessary to reach your goals. Being dependable is important to you and you are likely to take a more serious approach to life in general. Instinctively you comprehend that everything worth having requires a sacrifice and that pleasure can be overrated. However, work-life balance may be a particular challenge for you. You easily comprehend abstract ideas and are able to convey them in a way that is understandable to others. It is possible that you may become a workaholic as a result of feeling desperately alone or as though you are not good enough somehow. Status and success may be so valuable to you that you sacrifice more than you should in order to try to attain them. It would be beneficial for you to curb your power-hungry tendencies as they cause you to think only of yourself.
HOUSE POSITIONS OF PLANETS
The Planets in astrology symbolize 'what' is being addressed. They behave as actors in a production. What is happening on stage? The Houses in astrology are the stage. They ask the question "where?' Where is the action? In the home, in health, in the career or in the marriage, to name a few. The Houses tell the story of where the action is happening, what type of people are involved and what sort of environment it is.
Sun in 6th house
An industrious worker, dutiful and devoted, you are supportive to your fellow employees. Service seems to be an important theme for you, whether this be others being of service to you or you to them. You may acquire an obsession with your health and well-being, expecting others to constantly sympathise with you. It is not uncommon for you to be in a leadership position; however you are just as likely to be a subordinate. Be mindful for the tendency to lord over others when in positions of authority. You always expect that your work will be better than others, though sometimes falsely so. A busy work environment is the best placement for you as you detest wasting time and can easily become disinterested. A perfectionist attitude can create issues with your health as you are prone to tension and anxiety. Stress can be particularly destructive to you and you must find ways to unwind; taking extra care of your physical state is essential with this placement.
Moon in 4th house
Family ties are important to you in this placement. You often search for and enjoy collecting possessions that tie to you to where you came from, a way of clinging to your past. Family relations and your home life instil a deep sense of personal security for you and there is likely a strong influence from the parental figures in your life. Your living location may change frequently as you search for an ideal location to put down roots. In your career, there will be an emphasis on things to do with the home; you may even work from home or create a home-like environment in your office as this will allow you to feel comfortable and secure.
Mercury in 6th house
You are naturally inclined towards analysis of any kind. Detail-oriented and high-strung, you can find yourself switching careers or work environments frequently. It is likely that you are interested in working with technology or in the health field. You would be unhappy in a career that would force you to follow the same routine, day in and day out; you crave diversity. Be mindful not to worry yourself into an ill state, as you are prone to over-thinking and nervous energy.
Venus in 5th house
Attention from the opposite sex comes easily to you as you are attractive in a variety of ways. Demonstrative with affection and possessing a good artistic sense, you draw people to you. Be mindful not to be too wild and over-indulge during your nights out on the town. You enjoy engaging in activities that involve music, acting, or creativity of some sort and are likely to be a good performer, perhaps even on stage. You delight being around children and children adore your enchanting way of expressing yourself as well, therefore teaching may be a career option for you.
Mars in 7th house
Self-sufficient, you are often stubborn in your desire to have things done the way you want them done. It is important that you learn how to negotiate in a harmonious fashion, as you can seem abrasive to others. Try to better collaborate in your interactions.
Partnerships stimulate and invigorate your energy and drive. You prefer a lively partner that will join you on life's great adventures. This person may be competitive, aggressive, or combative as you enjoy someone who will dare you to defy your limitations. The competitive vibe between your partner and yourself runs high; it would be best for you to direct this energy into positive outlets or the high voltage may destroy you or your partnership.
There is a tendency to poke and prod others as a way to test their reactions. You enjoy a friendly opposition or contest with another. The thrill of pursuing something often intrigues and stimulates you more than what you achieve in the end. What you desire most is to engage in combat with your partner, who wins the battle is of no consequence to you. The person you marry will need to be feisty, optimistic, energetic, adept, brave, and bold.
This placement suggests the native will enter into a passionate, romantic love early in life as a result of being suddenly "love struck" by another. The partner may be some sort of victor or defender of the people. If Mars is negatively aspected, you are likely to make a rash decision in regards to your marriage union, rushing in head first without reservations, only to regret your actions.
There may be difficulties and tension in the partnerships due to the partners' intolerant, demanding temperament, often expressing elements of over-indulgence, recklessness, and violent behaviour.
To best succeed in your marriage partnership, it is essential that you practice using harmonious, diplomatic means when striving towards an objective, rather than using excessive force, aggressive tactics, and one-upmanship as you are prone to do.
Jupiter in 12th house
You are a humanitarian and hold strong ideals for a better tomorrow. There may be someone in your life who seems to be looking out for you and may come to your aid when needed. You care deeply for mankind as a whole and are eager to provide assistance to others, especially when they are particularly down on their luck. You may be drawn to a career in the medical field or with the prison system. Prosperity will usually happen midlife, and this will be a calm, easy occurrence for you. Due to your highly idealistic nature, you may be a tad impractical at times. Try to focus clearly before implementing concepts.
Saturn in 12th house
Though you are filled with doubts and insecurities, there is a strong inclination to develop a good deal of self-restraint and compassion. You may feel an urge to right the sins you may have indulged in during a past life. This karma may make you feel destined to isolate yourself from humanity, though a strong will-power enables you to amend these previous wrongs. It is likely that you will find yourself on a journey to serve others. A tendency to keep your fears bottled up may result in constant physical ailments unless you express them. You relish your alone time and may prefer to find a career that allows you take a back seat or where you would not need to socialise often with the community.
Uranus in 7th house
A traditional partner is not for you, as you prefer someone a bit more eccentric and unusual. Neither you nor your romantic partners want to walk on the same path as the general public, but rather create your own. It is likely that you or your partner enjoy surprising others with your unconventional preferences. Personal independence is an important factor in your relationship, and commitments may feel unnecessary to you. You may even seek out partners who are unavailable as these romantic involvements promise no commitment from the start.
Due to the unconventional nature characteristic to most of your relationships, your partnerships may baffle both yourself and others. Unique yet fascinating people tend to surround you.
It is unwise for you or your partner to attempt to dominate one another, as this will only cause problems. Try to find a balance between your independence and the time you and your partner spend with one another; you may both require much space for a relationship to work. Easily feeling trapped by any restrictions stemming from your partnership, you must be given a great deal of room to grow. Without this freedom, you may quickly and suddenly "opt out" of the partnership. Long-distance relationships may appeal to you, as this sort of partnership has a more relaxed feel to it and you may continue to live your life as you please.
Mental stimulation is an important quality that you desire from your partner, as you like a challenge. You also prefer that information is readily exchanged between you and your partner. You are most interested in an original individual who can be artistic, sociable, and not afraid to go against the crowd. An intelligent, eccentric wild child with a great deal of charm may be just your ticket.
It may be easier for you to engage in platonic relationships than something as involved as marriage, though when you do decide to settle down, you expect an idealistic partnership where you and your significant other are good friends. In fact, friendship is probably how you found your mate. However, this placement denotes an inclination towards frivolous affairs that provide a short-lived thrill but will cause conflict with your significant other.
One of the greatest challenges in your partnerships happens when personal growth occurs at a greater pace in one partner than in the other. This growth may be so extreme that the person that entered the marriage originally no longer exists.
In order to succeed in your relationship, both parties must allow one another to be independent beings and be supportive of each other's need for space.
Neptune in 9th house
Your philosophies in life tend to be rather idealistic and you entertain the idea that everything is connected, even in death. You may experience premonitions through your dreams, as your dreams are often intense. Some of your beliefs may be viewed as radical and understanding or explaining them is often difficult for you to do in a clear, logical manner; you may embellish a bit. There may be many misunderstandings between you and your partner's parental figures, try to be more empathetic to their situation. Be mindful of those that seem genuine and helpful but are actually the opposite. Your travels are usually done in spontaneity rather than having every step planned out as you like to be free to adventure at random, though there is a tendency for unusual occurrences during long trips.
Pluto in 7th house
A romantic partner may be chosen due to their uncompromising nature. There is a dominating, possessive quality inherent in your significant other. This sort of partner may create an aggressive, confrontational environment where there is no even ground; you will need to develop a way to collaborate.
What you look for is someone that can inspire or force you to dig deep into yourself and transcend your previous patterns of behaviour as well as provide you with new found strength and will-power. This person will help you grow as a person and heighten your emotions. There is a preoccupation with others who are powerful, drawing you to those that would dominate and control you. Subconsciously, you may believe you need to tolerate this commanding presence in order to fully tap into your own potential.
Emotions tend to run high in your partnership, on both sides. You require complete loyalty and faithfulness in your relationships. Problems are likely to manifest when your partner does not share this same outlook.
SABIAN SYMBOL POSITIONS OF PLANETS
The Sabian Symbols are a set of 360 symbolic declarations that correspond with each of the 360 degrees of the astrological zodiac chart wheel, starting at Aries degree number 1 and finishing with Pisces degree number 30. They were created by Marc Edmund Jones and Elsie Wheeler, circa 1925 in San Diego, California. In modern times, they are commonly used by astrologers in order to deeply understand the significance of planets that are occupying a particular degree of the zodiac.
Sun in
Leo 13
Sabian Symbol: On his cottage patio, a retired sea-captain rocks in his rocking chair.
Kozminsky Symbol: At noon, the sun shines on an ancient oak tree.
Moon in
Gemini 4
Sabian Symbol: Many rooms in a house are decorated with holly and mistletoe to awaken the beauty of Christmas.
Kozminsky Symbol: A silver triangle pointing upwards, a darkened square below and a calm and serene human face.
Mercury in
Leo 3
Sabian Symbol: A middle-aged woman cuts her long flowing hair into a bob for the very first time.
Kozminsky Symbol: On a human head, light flows from everywhere; from the left eye it's black vapor, from the right eye it's yellow and white light comes out of the forehead.
Venus in
Cancer 2
Sabian Symbol: A man sitting on a magic carpet is hovering motionless over the land looking out at the view.
Kozminsky Symbol: As many others are digging in a field, a laborer finds himself leaning against a sturdy tree watching.
Mars in
Virgo 23
Sabian Symbol: At the circus a lion tamer shows his skill.
Kozminsky Symbol: Angels lead the Virgin Astraea away from the world of darkness, her eyes are bandaged.
Jupiter in
Aquarius 1
Sabian Symbol: An ancient adobe mission sits near the California hills.
Kozminsky Symbol: In rose-tinted clouds, a human head sits.
Saturn in
Capricorn 26
Sabian Symbol: A water-spite dances in the mist of a beautiful waterfall.
Kozminsky Symbol: A woman lifts up an injured child from the ground.
Uranus in
Leo 26
Sabian Symbol: A rainbow appears after a heavy storm to bring in the sun.
Kozminsky Symbol: Under a crown made of flowers, two hands hold each other.
Neptune in
Scorpio 9
Sabian Symbol: A dentist works to prepare his patient's teeth.
Kozminsky Symbol: Lying on the shore sits an ancient warship.
Pluto in
Virgo 7
Sabian Symbol: In an Oriental palace, we see the eyes of the local harem.
Kozminsky Symbol: Holding the Crus Ansata in the air, a man stands in his ceremonial fashion.
Ascendant in
Aquarius 19
Sabian Symbol: A forest fire is smoky but not dangerous any longer.
Kozminsky Symbol: A sunset is shining on a waterfall, iluminating it to golden water.
Midheaven in
Scorpio 29
Sabian Symbol: An Incan mother pleads to the chief for the lives of her children.
Kozminsky Symbol: A professor at a university is lecturing in front of his class.